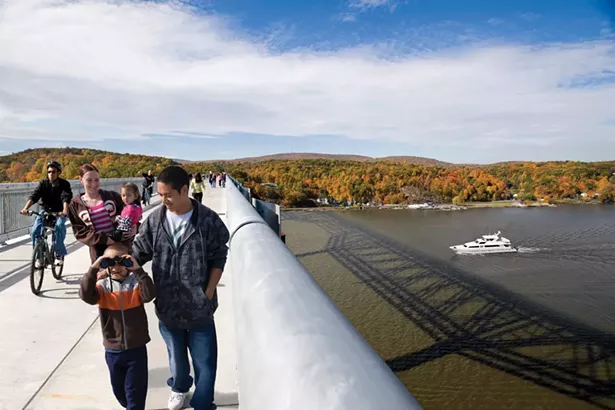 The Walkway Over the Hudson is now a part of the Empire State Trail, which connects 20 regional trails to create a continuous route across the state. It is expected to draw 8.6 million residents and tourists annually.
With the completion of the 750-mile Empire State Trail in December, New York can now claim the longest state multiuse trail in the US. And given that one can now walk or bike from lower Manhattan to the Canadian border or hang a left at Albany and get to Buffalo—mostly off-road—it's undoubtedly one of the most diverse, freeing us from our cars to experience everything from SoHo to the Erie Canal from whole new perspectives.

The trail has been eagerly anticipated since the announcement of the plan by Governor Andrew Cuomo in 2017. It now links 400 miles of previously unconnected trailways, adds 180 miles of new off-road trail, and has upgraded 170 miles of on-road bike paths, most on low-speed rural roads, to provide safe, accessible car-free travel along the Hudson Valley Greenway, Champlain Valley, and Erie Canalway Trail, passing through 27 of New York's 62 counties on the way. Ten feet wide, its off-road sections (about 75 percent of the whole) are surfaced in road bike and wheelchair-friendly asphalt and pulverized stone, and grades are gentle.
Getting here was a process. "To create the continuous 750-mile Empire State Trail, a total of 58 projects were completed by seven state agencies and 17 local government partners across New York State," says Empire State Trail Director Andy Beers. "Completing all projects by December 31st, particularly in this challenging pandemic year, was a huge undertaking. It's been gratifying to see diverse state and local partners pull together to complete the trail, with everyone recognizing the sum is greater than the parts." (One of the final sections of trail to be completed was the 1.3-mile stretch known as the Hudson River Brickyard Trail, which extends from Kingston Point Beach through Hutton Brickyards and Scenic Hudson's new Quarry Waters park, a reclaimed industrial site.)
Major new sections to explore in the Hudson Valley area include, south to north, the 23-Maybrook Trailway from Brewster in Putnam County to Hopewell Junction in Dutchess County, a five-mile extension of the Hudson Valley Rail Trail in Ulster County creating a continuous off-road trail from the Walkway Over the Hudson to New Paltz, improvements to the Wallkill Valley Rail Trail in Rosendale and Ulster, and the 36-mile Albany-Hudson Electric Trail from the City of Hudson in Columbia County to East Greenbush in Rensselaer County. Be warned, there's no snow plowing outside of urban sections, but snowshoers, hikers, and cross-country skiers can have at it—and spring is just around the corner, anyway.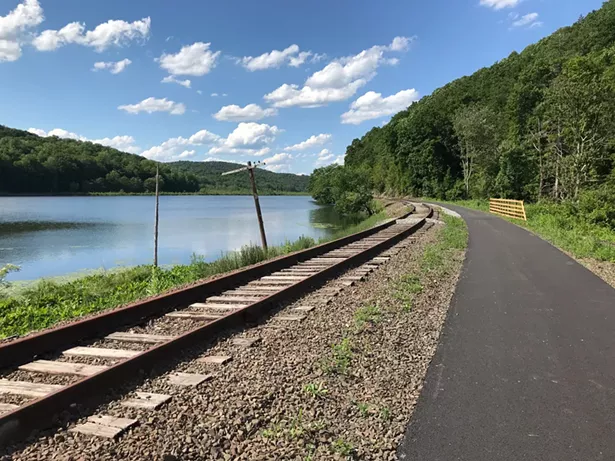 Maybrook Trail at Ice Pond
Beers credits "dozens of public input sessions" over four years that brought stakeholders, local governments, and the general public into the process at the ground level with generating the engagement and good feeling that got the project done. The $200-million investment, the largest trail expenditure in US history, is expected to create nearly 2000 jobs and draw over 8.6 million visitors annually, bumping up the $274 million in revenue that was already being brought in each year by users of the existing Hudson Valley Greenway and Erie Canalway trails.
"This pandemic year has underscored the vital role trails play in promoting physical health and mental well-being," says Beers. "The Empire State Trail received record use as people flocked to the trail to exercise and rejuvenate spirits in a safe socially distanced way."
The trail's website includes detailed descriptions and maps for each section, noting restrooms, parking, camping, attractions, and train stations. (Amtrak announced a new carry-on bicycle service on all Empire Service and Maple Leaf trains last September, with bike racks provided in all passenger coaches, the result of three decades of untiring advocacy from the New York State Bicycling Coalition; they'll also make room for your skis.) An activities guide directs visitors to Iloveny.com for more details on camping, lodging, and cultural attractions along the way.
A portion of the EST on the West Side in Manhattan
And since there's nothing quite like a good quaff after a day outdoors, the New York State Brewers Association has gotten in on the action with the Empire State Trail Brewery Passport, an app that allows users to earn beer swag as they check off visits to breweries within 10 miles of the trail. The passport is part of the Think NY, Drink NY app, which includes a rating system, beer education and style guide, map and locator, and visitor info such as hours, events, and what's on tap.
So get on out and enjoy the new possibilities, whether it's a wander along the new Hudson River Brickyard Trail; a trek from New Paltz across the glorious Walkway and on to Hopewell Junction, then south through the Oblong to Putnam County; or a much-enhanced, safe bike ride through Manhattan from the Battery to Inwood Hill. Parks and Trails NY also puts together an annual Erie Canal Bike Tour from Buffalo to Albany; this year's ride is July 11-18.