When Christopher Dierig and Doug Maxwell first purchased the 200-acre former dairy farm that follows the length of Brooklyn Heights Road (named by weekenders from the borough), they knew the land, with its breathtaking vistas and close proximity to the village of Rhinebeck, was special. The land has inspired a limited collection of modernist homes in a community focused on conservation, embracing and protecting the land's natural beauty.

"We love the story, and the land is incredible. So, we wanted to make sure we treated it with thoughtfulness and respect for the land's natural features," says Dierig, the registered architect of S3 Architecture, a New York based studio and the now-named Brooklyn Heights Farm residential community.

Photos Courtesy of Brooklyn Heights Farm
Each of the four luxury, Modernist homes is one-of-a-kind and specifically designed to respond to the natural characteristics of the land, such as the mountain views, woodlands and water features while preserving sight lines and natural landscapes.
Photos Courtesy of Brooklyn Heights Farm
Photos Courtesy of Brooklyn Heights Farm
Dierig and Maxwell, managing partner, purchased the property two and a half years ago and placed a conservation easement on it with the Dutchess Land Conservancy, which established a preservation focused plan maintaining open spaces with defined building footprints on large tracts of land. "We want to ensure the incredible natural beauty of these lands are protected for generations to come," says Dierig.
Photos Courtesy of Brooklyn Heights Farm
"The overriding theme is conservation and preservation of the natural features of the land and a focus on sustainable features," Dierig says, which includes the use of locally obtained natural building materials, geothermal heating and cooling, and pre-fab and modular construction. There's also an opportunity for renewable energy power including solar, wind, and home battery systems.
"Most important to us is the interrelationship between the home design and the land itself," Dierig says."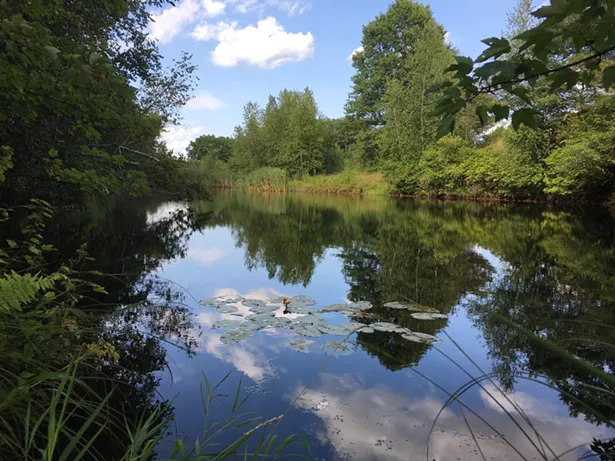 Photos Courtesy of Brooklyn Heights Farm
The estate-sized homes are between 2,500 to 3,381 square-feet and sit on parcels that range in size from 16 to 26 acres. Three of the Brooklyn Heights Farm homes are still available and include three-bedrooms, two and a half to three bathrooms and a den and start at $1.55 million.
For more information, visit the Brooklyn Heights Farm website.