Elliot Landy
Janis Joplin MC5 Commune Pad, 1968
The personality difference in Elliott Landy's pictures of Janis Joplin is dramatic, to say the least. In live concert shots, pulsating with the saturated psychedelic colors of a light show swirling around her, she's a DayGlo dynamo, burning brightly like a carnival fireworks display.

But in monochromatic moments, those little alone times backstage, sad and lost in thought, perhaps nursing a cup of tea in a diner or waiting for a ride to the next show, she's someone else; perhaps the little girl blue she sang about. But which is the real Janis Joplin, the searing performer shredding her soul before the audience or the wounded waif buried behind it all? It's something to contemplate while gazing at Photographs of Janis Joplin: On the Road & On Stage (Backbeat Books), the legendary Woodstock photographer's beautiful new book of images of the rock icon.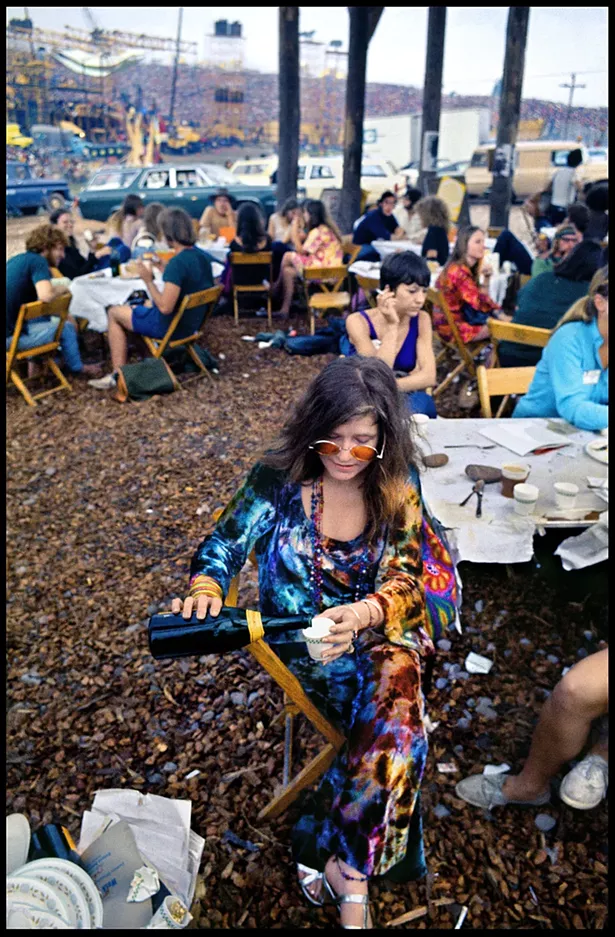 Elliott Landy
Janis Joplin in the performer's pavilion at the Woodstock, Bethel, 1969
Elliot Landy
Max's Kansas City, NYC, Paul Morrissey, Andy Warhol, Janis Joplin, Tim Buckley, after Fillmore East opening night
"The first time I saw Janis perform was with [her then band] Big Brother and the Holding Company, at the Anderson Theater on Second Avenue on the Lower East Side, on February 17, 1968," recalls Landy, who had previously been a paparazzi-style photographer for celebrity magazines and was then working for underground New York paper The Rat. "It was one of the first rock 'n' roll concerts I saw, and my second one at the Anderson—I'd seen Country Joe and the Fish there, two weeks earlier—and it's still one of the most powerful concerts I've ever seen."
Shots from that very event, and the hangout that followed it, are among the wealth of visual riches in Photographs of Janis Joplin. The book's 129 photos, many of them previously unseen, are interspersed with quotes by the singer culled from rare interviews she did with writer David Dalton that uncannily reflect the pictures they're paired with. Alongside one of the black and white images of Joplin laughing and holding court backstage, drink in hand, her trademark lust for life comes fully into focus thanks to the adjacent text. "Hey listen, man. I plan on being around a long time, but that's the only fuckin' thing I'm planning on," she espouses. "Let it happen, man! I'm getting' it now, today…"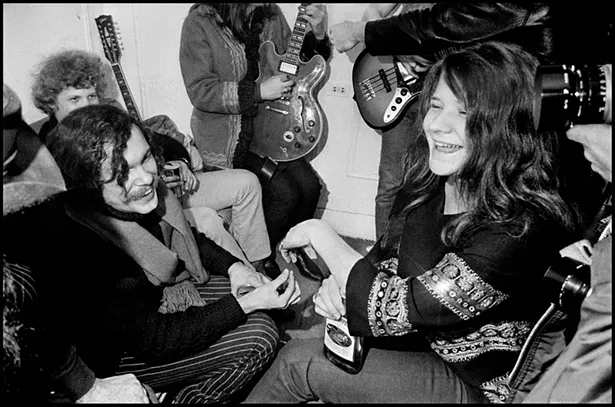 Elliot Landy
Janis Joplin, backstage at the Anderson Theater, NYC, 1968
Elliot Landy
Janis Joplin, Airport, NYC, on the way to a gig in Detroit
"Meeting Janis was just like meeting anyone," Landy says. "She was an incredible performer, but there was no 'star' stuff with her. When you met her offstage, she'd be laughing out loud with you and everyone. She definitely was not shy."
That lack of shyness, along with other sides of her complicated personality and, vividly, her force-of-nature presence as a performer, are on stunning display in Landy's fantastic photographs of Joplin. What does he most hope people see when looking at the book?
"The unbridled spirit of a very talented woman who demanded to be free," he says. "In all aspects of her life."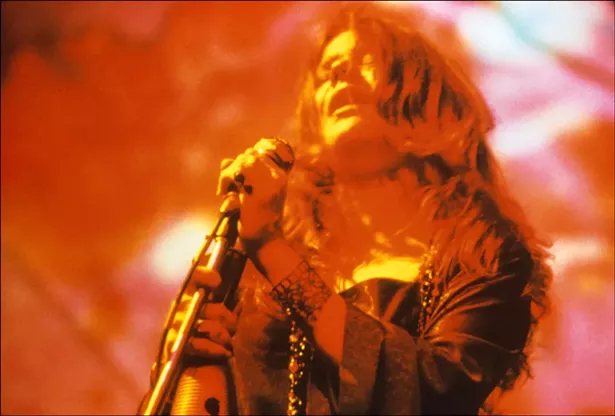 Elliot Landy
Janis Joplin, Anderson Theater, NYC, 1968