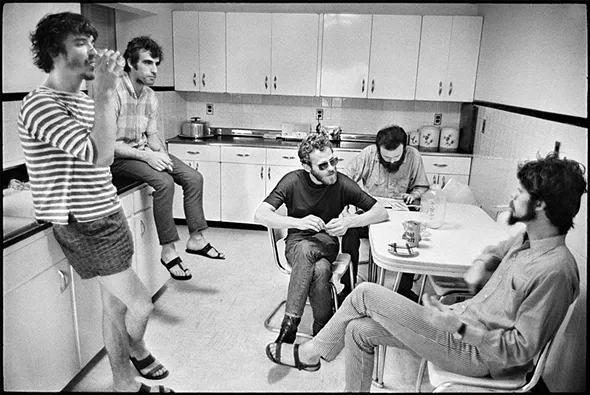 Elliot Landy
The Band in the kitchen of house Levon Helm and Garth Hudson shared in Bearsville.
If there's one photographer who has defined 1960s rock music, it's Elliott Landy. The Bronx-born lensman, who has lived in the Town of Woodstock since late in the decade, is well known for having created some of the most iconic album-cover portraits of the era, among them Bob Dylan's Nashville Skyline, Van Morrison's Moondance, and The Band's Music from Big Pink and The Band. The legendary latter act is the focus of The Band Photographs: 1968-1969 (Backbeat Books), a new fine-art book overflowing with classic and previously unseen images of the fathers of Americana. "When I first met them, The Band didn't even want to have a name," says Landy about the famously down-to-earth subjects who rehearsed up the road in a West Saugerties house they called Big Pink. "That doesn't make sense commercially. But when they were playing with Bob Dylan they saw what being locked in by your success could be like, and they didn't want to be known for doing one certain kind of music." Besides being the definitive collection of Band photos, the lush tome was the center of a Kickstarter campaign that raised nearly $200,000 (the second-highest amount of money ever raised for a photography book on Kickstarter, according to Landy) to cover the book's ultra-high-quality production.
Landy, whose pictures have adorned the covers of Life, the Saturday Evening Post, Rolling Stone, and other publications, also shot such rock luminaries as Janis Joplin, Jim Morrison, and Jimi Hendrix and has published other books of his work. As the official photographer of the 1969 Woodstock Festival, his credentials as the visual chronicler of the so-named generation are impeccable. "The Woodstock Festival was a manifestation of the consciousness of a large group of people who wanted and deserved peace and love," says Landy. "Which is something I still believe in, and something that relates to questions we're still asking now about the world."