Page 3 of 3
Burke shares Matthews's view that New York state doesn't seem to be a viable home for manufacturing, and he thinks that maybe the arts will help ignite a new kind of growth in Ellenville. "As a community of artists, they're doing their best for their town, and doing positive things, creating positive events, and creative vibes for their town. Is it going to be a cure-all? I can't imagine it will be. Will it help a lot? Probably." Sigunick, despite her efforts, agrees that while she's going to do everything she can for Ellenville through art, she can't solve all of its problems. "The one thing that we can't bring is jobs," she says.
Holly Houghtaling, Ellenville Chamber of Commerce president, assures that while the arts are a large part of saving Ellenville, they're not putting all of their eggs in one finely decorated basket. "I see there being a strong focus on arts, but there's also a strong focus on trying to regain a major employer to come into the area to fill the place of Hydro. The powers that be are definitely doing everything to try and get and solicit some business into the area," though what business that could be remains unclear.
Can focusing on the arts be enough to reinvigorate the village, prevent more businesses vacating, and actually bring more businesses in? Village Manager Auerbach thinks so. "What we're going to see in the next 12 to 24 months is not just one or two or three artists or artist-related businesses coming in, but probably a dozen to two dozen. We've got a dance studio coming in on the corner of Market and Center streets as we speak, the Ellenville Arts and Ceramics Studio's coming in. We have another couple who are very close to relocating a gallery and cafe into the community, and another restaurant opening up."
Even with the successes so far, the village has a long way to go. According to an optimistic Burke, the sleeping Ellenville has already begun to stir, saying, "I think that what this arts movement has done is brought people within the community out of their houses and back onto the Ellenville bandwagon. And they were always here, but I don't think they were organized or interested for whatever reason. I think this unified them and brought them out."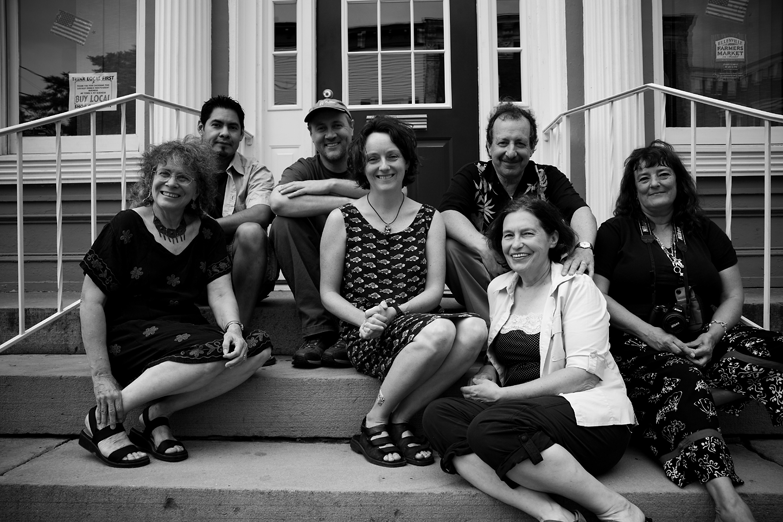 Thomas Jack Hilton
(left to right) Jo-Ann Brody, Karlos Carcamo, Michael Asbill, Monica D. Church, Stuart Bigley, Judy Sigunick, and Deborah Masters; Sigunick curated the "10x10x10" show featuring work by the seated artists.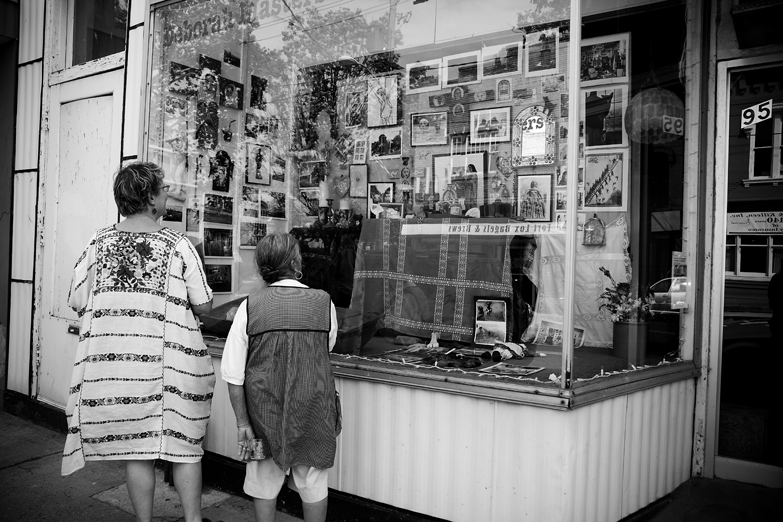 Thomas Jack Hilton
Installation by Deborah Masters in the Ellenville Florist on Canal Street.