Nestled in the shadow of the great, green ridge, the streets of the village of Ellenville are often deserted. When you walk in its downtown area, Canal Street and Center Street, and stop into its many homegrown businesses, like Matthews Pharmacy or Cohen's Bakery, people are more than happy to help you find what you're looking for and direct you toward a favorite hiking trail or watering hole. But if you continue walking for a bit longer, you'll start to notice the many vacant storefronts, whose dilapidated façades complement not only the gaping absence of life on the inside, but also the utter lack of foot traffic on the streets.
Most of the time, Ellenville may as well be a ghost town. This fact is so widely regarded that, on July 15, the opening reception for this year's "10x10x10" art event was attended with excited refrains of, "Look at all the people in the streets!" In truth, there were certainly more people in town on the overcast Sunday than usual, but one could just as easily say that the number of people matched that of New Paltz's Main Street on a lousy day.
The diverse community is incredibly vibrant and committed, a core of individuals working hard to keep the village running and ready for people to come and take advantage of what it has to offer. Like our inner organs that keep working while we sleep, Ellenville's residents are making sure the town will be ready when its turn comes to wake up and rejoin the rest of the Hudson Valley. Trying to get a read on Ellenville is as difficult as getting a read on a sleeping man: On the surface it seems like little is happening, but underneath there's a flurry of activity keeping things alive.
In a lot of ways, the town of Ellenville shouldn't really exist right now. Amid the many transformations it's undergone since its purchase by Louis Bevier in 1711—from agrarian beginnings to becoming a stop along the D&H Canal, a major resort destination in the Hudson Valley, and, until recently, a center for manufacturing in New York State—just what the people in Ellenville stick around for can be difficult to ascertain.
Ellenville's vital statistics serve as a numerical reflection of its empty streets. According to the 2000 census, it has a population of 4,130, the median household income is $27,474, and 23.4 percent of the population struggle below the poverty line. Compare that to Saugerties, another Ulster County village that is similar in size. With a somewhat larger population of 4,955, its median household income is $35,525, and 12.2 percent of the population lived below the poverty line in 2000. For more recent statistics, Brian Schug, Ellenville's building code enforcement officer, says that of the approximately 1,570 structures in the village, 860 are rentals, and he estimates that between 60 and 70 percent of those rentals fall under section eight housing, compared to his estimate of around Saugerties's 30 percent of section eight rentals. Village Manager Elliott Auerbach describes 2000's census numbers to be inaccurate in the wake of Manhattan residents' northern migration post 9/11, but Schug's statistics are up to the minute.
According to those people who are keeping Ellenville's blood pumping, it's time to find a new way to try and wake their village up. And the Ellenville Area Arts Alliance, or EA3, is hoping to be the solution. Headed by Cragsmoor's Judy Sigunick, EA3 is trying to dress the village in a new set of clothes, portraying it as a burgeoning artists' community.
Complete with newly rezoned rental spaces downtown to attract artists to set up lofts, a slew of visual arts events lined up throughout the year, and the forthcoming Ellenville Arts and Ceramics Center, which is waiting for additional funding to pave the way for its opening, the village seems to be making some headway in its redefinition. Sigunick's salaried position as EA3's head was created in an effort to keep this momentum going, and so far it is the only job that's been created through this focus on the arts. As of this writing, one of the last remaining industrial facilities, the aluminum manufacturer Hydro, is the latest in a line of manufacturers to abandon the area, having just announced an end to all Ellenville operations, resulting in a loss of more than 300 jobs.
Sigunick's appointment as the village's director of visual arts comes as a result of not only her volunteer work coordinating last year's inaugural "10x10x10" exhibit, but also her decade's worth of experience as a Hudson Valley visual artist, creating the Poorhouse Memorial for the Ulster County Fairgrounds, the cement rhino in Rosendale, and the whale in Poughkeepsie's Wayras Park. "I'm very committed to bringing a kind of level playing field between the artists, the businesses, and the civic leaders," says Sigunick of why she's agreed to take on this position in addition to her busy schedule as a public artist.
While much of the push to make Ellenville over through the arts may be motivated by economic revitalization and the potential selling of real estate, Sigunick is adamant that the arts won't simply be used as a means to an end. This means creating art events that appeal to everyone, from civic leaders and business owners to the artists themselves, all while trying to improve the quality of life of the average Ellenville villager. This improvement, however, isn't entirely quantifiable, leading to some hesitation and cynicism on the parts of residents and artists alike. However, all those in attendance on July 15 were enthusiastic about all they saw and the potential the current activities of EA3 holds for their village's future.
This year's "10x10x10" looks to improve on the formula that was crafted last year, an event loosely based on a similar undertaking in Pittsfield, MA, called the Storefront Artist Project, in which artists were given empty storefronts to create art and use as open studios that the public could view The goal was to attract tourists and more art-centric businesses, a strategy which, according to Pittsfield's Director of Cultural Development Megan Whilden, has helped transform the city into a hotspot for the region's arts.
"10x10x10" is similar in that it gives 10 selected artists from 10 nearby areas the opportunity to install displays of their work in storefronts, both occupied and empty. If you ask some of the village's residents about last year, this opportunity may have been taken too far in some cases. One display, by sculptor Huma Bhabha, was removed by the artist from Cohen's Bakery amid complaints of indecency. (The uproar seemed overblown given the sculpture's desexed anatomy—a genderless mannequin posterior perched on a mushroom shape atop a wooden base—and Cohen's owner Bill Tochterman's support of the piece.) Performance artist Eeo Stubblefield created a visceral display featuring her protest of the war in Iraq, a topic that consumed her every waking hour, and inspired local filmmaker John Hazard to create a short documentary, No Time for Beauty: Eeo's Choice, screened at the June 24 Arts Council meeting at Ellenville's Shadowland Theater. Stubblefield's performance piece included hundreds of graphic images of maimed Iraqis, predominantly children, representational straw effigies of civilian casualties, and a parade of women, including Stubblefield herself, dressed in burqas and singing songs of protest. While Stubblefield's piece didn't cause any outright controversy as Bhabha's piece did, it added some much needed life to Ellenville's barren streets, suddenly abuzz with activity and talk.
This year Sigunick is hoping to recapture much of the life of last year's event with less of the concerned whispering. Part of the criteria for this year's display stipulates that each artist be in some way actively involved with their communities, like Peekskill Arts Council Member Jo-Ann Brody and co-curator of Beacon's Go North Gallery Karlos Carcamo, whose piece features upside-down, dilapidated dollhouses suspended over empty bullet casings. The piece draws attention to how buildings and homes can become neglected, completely turning the way we view them on its head.
The village has also had its first takers for artist loft space this past June; Russ and Monica Dansky, owners of a fabric dying business called Colorworks, took advantage of the rezoned space behind R.J. Realty. Fed up with trying to run their business in Middletown, the Cragsmoor couple decided that Ellenville had a great opportunity waiting for them in regards to low rent and location.
Businesses that don't focus on the arts also stand to gain if the revitalization initiative succeeds. "It's been a positive experience because it brings new faces around," says Ray Matthews, owner of Matthews Pharmacy. "It brings new faces on the street, who see my store, and some of them come in. Has it generated any new revenue for me? Probably not," he says, adding the hopeful "yet."
Shadowland Theatre's Artistic Director Brendan Burke says, "The arts are economic stimulus," referring to how the arts can act as a magnet for tourists and other businesses to set up shop. He would know—the Shadowland is one of Ellenville's most important artistic successes, bringing up to 750 people each weekend and producing plays such as this summer's "Natural History," featuring Tony award winner Michele Pawk. "Would Aroma Thyme even have been opened if the Shadowland didn't exist?" he asks, alluding to Ellenville's other attraction for out-of-towners, the Aroma Thyme Bistro right down the street from the theater.
Burke shares Matthews's view that New York state doesn't seem to be a viable home for manufacturing, and he thinks that maybe the arts will help ignite a new kind of growth in Ellenville. "As a community of artists, they're doing their best for their town, and doing positive things, creating positive events, and creative vibes for their town. Is it going to be a cure-all? I can't imagine it will be. Will it help a lot? Probably." Sigunick, despite her efforts, agrees that while she's going to do everything she can for Ellenville through art, she can't solve all of its problems. "The one thing that we can't bring is jobs," she says.
Holly Houghtaling, Ellenville Chamber of Commerce president, assures that while the arts are a large part of saving Ellenville, they're not putting all of their eggs in one finely decorated basket. "I see there being a strong focus on arts, but there's also a strong focus on trying to regain a major employer to come into the area to fill the place of Hydro. The powers that be are definitely doing everything to try and get and solicit some business into the area," though what business that could be remains unclear.
Can focusing on the arts be enough to reinvigorate the village, prevent more businesses vacating, and actually bring more businesses in? Village Manager Auerbach thinks so. "What we're going to see in the next 12 to 24 months is not just one or two or three artists or artist-related businesses coming in, but probably a dozen to two dozen. We've got a dance studio coming in on the corner of Market and Center streets as we speak, the Ellenville Arts and Ceramics Studio's coming in. We have another couple who are very close to relocating a gallery and cafe into the community, and another restaurant opening up."
Even with the successes so far, the village has a long way to go. According to an optimistic Burke, the sleeping Ellenville has already begun to stir, saying, "I think that what this arts movement has done is brought people within the community out of their houses and back onto the Ellenville bandwagon. And they were always here, but I don't think they were organized or interested for whatever reason. I think this unified them and brought them out."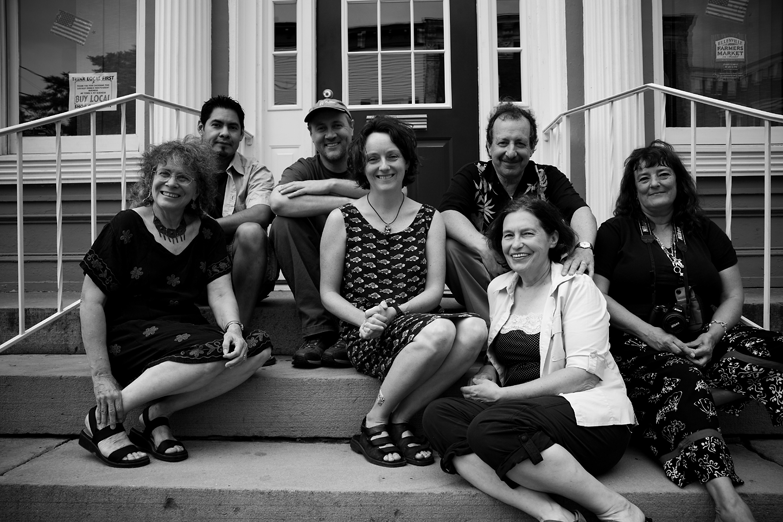 Thomas Jack Hilton
(left to right) Jo-Ann Brody, Karlos Carcamo, Michael Asbill, Monica D. Church, Stuart Bigley, Judy Sigunick, and Deborah Masters; Sigunick curated the "10x10x10" show featuring work by the seated artists.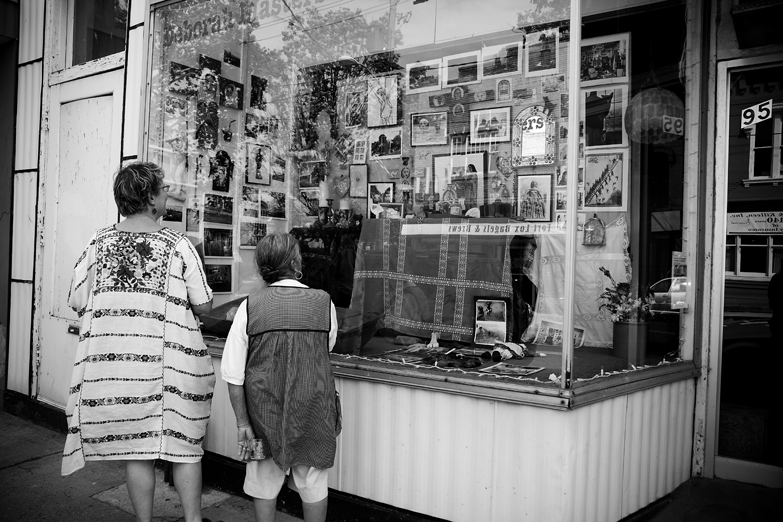 Thomas Jack Hilton
Installation by Deborah Masters in the Ellenville Florist on Canal Street.