Elegy for an Appetite
Shaina Loew-Banayan
Pank Books, 2022 $18.00
Society has a way of building conflictual, arbitrary structures around basic truths: sex, love, beauty, food. The basics of survival come laden with enormous baggage, so much so that hardly any human manages to survive to adulthood without developing conflicts they need to untangle.
Consider the case of Shana Loew-Banayan, whose passion and talent for fine food came hand-in-hand with an eating disorder. The chef/owner of Cafe Mutton in Hudson, Loew-Banayan (who uses they/them pronouns) loved food and studied cooking from a young age, but learned early that peer pressure and restrictive cultural concepts about body image complicated the purity of that passion.
They tell their story eloquently in Elegy for an Appetite, an insightful, freeform, and lyrical memoir that traces their trajectory from earliest culinary experiences through the kitchens of elite New York eateries and up to Hudson. "To worship starving and cooking side by side was to dance compulsively around a circle of longing and loathing," they write of their internal conflict, "but we don't always consider those things before apprenticing ourselves to the mind's twitching jigsaw."
Anybody who's been a tween will relate to the body image stressors and pressures to conform that led Loew-Banayan to confound the simple joy in cooking and the turmoil of eating. "Chubby began to stalk me like a shadow does just nipping at your heels as though if you stop moving it'll consume you & even if you don't it might swoop around and face you anyway at the fickle whim of the sun," they write. "At my birthday party a girl told me that the whipped cream on my ice cream sundae would make my butt fat. I don't think I really knew what that meant or that I even had a butt but I could tell that a Fat Butt was very bad."
By 15, Loew-Banayan had "begun to swap out food for words and pictures & my brain devoured information about all I desired to eat but couldn't." The skills and knowledge base they acquired were the foundation for a career that led to progressively higher-end jobs, and the bright and shiny world of Michelin-starred restaurants proved to add still more layers of complication to an already complex relationship with nourishment.
It's not news that behind the orderly, glittering facade of a highly rated restaurant lies the hot and hectic world of the kitchen, where egos clash like knives amid high expectations and challenging realities. Through Loew-Banayan's sharp eyes and incisive retelling, we get a sense of the dynamics that are sometimes hilarious, sometimes heartachey. They're all about seeing through the pretentious, pointless aspects to the flavor at the heart of the matter: "Chef said ok so cooking is work not fun. Jesus Christ what a douche I had thought in that moment but it didn't really matter either way I had tried his desserts; they tasted so precise almost like he could hear the ingredients," they write of one experience. "Most people couldn't hear them too drunk too nourished & therefore too distracted but I was so hungry I never missed a note."
Through it all, the tension of their own relationship to food adds layers of uncommon insight—along with a thorough condemnation of the sexism and fatphobia rampant in that milieu. Even as head chef, walking into a high-end kitchen "packing a vag" means condescension, kisses on the head, and lingerie for Christmas. It's absurd, and they call it out deliciously.
Loew-Banayan offers no oversimplified solutions because there are none. (They were once told by a therapist that being a chef with eating issues was impossible and just never went back.) Their journey to Hudson, a joyful marriage, and a kitchen where the rules are their own will fascinate foodies in particular; their insights into becoming one's own person are fresh and delicious, sticking to the ribs like a perfect stew.
—Anne Pyburn Craig

Human Blues
Elisa Albert
Avid Reader Press, $28, 2022
Broken up into nine menstrual cycles, Human Blues is an intimate examination of a woman's struggle with infertility. In this new novel from Albany resident Elisa Albert, musician Aviva Rosner is on the verge of putting out her fourth album. She desperately wants to be a mother but is weary of technological intervention. Simultaneously grappling with overbearing record producers and her own inability to have a child, Rosner finds herself at a crossroads. Written in an immediate, casual style, readers will feel like they are a friend of Rosner hearing her tumultuous journey firsthand.
With Different Eyes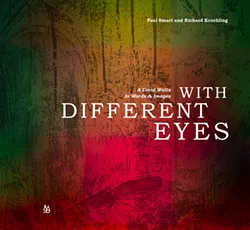 Paul Smart and Richard Kroehling
Mountains & Rivers, Barrytown, $30, 2022
Deftly written by Paul Smart with visceral art by Richard Kroehling, this memoir examines an ever-changing view of life in 2020 amid the pandemic. While struggling to grasp the immense and lurking prevalence of death and abrupt changes, Smart pens each pithy page like a diary entry, giving an aching window into daily life. From the first trip to the emergency room to watching his son spend formative years inside without his friends, the stories hit uncomfortably close to home. With Different Eyes is a time capsule for the cascade of uncomfortable emotions triggered by the pandemic.

Author readings on July 10 at Greenkill, 8pm, and at the Bearsville Theater on July 31, 2pm.
The Disinvited Guest
Carol Goodman
HarperCollins Publishers, $16.99, 2022
On a remote island off the coast of Maine, a small group of friends and family members take refuge during a global health pandemic. One of the residents, Lucy Harper, begins to uncover the island's haunting past as a quarantine site for typhus patients. Over the course of this latest novel from New York Times bestseller and Red Hook resident Carol Goodman, the heroine's sense of reality begins to tumble, forcing her to confront her lingering fears and theories about who is causing the panic on the island. Could it be her closest friends and family?
Carol Goodam will be in conversation with Sarah Stewart Taylor on July 12 at 7pm. Details at Oblongbooks.com.
The Magnificent Lives of Marjorie Post
Allison Pataki
Random House Publishing Group, $28, 2022
Garrison resident Allison Pataki writes a captivating historical fiction novel about feminism, leadership, and the search for love. Set in Battle Creek, Michigan, Marjorie Post spent her days as a child gluing together cereal boxes for her father's company Post Cereal. As heir to this empire, Post is American royalty and one of few women in a leadership role in the 20th century. She goes on to become the wealthiest woman in the US before turning 30, leveraging her power to live an extraordinary and glamorous life, hosting presidential dinners and rubbing elbows with celebrities, all while helping people in need. She seemingly has everything, but after four failed marriages, all she wants is a love that lasts.
This Might Be Too Personal
Alyssa Shelasky
St. Martin's Publishing Group, $17.99, 2022
In this intimate series of essays, Rhinebeck resident Alyssa Shelasky deftly uses humor to unpack her fascinating life and career as a sex, relationship, and celebrity writer in New York City. Opening with her disastrous public breakup with an uninspiring fiancé, Shelasky quickly pivots to a life suddenly full of adventure, dates, and sex—the kinds of things she did while engaged, but struggled to justify. Readers will enjoy Shelasky as she fearlessly implores her own messy sexual, romantic, and professional history.
—Micaela Warren