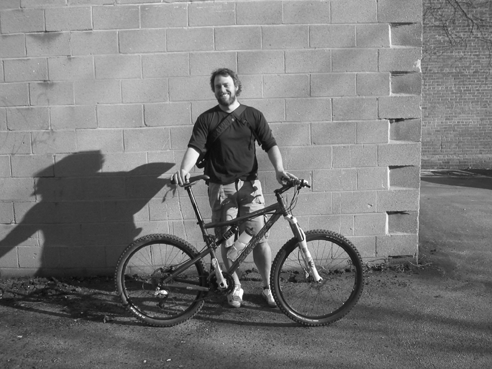 Brian K. Mahoney with bicycle outside the offices of _Chronogram_.
May is National Bike Month
It's time again for my annual sermonizing on the benefits of the bicycle as a salubrious form of alternative transit. Now I know that some people don't like cycling in any form, be it road biking, mountain biking, tandem riding, unicycling, or Spinning class. To them, I wish to send a note of support and understanding—I, for one, don't like skiing or snowboarding, despite my best efforts to enjoy them, and just because bicycle enthusiasts think we can save the world and have fun at the same time, that doesn't mean we want to come off as bike fascists. However, I hope the non-bikers out there are strategizing another way to get to work while leaving the world-killer parked in the driveway. Walking, if feasible, is a good place to start. If not, round up some coworkers and try carpooling.
Bike-to-Work Week is May 14–18, and Bike-to-Work Day is Friday, May 18. While we cannot all ride our bicycles to work (although sometime in the not-so-distant future we may all have to), if you live closer than 10 miles to your office, I urge you to oil up your chain, don your helmet, and pedal to work on that day. (Did you know that 54 percent of all commuters live within 10 miles of their worksite, and their commute time by bike or car just about the same?) Studies show that once people start bicycle commuting, they often stay bicycle commuters. Get your coworkers to join you!
There are some great bike events in the coming months, too, including the Five-Borough Bike Tour in New York City on May 6, featuring 42 traffic-free miles of urban cycling. (Visit www.bikenewyork.org for details.) The High Meadow School in Stone Ridge is sponsoring a "Ride the Ridge" challenge on June 3 to benefit its new performing arts center and the Marbletown First Aid Unit. There will be three routes to choose from—5, 25, and 50 miles long—all touring through the rural Ulster County countryside. (Visit www.ridetheridge.com.) The park-advocacy group Parks and Trails New York also runs two multiday rides during the summer months: an eight-day, 400-mile ride from Buffalo to Albany along the Erie Canal, July 8–15; and the Great Hudson Valley Pedal, a six-day, 200-mile tour from Albany to New York City, August 14–19. (For more information, visit www.ptny.org.)
The League of American Bicyclists has put a list of 50 fun suggestions on their website (www.bikeleague.org) to promote cycling this month, one of which I'd like to mention. Plan a cycling vacation. Ten years ago, I took one of the best holidays of my life, riding with my friend Karl from Amsterdam to Copenhagen. We didn't know the lay of the land, we didn't ship our fancy bikes over with us—we just bought a couple of second-hand Schwinn 10-speeds at a bike shop in Amsterdam and rolled out of the city with our packs on our backs and our pockets stuffed with maps. We suffered difficulties along the way—flat tires, poor map-reading skills, near-constant rain, our inability to communicate in either Dutch or Danish—but the vacation was unlike any I've experienced. We set our own pace, some days riding 40 miles, some days riding 75. We stopped wherever we wanted, engaged the locals whenever possible, and actually existed in a place instead of blasting through it, driving from one pocket of tourism to another with the landscape blurring by. When we got to Copenhagen, I left Karl to explore the anarchist's quarter (where he subsequently had a mind-altering experience with a surfeit of "Space Cakes"), and I rode out to the airport to catch my plane back home. At the terminal, I parked my $50 bike at the bike rack (!), taped a "Free!" sign on it, changed my shirt, and boarded my plane home.
Some facts about health, cars, and cycling:
• 80 percent of Americans do not get the recommended 30 minutes of moderate daily activity.
• The average number of barrels of oil consumed daily in the US is 19 million. Driving is responsible for 43 percent of them.
• Motorized vehicles are responsible for 70 percent of the carbon monoxide, 45 percent of the nitrogen dioxide, and 34 percent of the hydrocarbons we produce.
• Nearly a third of the gas used in the US goes for trips of three miles or less, usually to transport a single passenger.
• One hundred bicycles can be produced for the same energy and resources it takes to build one medium-sized automobile.
• Owning a car for one year can cost more than $7,000. Operating a bicycle for one year can cost almost nothing, but maintenance will probably run you about $150.
Remembering Amanda
Last month I included a remembrance of Amanda Bader in this space, written by Wally Nichols. Amanda died tragically in February after an injury sustained competing in a horse-jumping event. In last month's column, I noted the exemplary work Amanda had done for the magazine, writing a wide range of feature-length stories with depth and insight. One such article was a recounting of Tamela and Peri Rainbow-Sloan's journey to adopt their daughter Cecilia. A lesbian couple, Tamela and Peri had to jump through numerous bureaucratic hurdles heterosexual couples do not face in the adoption process. After the April issue came out, I received the following remarkable letter from Peri and Tamela, proving that Amanda's work continues to inform, educate, and be a voice for social justice.
Dear Brian,
Thank you so much for bringing Amanda Bader into our lives. When Amanda arrived at our home that early fall evening in 2004, she immediately sensed our apprehension about an article that, while drawing much needed attention to the hardship families like ours endure, could also leave us vulnerable to further discrimination and hatred.
With her journalist's keen eye for detail and the passion of someone who cares deeply, Amanda strove to understand who we were and how hard we had to work to create our family. She was careful not to focus on that which might have been considered "sexy," or "eye-catching," instead documenting the truth about the obvious and ongoing violation of our civil rights, and about the love we share which has helped us to overcome many of the obstacles we faced in marrying each other and adopting our daughter.
Amanda interviewed all who would comply and gained a good understanding of our complicated journey. Her article, "The Right to a Family" [Chronogram, 12/04], coupled with the beautiful photos taken by Roy Gumpel, produced a piece that continues to educate so many. This article is assigned reading in Gender Studies and Social Work courses at the university level. Many people are amazed at the legal discrimination against lesbian, gay, bisexual, and transgendered people that still exists today. In fact, our legal marriage (Niagara Falls, Canada, 2005) is not recognized by the state of New York or by our federal government.
Finally, Amanda's piece helped many of our friends and family members to truly know us and understand why we keep fighting this good fight. Our family is indebted to Amanda Bader and to Chronogram for giving her voice a place to be heard. We will miss that voice.
Sincerely,
Tamela and Peri Rainbow-Sloan
Capital Region Edition
As many of you may already know, Chronogram is launching another edition in the Capital Region this summer. We're bringing our unique blend of arts and cultural previews and profiles, political and environmental reportage, and wellness and spirituality coverage with our premier July issue. If you're an arts venue, cultural organization, not-for-profit center, spiritual sanctuary, or other source of creativity and growth, please put us on your media map. Send us your press releases and your media alerts. We also invite you to put what's on your schedule into our calendar. Please e-mail capitalevents@chronogram.com as soon as possible to make sure your listings appear in our inaugural July issue.
—Brian K. Mahoney