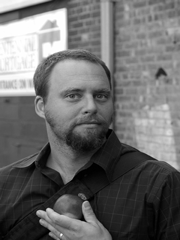 I met Amanda Bader in early 2001, when she came into my office to pitch me a gardening column with an interesting twist. A professional writer and an amateur gardener, Amanda suggested she team up with a professional gardener and write a series of clear, programmatic articles on what should be done each month, whether it be planting, cultivating, or readying the beds for winter.
While the gardening column lasted only six months (it didn't quite fit the editorial mix in the magazine at the time), Amanda quickly came to be one of my most trusted freelancers. If there was a story that required an "instant expert"—someone to parachute in and learn a new topic from top to bottom and report back on it in a knowledgeable way—I would call Amanda. She covered everything from home remodeling to grass-fed beef. Amanda also profiled a number of authors and local notables for the magazine, including Valerie Paradiz, on the publication of Elijah's Cup, her memoir of raising an autistic child, and New Paltz Mayor Jason West, after he performed the celebrated same-sex marriages.
The last piece that Amanda wrote for us, on the difficulty of finding locally grown produce in our region's chain supermarkets, appeared last August. "Hidden Harvest" is a monster—weighing in at over 4,000 words, and it's one of the most comprehensive and well-researched pieces we have published in these pages.
An area of Amanda's life that I knew little about was her passion for horse jumping. She and I would joke about her yearly trips to Ocala, Florida, where she would train and ride in horse jumping competitions. I used to tease her about her choice of winter getaway locations, suggesting that perhaps they had suitable horse jumping in France, where her husband, Philippe, was from, rather than the hot armpit of inland Florida. Amanda always laughed at my worn-out humor, and replied that she went south because that's where the jumping was.
On February 18, I received an e-mail from a friend of Amanda's that she had been seriously injured while competing in Ocala. In the course of a jump, Amanda had fallen under her horse. I heard nothing more until the morning of February 28, when I received the following message: "At 5:03am Amanda's heart stopped. She was beautiful."
Indeed she was, the small bit of her I was privileged to know.
What follows is a remembrance of Amanda, written by her close friend, the writer and musician Wally Nichols.

—Brian K. Mahoney


The last thing I ever said to Amanda Bader was: "Have a great ride." My final memory of her speaks volumes to the delightful, strong woman she was. We were at the Florida Horse Park together in Ocala, Florida, representing, in an unofficial capacity, the Mid-Hudson Valley horse riders. She was there to compete, and I was there to support. This particular weekend was one of the largest horse trials the park has each year. Hundreds of riders from all over North America come to compete at varying different levels in dressage, stadium jumping, and cross-country.
Amanda was easy to spot in the crowd. She looked sharp as ever in her black jacket, distinct blue velvet helmet, and white britches. She held a determined New York stride that moved her with purpose towards her destination. At her side was a riding crop and, in her wake, trying to keep up while still copping a quick sniff of everything and everyone, her trusty Jack Russell terrier, Lola. I saw Amanda but she didn't see me. "Hey Lola, get out of the garbage can," I yelled loud enough to make Amanda and plenty of others turn. She saw me and, realizing I was goofing on her, smiled. "Hey Amanda, have a great ride," I said, not realizing it would be the last time I could tell her that. Earlier we had agreed to have dinner the following Tuesday to discuss the trials, among other things. She waved goodbye and disappeared into the crowd.
Amanda was preparing for her cross-country run, where she would take Samira, her 15.3 hand, 8-year-old mare over a series of jumps and obstacles spread out on a rolling green course well over a mile long. It was a beautiful day, like so many in Florida. The promise of long sunny days of riding, instructing, and learning was enough to motivate Amanda to come down for the winter—to stay on top of her already great game, and let the snows of the North have their way back home.
Cross-country is a test of endurance and courage. I have walked many courses. I have marveled at the challenges the jumps present, and I have faded in the daunting shadows of those same challenges. But it is in the face of that challenge that Amanda thrived. She rode the course because she was confident, well trained, excited, eager to test herself, and because she was alive. Where others like me might sit on the sidelines and watch this event, she was involved. This is an event that demands steel nerves and talent, both of which she had in spades. It involves a special relationship between horse and rider based on trust and sensitivity. And into the delicate mix goes the wildcard variable, luck. Or, sometimes, as the case can be, bad luck.
I remember a recent dinner at her house in Accord, with her dear husband, Philippe, and a few friends. The perfect 30-something evening (though we were all older than that) with nice wine, giggles, a foray into politics, a hasty retreat, excellent food, a few good-natured jabs at the French, plenty of barn talk, and lounging until the wee hours. Amanda was a perfect host, gracious, engaging, charming. Her orientation was toward quality, kindness, and generosity, be it in spending a little extra at Gail's Stone Ridge tack shop to support the local economy and a friend, baking outrageously tasty treats to raise money for all things equestrian, or her interaction with horses.
And she was a talented writer. A hard worker. Determined. Loving. Smart. Particular (her friends jokingly called her "Demanda"). She knew what she wanted, and she knew what she liked.
Few are lucky enough to realize early enough what in life makes them truly happy. Indeed, some spend their entire lives in search of elusive passions. Amanda Bader got there early.
I recently met the volunteer who started Amanda on the last course of her life. Jennifer told me that the event staff rarely speak to the riders when they are in the starting gate, but when she saw Amanda's smile and enthusiasm for the upcoming ride, she had to say something to the lady in the blue velvet cap. They chatted briefly and the buzzer sounded, beginning the course. As Amanda took off for the first jump and cleared it gracefully, Jennifer told me she turned to a coworker and said, "You know, that's what this sport is all about."
I take some solace in knowing that when I said to her on that fateful day, "Have a great ride," that she had already had 51 years of a great ride and left us all doing what she truly, truly loved.