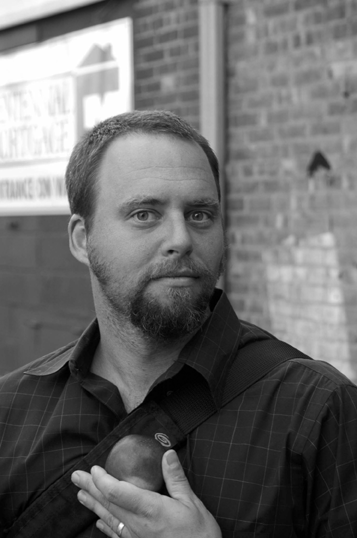 *Still Life with Editor:* Brian K. Mahoney posing with nectarine behind _Chronogram_'s Kingston office.
It was not my idea to overhaul Chronogram.com. Not by a long shot. Partly because I am risk-averse and change-phobic—editors are upholders of tradition after all, and what is tradition if not an unchanging set of rules? I was happy with the existing configuration of our website, a static mirror of this magazine's content—articles, photos, calendar listings, and advertiser directories—rendered in ones and zeros and arranged in the cramped style I associated with the general design aesthetic of the Web. It served a couple of useful purposes, however, allowing all those outside our region and those who missed picking up a paper version of the magazine access to it. The Website was also a digital archive dating back to 1996 (the Internet Stone Age), and, verily, much of our Web traffic historically has been from readers viewing back issues of the magazine. We even picked up a few thousand far-flung Web-only readers along the way. While it was my subconscious intention to let the innovations of the Web pass us by, as had the Internet boom of the late '90s (a point upon which I feel thoroughly vindicated), it was not to be. Earlier this year, this magazine's publisher, Jason Stern, got a bee in his bonnet about Chronogram.com and articulated the idea that our website, six years into the new millennium, might begin to utilize some of this century's technology—video, audio, blogs, podcasting, RSS feeds, tagged databases, Web-only articles, and the like. (Jason, you must understand, is an adventurous and visionary sort. If you ask him to jump, he won't inquire as to, "How high?" but rather, "Into what uncharted territory?") And so, it has come to pass that Chronogram.com has been completely reenvisioned, reconfigured, and redesigned. With the assistance of Evolving Media Network, a Kingston-based Web-development firm, we've created what we not so humbly believe to be the most comprehensive online cultural resource in the Hudson Valley, as well as an interactive forum for the
Chronogram
community. We've done this is in a number of ways. First, we scrapped the idea that each month's Web content was like so many magazines—stacked one on top of another and not relating to each other in any meaningful way. While we will still upload each magazine's content to the Web on the first of the month, each article will link to other articles, calendar listings, video, blogs, and audio in its category. For instance, a profile of painter James Dustin on our revamped site contains links to listings of upcoming shows, links to other artist's profiles, links to articles by the same writer, and a
Chronogram
-exclusive video tour of Dustin's studio, led by the artist. Second, we've created a user-profile system that allows registered users to track their favorite features and organize the site around their personal preferences. Once registered, readers are also able to post comments on any content, enabling the
Chronogram
community to engage in multi-tiered discussions with writers, editors, and other readers. Third, we've created a new site aesthetic, bringing it more into line with the look of the print version. Of course, there's more, all exclusive to Chronogram.com: A dozen bloggers, writing on everything from parenthood to the local theater scene to holistic health; daily updated calendar listings presented in an easy-to-use format and maps associated with each listing so you'll know how to get to the event once you decide what to do; streaming audio from reviewed music and featured musicians; short videos of profiled artists; films from local filmmakers; and more. To celebrate the unveiling of the new Chronogram.com, we are throwing a Web-launch party on Friday, January 12 at the Shirt Factory (across from the main post office) in Kingston. The Shirt Factory, is, as you might have guessed, a vacant industrial building formerly used in the manufacture of apparel. For our party, the ex-factory will be transformed into a multimedia performance and dance space. Entertainment will be provided by ReadNex Poetry Squad, a hip hop/spoken-word collective. DJs LadyVerse and Anthony Molina (of Mercury Rev) will be spinning rock, hip hop, and house grooves into the night for our ecstatic dancing pleasure. Refreshments of various stripes will be available. Tickets are $12 at the door, but we are offering a Web-only promotion for discounted admission. If you become a registered user at Chronogram.com—it's free and it doesn't take long—your name will be added to our VIP list and you'll receive $5 admission. Web-Launch Party: Friday, January, 12, 9pm. Shirt Factory, 77 Cornell St., Kingston. This is the most exciting development this publication has undergone since we changed to our larger-print format in 1999. Please visit and take advantage of our new website—we built it for you.
WHILE YOU WERE SLEEPING
Since surimi's introduction into the US market in the late 1970s, the Food and Drug Administration has required that surimi, a fish paste made to imitate shellfish—crab, lobster, scallops, et al.—and sold as processed-fish products like "Sea Legs" and "Crab and Lobster Delights," be labeled "imitation crab."
After 12 years of intense lobbying by the seafood industry, the FDA changed its regulatory course on November 20, agreeing to drop the "imitation" label from surimi.
Imitation crab—made from white fish, which are minced into a paste with egg whites and other additives and starches before being molded and colored to look like shellfish—will now be labeled "crab-flavored seafood made with surimi, a fish protein." The new label only applies to food sold in grocery stores, not prepared food sold in restaurants—where no labels whatsoever are required. FDA regulations require that a food be labeled "imitation" if it is "a substitute for and resembles another food but is inferior to the food imitated." After examining seafood industry research—two recent surveys of 5,000 people who indicated they knew that surimi doesn't contain real crab—the FDA decided that the 11-word statement passed the test because it "accurately describes the product" and approved the request to drop "imitation." Surimi processors are planning an advertising blitz to introduce the new label.
Source: Wall Street Journal
According to the National Retail Federation, Americans are expected to spend $454 billion during the holiday season
—the fevered holiday spree some refer to as "Hallow-Thanks-Mas"—a five-percent increase over 2005. Americans will finance more than a quarter of that spending with credit cards, accruing an additional $135 billion in consumer debt.
Source: Dissident Voice
On December 18,
the British government gave the green light to a consortium of private energy firms to develop the world's biggest offshore wind farm
. The massive project, known as the London Array, consisting of 341 turbines and covering 90 square miles, will be located 13 miles off the southeast coast of the island. A smaller wind farm, totaling only 100 turbines, was also approved for siting off the coast of Kent. Both projects are expected to be online by 2010, and would produce enough electricity for a million homes, or one percent of all the energy needs in the UK. A law expected to pass in Parliament next year would pledge Britain to cut its carbon emissions by 60 percent by 2050 and vow to get 10 percent of its electricity from renewable sources by 2010 and 20 percent by 2020.
Source: BBC News
Senator Sam Brownback of Kansas, announced on December 18 that he would no longer block the confirmation of Janet Neff
, a 61-year-old Michigan state judge, to the federal bench because she had attended a same-sex commitment ceremony for the daughter of her neighbors of 26 years. Brownback, a possible contender for the Republican nomination for president in 2008 and a standard bearer for the conservative Christian wing of the party, also said he would no longer seek a proposed solution he floated on December 8—that he would remove his block on Neff if she agreed to recuse herself from all cases dealing with same-sex marriage. Legal scholars criticized Brownback for his proposal, saying it raised constitutional questions about the separation of powers for a senator to require a judge to commit herself to behavior on the bench in exchange for a vote. While tempered by the firestorm of criticism set off by his blockage of the nominee, Brownback, however, was still unsure that Neff could rule without bias involving same-sex unions. "I'd like to know more factually about what took place," Brownback said, referring to the ceremony attended by Neff.
Source: Associated Press
During the month of December, the town of Paramus was visited by 200,000 cars a day. The northern New Jersey town, home to four large malls and intersected by three main arteries, Rt. 4, Rt. 17, and the Garden State Parkway, is one of the most concentrated shopping districts in the country, with 2,700 stores packed into 10 square miles. A town of 27,000 residents, Paramus has more parking spots than people.
The town's $5 billion in retails sales per year is equal to the gross domestic product of Nicaragua.
30 million people visit Paramus each year.
Source: New York Times
On November 28, Demetrius "Van" Crocker, a 41-year-old Tennessee farmer was sentenced to 30 years in prison for conspiring to make homemade "dirty bombs" that he planned to explode outside federal and state courthouses, and the US Capitol. Crocker plotted with an undercover agent posing as a rogue security employee for an Arkansas arsenal to purchase Sarin nerve gas. During his trial, prosecutors played tapes of Crocker spouting racial hatred and his desire to strike a blow against the government. David Kustoff, the US Attorney who prosecuted the case, said Crocker's trial was "one of the preeminent anti-terrorism cases of 2006 nationwide," and described Crocker as
the Timothy McVeigh of West Tennessee
.
Source: Memphis Flyer