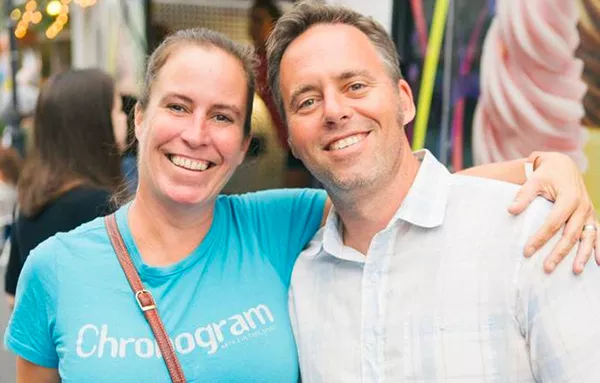 The Castle of the Pyrenees (Revisited)
Wake and discover
That you are in the appointed place
at the appointed hour.
The time has always been now.
You have always been falling
through these perceptions
back to yourself—
the stormy rain-drenched self
that rattles in your grasp.
I wrote those words
I don't know when. (A million years ago
seems too soon for them.)
When I plucked a Magritte print
from a book of reproductions
and made the painting a palette again.
A song we sang about crashing, and blindness
and perilous dreams of the sea.
I see us so clearly in those lines,
our silhouettes sharp
in a forgotten snapshot
uncovered in an attic shoebox
with the sides bulged out.
The poem was for that night
at the Chelsea Hotel,
our first Valentine's Day, 1995,
back when you were, to me,
a blank memoir
a rococo frame built to contain
the brilliance of an untested existence.
I had rented a room—
a Valentine surprise—
and equipped the bare fridge with Champagne,
the night stand with flowers,
my pocket with a poem
written on the No. 2 train
between Borough Park
and 42nd Street.
I was late to meet you for the Albee play
after placing a specific injunction
upon you not to be tardy.
At dinner afterwards,
the couple next to us
amicably negotiated their divorce.
We rode in silence down 7th Avenue.
What happened in the Chelsea Hotel
stays in the Chelsea Hotel, except for this:
looking into the sepia-toned apartment windows
across 23rd Street
and trying to guess what shape the lives took
as we watched people move room to room.
As we tried to guess what shape we might take—
if our fiery course
would run headlong to consequence.
Twenty-three years ago
you entered my life and changed it forever.
(I feel so odd and lucky to write that:
Twenty-three years ago you entered my life.)
You once wrote me:
It is not possible to withhold my soul
so that is does not touch on yours.
All my fine phrases have nothing on this.
Iconoclastic you. Implacable you.
Irreplaceable you.
You, you, you.
_______________________________________________
As I write this, on the morning of May 24, reality—always a bit of an odd bird—seems stranger than ever. The truth is called a liar on a daily basis. The president is a parody of a caricature of a performance of a drowning man who keeps putting stones in his pockets in order to save himself. Congress can get nothing done. Our own congressman, John Faso, is afraid to meet with his constituents, as Larry Beinhart notes ("Nobody Dies Because They Don't Have Health Care," page 29). The country feels more divided than ever—like headed-toward-civil-war divided. Overseas, young men continue to blow themselves up in crowds, killing dozens of others, to prove a point about holiness. Acrimony rules.
May 24 is the date of the anniversary I share with Lee Anne. We first got together around this date back in 1994, and formally committed to each other in a ceremony on this date in 2003. Back then, I was more of a poet than I am now. But I was digging through my poetic belongings and came across something I wrote for Lee Anne right when we were first dating. At the time, I was playing around with writing poems directly on top of fine art prints. In this instance, I wrote on Magritte's Castle of the Pyrenees, which features a fortress atop an egg-shaped rock, hovering over a shoreline of crashing waves. The metaphor of the floating castle seems to be one of the impossible made possible—which is analogous to the success of a long relationship.
Point being, cliché or not, what the world needs now is love. So I've written a love poem, using a bit of 20-year-old verse as a jumping-off point. The world needs all kinds of love besides eros—a little more agape would be nice—but on our anniversary, I offer you a look at a floating castle.
Housekeeping
First, a correction: last month, we mistakenly referred to Hudson Valley Brewery owner John-Anthony Gargiulo as "a former owner" of The Hop. Gargiulo worked there as a bartender for a time, but left to open Hudson Valley Brewery. Our apologies for the error. Second: Big props to former Chronogram art director Carla Rozman for sending Sean Andrew Murray's artwork my way. Murray's Temple of the Great Fish is featured on the cover this month. It takes a village, as the saying goes. If you know of anyone whose artwork should be on the cover of the magazine, please let me know.