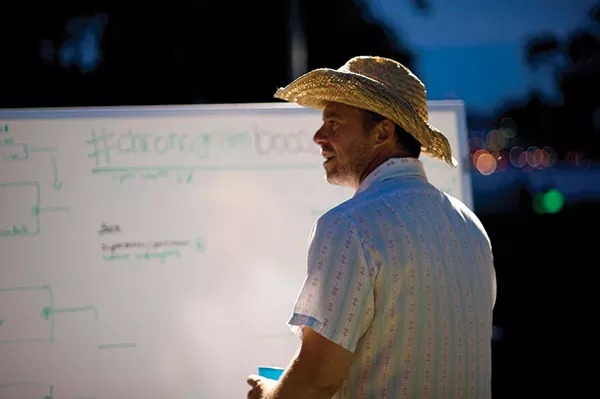 As a young, melancholic poet, autumn was my favorite time of year. I suffered through long, sunny summers waiting for that blessed season. It wasn't the beauty of fall's riotous Technicolor display I cherished, of course. Leave that to the tourists and the normals. The changing of the leaves was a sign of nature's imminent decay, and I sulked about in a cable-knit sweater like an archduke of rapturous sadness, reveling in the wonder of impermanence and desperately hoping that girls would sense the depth of my inner life and find my brooding thrilling. Suffice to say, I did not date cheerleaders. (Note to all you cheerleaders: This is no knock on you. I just didn't ever run into you walking through the woods at dusk reciting verses from The Waste Land. You were probably at practice, or happy hour, or finding new ways to tie your hair up with those oversized scrunchies and hair clips that were so popular in the `80s. To be fair, I never ran into girls of any sort in the crepuscular forest, not even the poetesses. No doubt they were at happy hour as well.)
That type of dolorous ego-gazing only takes you so far. Like to about 25, maybe 30 years of age if you're pushing it, and you have a deep collection of tweed jackets, a trust fund, an advanced degree in literature, or you live in your parents' basement. Any two of those four should be enough to carry you all the way to the grave in a pose of entropic pensiveness.
When I gave up on sorrow, I needed to find a new favorite season. Fall was too freighted with embarrassing memories of my own pretension and I couldn't quite bring myself to muster the unalloyed enthusiasm for pumpkin picking, candied apples, and college football required by true devotees of autumn. If I had not re-enacted the Agony of Defeat highlight from the opening montage of "Wide World of Sports" the first time I tried snowboarding, perhaps winter might have been the ticket.
And as for spring, forget it—it's mostly hype. A couple of crocuses as a sign that the dark, cold winter is behind us and I'm supposed to swoon? What about the mudfest of March? The tepid shittiness of April? The late frosts of May? Spring is going to need to work harder than that to win me over. If ever a season overpromises and underdelivers, it's spring.
This leaves summer, that sublime season whose pleasures I denied for so long. Which makes it sound like the season of last resort, but this is so not so. Before my phase as a poetaster, back when I was but a wee lad, I wholeheartedly indulged in the luxuriousness of July and August, running wild with the neighborhood kids, playing every ball and board game ever invented and making up new ones as well. The long days stretched out like the pure possibility of fun and adventure.
Though I sit at a desk full-time and cannot roam free through the sultry, sunny days like a feral youth, I still treasure this time of sultry, sunny days outside my window. Summer is the time of year when joy feels baked into the blood. The birds are singing the sun up at 5:30 and there's even enough time after work to worship that fiery orb that gave rise to life on Earth for a couple hours. The giddy excitement of just existing outside in shorts and a T-shirt is irresistible. The season feels like all possibilities realized.
This is all just to say: Summer will be over before you realize. Gather ye swims in the ocean, bicycle rides on the rail trail, pageants of puppetry, al fresco dinners, wiffle ball tournaments, drive-in movies, music festivals, epic water balloon fights, visits to the farmers' market, performances of outdoor Shakespeare, Chronogram block parties, soapbox derbies, and hootenannies. It'll be winter soon enough, and you'll be getting Rosebud out of the garage. Spoiler alert: Rosebud is the sled.