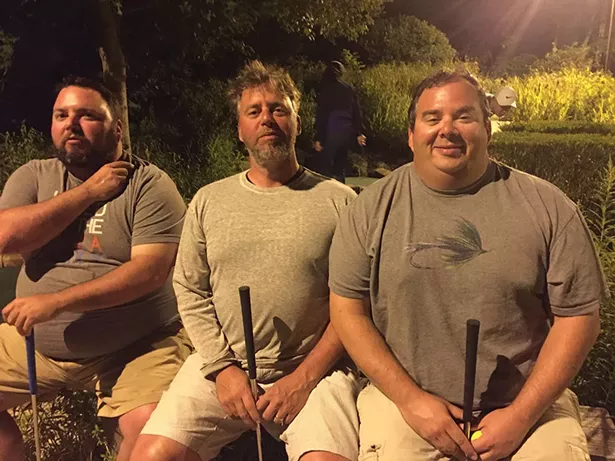 The brothers Mahoney at Harbor Lights Mini-Golf in Brewster, MA, on August 16.
Twenty years ago, I wrote a piece for this magazine titled "Summer of `83," for the July, 1997 issue. It ostensibly told the story of a 12-year-old on holiday with his family on Cape Cod. This preteen is far from his friends, responsibility-free, and needs to find ways to entertain himself in the expansive stretches of time that are his summer days. He's pimply and shy. He's a bed wetter and a reformed pyromaniac. He's got a crush on a girl, a family friend, who's staying with them; he's as useless at figuring out what to do with this infatuation as you would expect of most 12-year-old boys.
As a kind of reaction to all of this, the lad becomes obsessed with miniature golf and spends an inordinate amount of time at a miniature golf course within a bike ride of his family's vacation rental. He plays the course over and over, a dozen times a day, which the kindly owner allows, charging him just the price of one game. By the end of the three-week holiday, he's gotten a hole-in-one on every hole, even the seemingly impossible hole 16, which is a raised mound that slopes away on all sides from the cup in the middle. He rides away on that final day in a state of deflated satisfaction. Something (inconsequential) was accomplished, but no one saw it and nothing changed. The piece ends with a quote from a poem by Czeslaw Milosz: "To win? To lose? What for, if the world will forget us anyway."
In case you hadn't figured it out, the boy was me. Still is me, I guess, though I'm no longer pimply or shy or all the rest. I'm a grown-ass man now, with many of the trappings of adulthood: mortgage, 20-year relationship, streaks of gray in my hair, a voice deep enough to convey gravitas, domestic struggles with rodent incursions and a lawn with persistent bald spots. (To be clear: Those bare patches on my lawn rankle me—more than I care to admit. In a way that makes me appreciate my father's rage and horror when he found me blithely hacking at his lawn with a pitching wedge one afternoon as a child, when I had the notion to build a mini-golf course in our backyard.)
It's odd as hell to look back at the carefree kid who spent the summer of `83 doing mostly nothing and playing mini-golf. I know he was me, yet he seems like a distant relative. And then to look at the 26-year-old boy/man, then just starting out as a writer, who decided to document this episode. What prompted me to home in on that experience, as opposed to any other on that vacation, like the day I fell asleep at the beach and got the worst sunburn of my life and my father put me in a cold shower and rubbed popsicles on my back until I stopped crying? Or any other incident whatsoever?
But I see that I'm doing it again. Just like at 26, when I looked back at my 12-year-old self and tried to figure out what he was doing, I'm now a 46-year-old interrogating myself 20 years ago. As if, by excavating the past, I could unravel past motivations and thereby understand what I should do now, or next week, or next year. Because like the rest of us, I'm just making it up as I go along. As I can't see the future, the only option is to learn from the past. Of course, looking back is a trap if we merely repeat our past behavior.
(One radical idea I've had in this regard is to choose one day and make different choices than I normally would—kind of a variant on Luke Rhinehart's cult classic The Dice Man, in which the main character makes decisions based on the casting of dice. Except in my case, I would ask myself: What would Brian do in this situation? And then do the opposite. Where would I end up by the end of the day? Would I like myself more? Would other people like me more? What then? Yikes. The possible outcomes are frightening to contemplate, which is why I'm too scared to attempt it.)
These memories and associations were swirling in my mental ether last month, when I returned to the Cape with my siblings and their families and our mom. We rented a house in the village of Brewster, on the bay side of the Cape, not far from the house we use to rent back in the early `80s. From the deck of the house, we could see the bay, known as the Brewster Flats, where the tide goes out over a mile twice a day. It's the widest expanse of tidal flats in the Northern Hemisphere.
We rented the house for a week, unlike the three weeks my parents vacationed for back in the day. Which got me to thinking: Who goes away for three straight weeks anymore? (The last time I did was 1998. It seems inconceivable now.) As it was, I spent a couple of hours each day on my computer and phone, pushing various projects along and preventing hundreds of e-mails from backing up. I even had a conference call while walking out among the crabs in the tidal pools along with my sister, her husband, and their baby girl, Adeline. I also managed to get radioactively tan (in the best possible way), my small portion of southern Italian DNA showing through.
As for mini-golf: I played a round at the old course—still in business 34 years later—with my brothers and brother-in-law the day before we left our beach idyll. I didn't get a single hole-in-one, but my putting was good enough to win by three strokes. (My victory has been marred, however, by accusations of scorekeeping anomalies and doping allegations due to a multiple-margarita-fueled euphoria. I maintain my innocence. We are awaiting a ruling from the World MiniGolf Federation.) I didn't conquer the course this time, but I beat the rest of the family, which was more than enough to delight the 12-year-old boy in me.