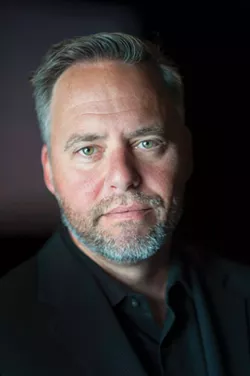 Fans of my normal storm und drang will be a little disappointed this month. I want to get that right out the way. Not every column can deal with dead mothers or fired astrologers; it was a good run while it lasted, but I seem to be low on both at the moment. Luckily, one can hire a new astrologer, and I welcome Lorelai Kude as a contributor. Horoscopes for August can be found on page 108.
But I will try and entertain you nonetheless. Here are some words to possibly delight you—vuvuzela, umlaut effluvia, ululate—emphasis on u. These words might all have been found in the back of the marble notebook I kept for geometry homework in high school. The last dozen pages were taken up with a long vocabulary list under the heading "Awesome Words." The heading was written in a style that was half-graffiti, half Hello Kitty bubble letters. (A failed attempt to ape the style I saw on the spray-painted subway I rode to school every day, the result being as clear an indication of my pathetically striving outer-borough-white-kid unhipness as my cuffed khakis, an ersatz version of the parachute pants so hot at the time.)
As for the "Awesome Words": They were linguistic flotsam and jetsam that I picked up along my travels as I became a literate person. Congruent (from geometry class, natch) sat right above ethnocentrism (world studies, thanks Ms. Mancuso), and below that was freebase (which I learned about from Stefan Parker on the train). Hundreds of words written in erasable blue ink, all in neat rows in a lined notebook—I was storing them up like a kid would store snowballs in a fridge.
Not entertaining enough? Okay, how about this: My buddy Stuart, he loves scones. He'll drive for miles for one of these savory pastries, from Cold Spring to Claverack, Peekskill to Phoenicia. My boy needs his biscuits. Which is fine, we all have our thing; only trouble is, Stuart suffers from celiac disease. Recently, I finally asked him why he keeps eating scones if it's so painful for him. "I can't help it," Stuart said, "I'm a gluten for punishment!"1
Ahem. Now, some announcements.
Block Party/25th Anniversary Party
If you're wondering why you haven't been inundated with marketing for the Chronogram Block Party in August, well, that's because it's not happening. Apologies to all the spontaneously dejected. Despite the runaway success of the event, we've decided to skip this summer in anticipation of our 25th anniversary in November. We'll be printing a special issue and hosting a blockbuster event (location TBD) to celebrate the fact that Chronogram has not only survived a quarter of a century, but continues to thrive. This has everything to do with our network of readers and clients that see the value in what we bring to the Hudson Valley. We're grateful for your encouragement and support.
Zeroes & Ones
One of the newer ways in which we're thriving in with our growing digital presence, which has become a substantial editorial focus. We've hired a full-time digital editor, Marie Doyon, who juggles the zeros and ones for us and oversees our vast digital portfolio, including
Chronogram.com
and
Upstater.com
, which are updated daily. While print
Chronogram
is still the primary outlet for our long-form features and arts coverage, our website is a great resource for pithier lifestyle pieces highlighting the latest scoop on restaurant and shop openings, concert announcements, outing recommendations, and other notable, trend-setting topics.
Speaking of being in the know, do you subscribe to our Eat. Play. Stay. newsletter? Four days a week, we blast the inboxes of our (consenting) subscribers with a powerful torpedo of culture. We dish about the chicest backwoods roadhouses, the punkest boutiques, and the sweetest digs, so you can get the most out of living in the Hudson Valley. You can sign up for our newsletter on the home page of Chronogram.com.
Promoting Regional Identity
On Saturday, June 23, over 400 guests gathered at Hutton Brickyards to celebrate Scenic Hudson's partnerships in protecting Ulster County's natural treasures as part of its valley-wide mission. Scenic Hudson honored
Chronogram
's corporate parent, Luminary Media for helping to create healthy, prosperous communities throughout the Hudson Valley. What follows are the kind words of Scenic Hudson Senior Vice President Erin Riley, who presented us with our award:
"For more than 25 years, Luminary Media has served as the valley's town crier. Each month in its Chronogram magazine, Luminary informs us about opportunities to enjoy those assets that define the region's unique identity—from the great outdoors and the local food scene to vibrant neighborhoods and art inspired by the valley's beauty. It also calls attention to plans that could jeopardize these assets. At the same time, Luminary hosts a monthly series of Chronogram Conversations in valley communities. These thought-provoking forums bring local stakeholders and citizens together for meaningful discussions about ways to improve the quality of life and prosperity of their hometowns."
Bow taken. Thanks, Scenic Hudson.
The River: A New Model for Sustainable Journalism
"Journalism is going to survive. I just don't see how the businesses that have provided it will survive."—Clay Shirky, media and technology writer.
On July 23, the Daily News—where I got my humble start in this business as a paperboy—announced it was laying off half of its newsroom, essentially gutting its editorial operations. The Daily News is only the latest casualty. The business of journalism is in crisis, and a new model is needed. In the fragmented media landscape of the Hudson Valley, we face an additional problem: coverage of region-wide issues is virtually nonexistent.
What's needed in the Hudson Valley is regionally focused journalism that's funded outside of the advertiser-supported model. That's why this fall we're launching The River, a journalism project, incubated within Luminary Media, aimed at delivering investigative reporting on regional topics of national relevance.
Luminary Media has teamed up with Civil, a journalism start-up that's built an ad-free digital platform powered by blockchain technology (what enables Bitcoin, among other things). The River will be hosted on the Civil platform, along with dozens of other journalism sites across the country that have already launched.
The River is part of a newsroom ecosystem that promotes and rewards the distribution of insightful and trustworthy news and information. Civil's cryptoeconomic model introduces a compelling new incentive structure to deliver peer-to-peer journalism, bringing readers into direct relationship with newsmakers. It might just be the revolution in journalism we've been looking for.
If you'd like to follow our progress as move toward our launch or join our newsroom communtiy, sign up for our weekly newsletter at or email us at theriver@luminarymedia.com.