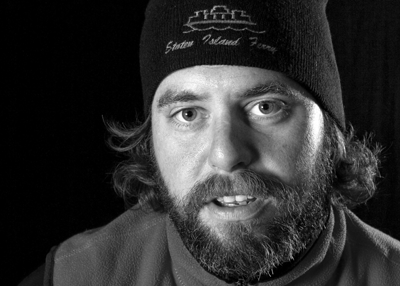 One of the primary jobs of a magazine editor is to decide what material will comprise any given issue. This necessitates, of course, excluding other material. The opportunity cost of printing any particular story or photograph is not to run a different one in its place. Also, some writers—who shall remain nameless—have a tendency to write longer than expected, and need trimming to fit. While this is the function of the editor—to edit the universe of all possibilities down to (hopefully) the one that is best in its given context—it's not the most joyous editorial task, as it usually necessitates leaving some good stuff on the cutting-room floor. What follows is a celebration of these necessary but unfortunate trimmings.
Sometimes, the jettisoned pieces are just factoid jetsam that you wish you had more room for. In my interview with Dan Leader (Local Luminary, p. 17), the founder and CEO of Bread Alone told me that the price of wheat has gone up 120 percent in the past year, due to a number of factors, but mainly because of increased trading (read: betting) on wheat futures due to stock market volatility and increased cultivation of corn for biofuels. This has caused prices at Bread Alone to rise, on average, 25 cents per baked item.
This rise in the cost of wheat is not just a local phenomenon. Food prices are spiking around the world. As I write in late March, CNN.com has just posted a report on the price of spaghetti doubling in Haiti, effectively putting it beyond the reach of many of that nation's poorest citizens at 57 cents per bag. Abdolreza Abbassian, an economist with the UN, explained the effect of the rising prices this way: "Currently if you're in Haiti," Abbassian said, "unless the government is subsidizing consumers, consumers have no choice but to cut consumption." (Read: starve.)
Another instance of an interesting tidbit that we had to trim away due to spatial constraints: In an interview with Jordanian journalist Rana Husseini about her crusading reportage against honor killings ("No Honor in Killing," p. 26), Husseini told Senior Editor Lorna Tychostup that criticism of her stories as anti-Islam, anti-family, and anti-Jordan did not always come from expected sources. "One of the criticisms I received," said Husseini, "was from an intellectual Jordanian woman who worked in a high position and had studied abroad. She called the newspaper and started screaming at my editor, saying that they should stop me from writing because I was tarnishing the image of Jordan."
To accompany the Husseini interview, we were lucky enough to make contact with renowned Jordanian cartoonist Emad Hajjaj, who has illustrated many of the issues Husseini has written about for the Jordan Times. As we don't normally run cartoons in our News and Politics section, we chose to feature Hajjaj's chilling depiction of a father casually threatening his daughter's life for wanting to play sports in the Table of Contents (p. 6).
Sometimes, what gets cut out is of a more lighthearted nature, but reveals the interiority of a situation not usually available to outsiders. When speaking to Paul Masiero, chef/owner of Baba Louie's pizza restaurants in Hudson and Great Barrington ("Adventures in Pizza," p. 64), he explained the bedrock importance of service and the stress he places on it with his wait staff, relaying wisdom he had been taught at the Culinary Institute of America. "People will always come back for great service, but they'll never come back for great food and lousy service."
Some pieces, especially those that can remain current while other, more time-sensitive features bump them from the schedule, pinball from month to month until they find a home in a future issue. This is the case with a long-planned feature story on Ben Cheever, author of four novels and two books of nonfiction, the most recent being Strides: Running Through History with an Unlikely Athlete. The son of John Cheever and editor of his father's published letters and journals, and a good sport for being gracious enough to bear with us as we have adjusted him around our schedule for the past six months, Cheever is profiled by Books Editor Nina Shengold…in our May issue. This month in our Books section, Tobias Seamon interviews Pulitzer prize-winning author Steven Millhauser, whose most recent work is a collection of short stories, Dangerous Laughter (p. 54).
Some stories you assign, edit, and plan for, but they don't quite work out. Take Lila Downs, for instance. After being enchanted by the Mexican chanteuse via a performance I saw on YouTube, I assigned a preview of her April 5 performance at SUNY New Paltz to music scribe David Malachowski. Although we pushed the piece to the deadline and beyond waiting for Downs or her management to get back to us for an interview (Downs had been touring overseas), it was too late when it materialized. A short preview of the Downs show appears in Nightlife Highlights (p. 52).
Finally, there are those articles that you end up just not having enough room to fit. This was the case with a handful of films that are being screened around the region this month, which we planned on previewing in the April issue. You can find capsule reviews of them at Chronogram.com.
Marco Williams investigation of how blacks were run out of certain communities en masse around the turn of 20th century, Banished: American Ethnic Cleansings, will be shown at Downing Film Center in Newburgh on April 7 as part of the social justice film series the theater is cosponsoring with the Orange County YWCA. www.downingfilmcenter.com.
Filmmaker Irena Salina will lead a post-screening discussion of her film on the global water supply crisis, Flow: For Love of Water, at Upstate Films in Rhinebeck, on April 15. www.upstatefilms.org.
On April 10, there will be a preview screening of the National Geographic Channel documentary Human Footprint, which examines the cradle-to-grave consumption patterns of Americans. The film, shot on location in the Hudson Valley last summer, is being shown as a benefit for the Hudson Valley Film Commission prior to its airing on the National Geographic channel on April 13. www.hudsonvalleyfilmcommission.org.
Cristian Mungiu's unsentimental tale of two college roommates preparing to travel cross-country in the final gasp of Communist Romania to procure an illegal abortion, 4 Months, 3 Weeks, 2 Days, won the Golden Palm at Cannes and will be showing April 5 and 6 at Time and Space Limited in Hudson. www.timeandspace.org.
One of the secondary jobs of an editor is to apologize for all that doesn't get in. So, my humble apologies to readers, writers, profilees, and event promoters. We try our best to fit everything in. As my mother says to her children: I love you all equally. My siblings and I suspect differently however.