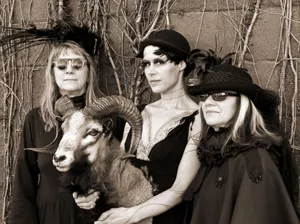 Between and post about this weekend's set by the Unstuck Sound at Ör Gallery & Tavern and this one, there's a little bit of a Hudson-music theme going on in the Daily Dose: Right here's some news about the latest video by Hudson indie cabaret band Dust Bowl Faeries, which the group released in honor of today, International Women's Day.
Fronted by the eccentric performance artist Ryder Cooley and her ever-present stuffed ram's head Hazel, the Faeries have been haunting the Hudson Valley music scene for several years and recently released The Dark Ride Mixes, an EP of remixed songs from their self-titled 2016 debut. The new video is for the song "Sirens," which Cooley describes as a "solidarity message of support for the #metoo movement."
Here it is:
To find out about more events in the Hudson Valley, subscribe to our weekly newsletter 8-Day Week.