Page 2 of 2
The Hudson Company
Offering salvaged and new-sawn lumber to architects and designers, The Hudson Company is a custom mill specializing in sustainably sourced wood flooring, paneling, and beams. Boasting a far-reaching roster of impressive installations—including the reclaimed heart pine flooring underfoot at the Renzo Piano–designed Whitney Museum—The Hudson Company's range of responsibly crafted architectural products is handmade in a vertically-integrated mill, which sits atop seven acres in Pine Plains. Fulfilling all facets of the manufacturing process on site, a distinct aspect of The Hudson Company is involved in every step of the process, starting with the sustainable sourcing of raw materials. Much of their reclaimed wood is salvaged from local barns, factories, and farmhouses, while the purpose-cut wood comes from hand-selected trees on a private timber stand and specialty timber elements are obtained from primary mills in North America and abroad.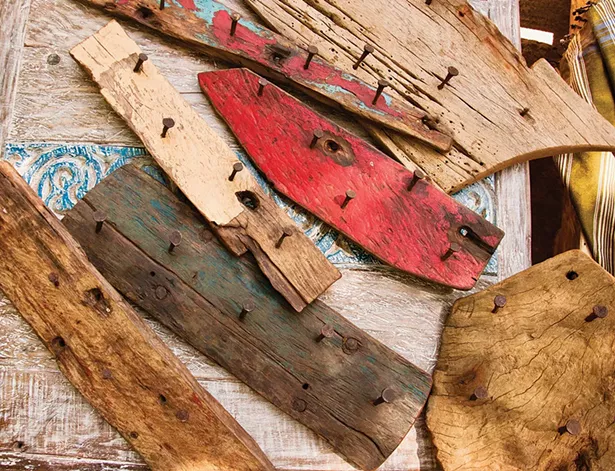 Photo: Moses Duma
Pieces of wood salvaged from Dhow boats with handmade nails, to be crafted into wall hangers.
Growing Places Spearheaded by Ben Simpson, Growing Places is a Kingston-based company concentrated on conceiving sustainable structures with alternative materials and straw bale-construction methods. Adapting an approach that can be traced back to farmers in the Sand Halls of Nebraska during the early 19th century, Simpson's straw bale structures offer an exceptionally environmentally friendly addition to green design tactics. Using climate-specific designs, blueprints, stamped plans, and permit services, Growing Places offers construction services as well as community workshops in foundation systems, straw bale-building design, passive solar design, natural plaster finishes, and mechanical systems consultations. Moreover, the firm provides practical advice for all phases of construction, as well as hands-on teaching for general contractors on projects, and can coordinate all aspects of building design and construction.
Threshold Builders
Dedicated to delivering smart design for the Hudson Valley's Ulster, Dutchess, Greene, and Columbia counties, Threshold Builders combines craftsmanship and technical acumen to create highly energy-efficient residential and commercial environments. The Kingston-based design-build firm is comprised of carpenters, project managers, and designers that are adept in the age-old and popular philosophies behind energy-efficient design. Threshold Builders' services include predesigned and semicustom passive houses and net-zero dwellings, which use 90 percent less heating and cooling energy than a standard to-code home. The company takes a systems-based approach to construction with optimized building components that include a panelized wood wall system that provides an insulated and airtight wall envelope, frost-protected shallow foundations that allow for adequate air sealing, as well as cellulose-insulated, vented roof systems to provide a solid sheathing air-tight barrier.
Photo: Moses Duma
The Dhow team of Kenyan carpenters, Baya, Moses, and Iddi.
Dhow Art
Dhow Art produces intricately crafted fine furniture out of salvaged dhow ships from East Africa. Before relocating to Woodstock, Swedish designer and artist Lumman Kyhle spent 25 years living and working in Kenya, where she found herself intrinsically drawn the beauty of the weather-beaten wood reclaimed from these centuries-old former sailing vessels. Kyhle and her team of local artisans and skilled carpenters search for and salvage old shipwrecks found along the East African Coast before transforming them into a line of bespoke interior furnishings. Adorned by the distinctive traces of a time, each exquisite piece is made by hand without the use of any machinery, while every facet of the salvaged materials is put to use in the construction process. Currently on display and available for purchase in Kyhle's Woodstock location, Dhow Art's diverse designs celebrate the journey and transformation of its unmatched material while reflecting the joy that Kyhle and her team find in the transformation process.

Samuel Moyer Furniture
Shepherded by designer Samuel Moyer, this Hudson Valley collective of artists and makers offers custom-made furniture and artful objects that are produced individually and in small run productions with traditionally derived sustainable and ethical practices in mind. Samuel Moyer Furniture was founded in 2003 and boasts a bicoastal roster of clients that sweep across the country from Los Angeles to New York City, while covering a healthy handful of locations in between.
Photo: Samuel Moyer
A salvaged elm root and copper table by Samuel Moyer, with a polyx oil rubbed finish and metalwork by Richard Vasta.
Moyer's ethos and oeuvre revolve around the reuse of material—he is motivated by the pastoral splendor that surrounds in the Hudson Valley, often finding value in the untold stories seeped into the age and character of a piece of salvaged wood.