Paul McCartney's elaborate wedding to Heather Mills was based on an Indian theme, and included dancers in authentic dress and vegetarian catering. Jennifer Aniston and Brad Pitt created an exotic Zen garden design for their day, with the help of 50,000 flowers. Tori Spelling and Charlie Shanian had a Great Gatsby motif, accented by her 1920s flapper accessories. These celebrity weddings, along with a barrage of magazines, television shows, and websites geared toward brides-to-be, have accelerated a growing trend in the industry—the theme wedding.
"I have to say that almost all of our weddings are on some level theme weddings," says Susan Baker, director of sales for Mazzone Management Group, which organizes weddings at the Glen Sanders Mansion in Scotia. "Every bride we talk with is trying to accomplish an overall look, whether it's a contemporary, edgy, mod look, or a traditional English garden look."
Baker and Jeanette Bowers, an assistant general manager for the Mallozzi Group, which organizes events at the Italian American Community Center in Albany, say that the most common theme they see is destination-related—portraying a couple's affection for a particular location or bringing the feel of a foreign ceremony home in a reception for friends and family. "If you can't go to the Greek Isles," Bowers says, "bring them to you." She helped one couple capture the spirit of their Hawaiian destination wedding with a luau-themed reception for friends and family that included tropical fruits and flowers for centerpieces and a pig roast. Baker says that when couples have a destination wedding, they're more willing to have fun with their reception when they return home. One couple arranged a southwestern and Cinco de Mayo themed party that included a mariachi band, lots of bright colors, and sangria.
Bowers even worked with one couple to bring Vegas style to their wedding with a casino design—the reception was transformed into a gaming room of reds, blacks, and greens, with roulette and blackjack tables complete with dealers. Guests were given play money, which could be cashed in for prizes like gift baskets or wine bottles, in lieu of traditional favors. Bowers says depending on the couple's financial commitment, there can be numerous creative possibilities—Elvis impersonators, showgirls, and lounge-type bands—to further enhance the theme.
Other couples have looked to their family backgrounds for inspiration. "We do see a lot of people going back to their cultural roots and wanting to bring in pieces of each side of the wedding," Baker says, recalling one Italian-Greek wedding that united the Greek plate throwing custom with Tuscan touches like a five-tiered wedding cake decorated using sugar-rolled grapes. Bowers says that the motif doesn't have to be present in every aspect of the celebration. "I think what's nice with themes is that you can make them subtle," she says. One Mallozzi wedding involved extending the cocktail hour of a Chinese/Italian/American wedding to include a traditional Chinese tea ceremony, which Bowers says was a beautiful addition that represented the joining of two families.
Even couples that don't affiliate themselves with a nationality and its associated customs can find inspiration in ethnic traditions. Both Bowers and Baker have done Moroccan-themed weddings, a country that neither bride nor groom hailed from or had visited. "We have absolutely no ties to Morocco, except I majored in art history and architecture and I just love Moroccan architecture," says Abigail Keeler-Hord, one of Baker's clients. She says the aesthetic of Moroccan design was perfect for her and her husband's eclectic style. Their Moroccan concoction included meals flavored with the seasonings of the country; staff dressed in ruby-red, Nehru chef coats; and belly dancers that introduced the first course. The cocktail hour followed a color scheme of teal and black before being transformed into a lounge of gold and crimson for the reception. The theme was made complete with fire pits and oversized cushions for seating. "We used the peacock feather as an inspiration for a lot of the floral design," Keeler-Hord recalls. Working closely with David Schmidt, owner of Renaissance Floral Design in Albany, they created striking arrangements. "The centerpieces were acanthus urns with tall plumes of peacock feathers and a dramatic mix of roses and lilies—a melange of Moroccan color," she says.
Couples can also consider integrating seasonal elements into their themes. One of Baker's favorites was a winter wonderland wedding done in January. "The room was done with sprayed birch branches that were glistening, the linens were an ice-blue, and lots and lots of little twinkle lights everywhere," she recalls. "When the bride and groom began their first dance, a snow machine started so there was snow falling." She said an Adirondack theme is also popular for the Lake George area, and she's used regional, seasonal flowers like roses and hydrangeas and area foods like venison and trout. Although Keeler-Hord's wedding decor wasn't autumn-based, she found inspiration in the colors of the upstate foliage. "I really liked the idea of a Moroccan theme given the fact that the setting was in Loudonville in the fall. Those jewel-tone kind of colors that one would generally associate with Morocco seemed to be a natural fit for the environment," she says.
If you're interested in having a theme wedding, you won't be at a loss for inspiration. A slew of bridal magazines and websites, like TheKnot.com, can get you on the path to matrimonial musings. Think outside the box and browse through some home catalogs and interior design magazines, which can offer imaginative color schemes and unique design plans that you and an event planner can convert into the wedding theme of your dreams. Clip out images and colors that reflect what you'd like your big day to look like, and bring them to your event planner. "They say a picture is worth a thousand words, and it really is true," says Baker, who had a client bring in a picture of a couch from a home decorating magazine in an obscure chartreuse that she wanted to incorporate into the wedding. "It was important for her to bring me that, because I could source that and bring that exact color, whereas if she had said to me, 'Well, I want it to be kind of a chartreuse/lime green,' I could've come up with the completely wrong color because there's so many versions of that."
Baker also reminds couples that although a theme can help keep a wedding focused in the planning stage, it can also be too narrowing. "Sometimes people can get so involved in the theme and keeping true to the theme, they're not thinking about what could work best for the guests," she says. "You don't want to be serving food that no one's going to enjoy just because it works with the theme. If a theme lends itself to a culinary style, that's great, but often it doesn't." Her compromise for such a situation is to offer an appetizer that's faithful to the theme, but have a more conventional entrée for guests who may not appreciate an ethnic or unconventional culinary flare. Then for dessert, return to something more creative. Keeler-Hord, who has a background in event planning, says having a theme made her planning a little easier, but she reminds couples to be cautious. "Some things look good on paper when you're coming up with a theme, and then when they actually translate into real life they can be too over the top," she says.
A theme wedding can also be challenging to integrate into the venue. Baker had one bride choose the Inn at Erlowest in Lake George as the location for an art-deco style celebration. "We were a little concerned about the planning," Baker says. "She fell in love with Erlowest and it worked for her geographically, but that site is a very romantic, Victorian-looking space." Baker worked closely with the florist to transform the ballroom space. Some strategic placement of greenery camouflaged the initial look of the room, and the theme was pulled off with an art-deco, Hollywood look of black, white, and silver.
If you have an idea for your wedding, run with it. But don't be deterred if you're not the creative type. Ask friends or family to help you brainstorm, or think about hiring an event planner to help generate imaginative touches and get the ball rolling. "A lot of it is starting with a little bit of an idea," Bowers says, "and letting your event planner use their imagination and creativity and just go with it."
The elaborate table decor of the reception reflects the jewel tones of Morocco. Image courtesy of Renzi & Hawkens Studio. All rights reserved.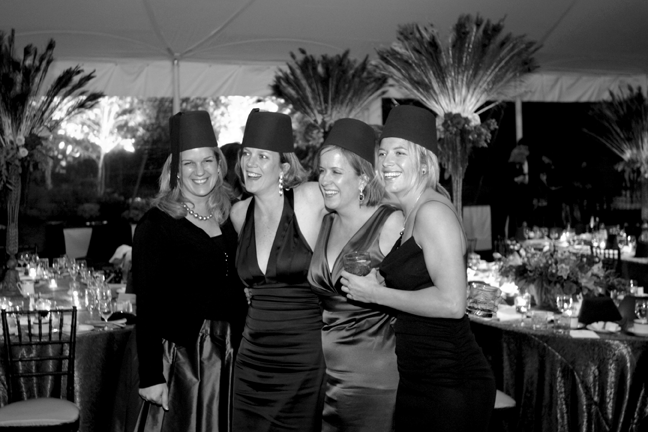 Guests pose in traditional Moroccan fezzes at the Keeler-Hord wedding. Image courtesy of Renzi & Hawkens Studio. All rights reserved.
Bellydancers perform as the first course is served. Image courtesy of Renzi & Hawkens Studio. All rights reserved.