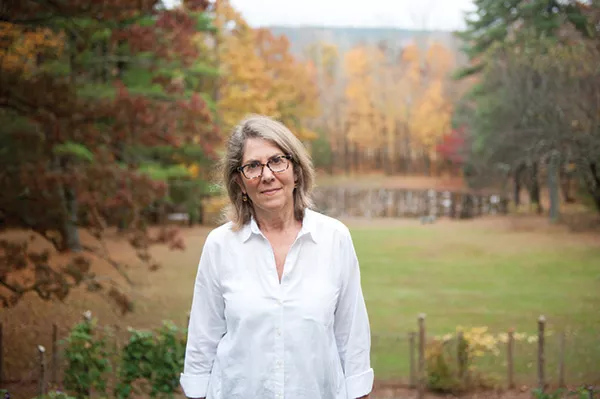 Elizabeth Lesser looks right at home in front of an overflow crowd at Woodstock's Kleinert/James Center for the Arts. The best-selling author and Omega Institute co-founder has just returned from a West Coast book tour for her stunning new memoir Marrow: A Love Story (Harper Wave, 2016), and there's a special joy in sharing her work with her neighbors.
Lesser has had the same Woodstock address for more than 30 years. Her son's family lives next door, and she takes daily delight in her grandchildren. But like so many of her peers, she took the long and winding road home.
Her childhood began in the Long Island suburbs. Her father was a "Mad Men"-era ad exec with a yen for the north woods; her mother an English teacher with activist leanings. "Whereas most adults were trying to be Ward and June Cleaver, my father and mother were aiming for Henry David Thoreau and Rosa Parks," Lesser writes. When they summarily uprooted their four daughters and moved to Vermont, the "back to the land" lifestyle failed to erase certain urban obsessions; the New Yorker remained "my parents' holy text."
The second of four sisters, Liz Lesser was typecast by family lore as the smart, bossy one. Maggie, she writes, was "the 'good' one—the well-behaved girl, the one my mother could depend on. And our shy littlest sister was Daddy's favorite, overrun by her big sisters, forever locked into being the baby." Both born in August, they were made to share birthday cakes. Maggie blew out the candles; Liz scowled.
And rebelled. From an early age, she challenged her family's hierarchy and her parents' zealous disdain for religion. "I was born with a spiritual ache in my bones," Lesser writes, and it's tempting to think it came right from the marrow.
In true hippie style, she left college to work as a midwife and childbirth educator, move to California, and follow her bliss. But her Sufi teacher Pir Vilyat Inayat Khan was "not your run-of-the-mill guru." Fluent in seven languages, he dreamed of creating a holistic learning center modeled on the ancient libraries of Alexandria. "Remember, this is a time when words like holistic, yoga, and meditation were still considered flaky," Lesser says. She and then-husband Stephan Rechtschaffen, a holistic MD, were living in a Berkshires commune when Khan tapped them to run the school he called Omega. Lesser was 22.
The young leaders rented spaces in New York and Vermont for four years before finding the former Camp Boiberik in 1981. A tumbledown Jewish kids' camp founded by the Sholom Aleichem Folk Institute, its property outside Rhinebeck included 140 acres of woods and meadows and a swimming lake. "Dutchess County was very rural back then, not at all the Hudson Valley Hamptons," Lesser notes. The name Omega came from the teachings of radical French priest and philosopher Pierre Teilhard de Chardin, whose term "Omega Point" describes the peak of consciousness and unity all life is trying to reach. (In an interesting footnote, de Chardin was exiled by the Vatican to Poughkeepsie and died in a Catholic monastery that's now the location of the Culinary Institute of America. "He's buried six miles down the road," Lesser says.)
Omega had found its home, and so had Lesser. For the next 25 years, she "lived and breathed it. I never did anything else." Her dedication helped build the Omega Institute into a world-renowned learning, spiritual, and arts community that now hosts 30,000 visitors a year.
Meanwhile, Lesser raised her three children and started writing books, first The Seeker's Guide: Making Your Life a Spiritual Adventure (Villard, 2000), then the New York Times bestseller Broken Open: How Difficult Times Help Us Grow (Villard, 2004). In it, she used her own divorce to explore how calamities can shake people awake. After its breakout success, she appeared on "Oprah" and national radio with "all my dirty laundry flapping in the breeze for everybody to see. I didn't mind that much, because we're all embarrassingly the same," she explains. "We're not really unique in our heartbreaks and longings. But I felt bad for the family members I kept dragging onto the page, so I said I'd never write a memoir again."
Instead, she started a novel. "I wanted to write a book about the vague notion we call authenticity. We all nod our heads with 'to thine own self be true,' but we don't really know what that means. Do we have an authentic core that's unique to each of us?" she asks, adding, "I tend to write about large perennial unanswerable questions." Her novel's leading character was "a woman politician running for office, trying for authenticity in the most inauthentic world." (Hillary Clinton, anyone?)
Fiction didn't come easy. Lesser spent two years churning out "hundreds and hundreds of pages" that didn't satisfy. Then her youngest sister got sick. "I put aside that book. I put aside everything," Lesser says. Maggie's long-dormant cancer had suddenly spread, and she needed a bone marrow transplant. Out of three older sisters, Liz was her perfect match. This surprised them both, given their frequently thorny relationship.
"I didn't know much about marrow. I knew the word, that it's the deepest thing inside of you, inside your bones," Lesser told her audience at the Kleinert/James. "When bad medical things happen, I turn into Dr. Internet. I learned everything I could about marrow and stem cells. Cells are dying and being replaced every minute. The stem cells in marrow become whatever your body needs."
As she researched, she learned that a marrow transplant involves harvesting healthy stem cells from a donor to replace the patient's own. "If Maggie survived the chemo, two scary things could happen: Either my cells would attack her body, or her body would reject them. Those words, attack and reject, sounded a lot like what siblings go through."
For decades, Lesser's work at Omega had focused on the mind-body connection; her sisters had dubbed her "the woo-woo member of the family." Was there anything she and Maggie could do to heal their relationship before exchanging blood? Marrow: A Love Story details their attempt at "a soul marrow transplant."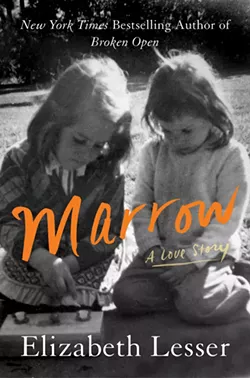 It's an astonishing book, describing both sisters' journeys (excerpts from Maggie's journals appear as "Field Notes" alongside Elizabeth's text) and opening out to include all of us, exploring how to be true to ourselves and connect to others in ways that move beyond ingrained patterns of attack and rejection. In many ways, it's that book about authenticity Lesser wanted to write all along.
"Maggie struggled mightily to present her authentic self. She put everyone else ahead of herself," Lesser says. In one of their soul marrow therapy sessions, Maggie says, "I spent so many years trying to be someone else; trying to be what I thought I was supposed to be, or what someone wanted me to be....Let me tell you, it's an exhausting way to live. But the cancer stripped me down. Nothing left to lose, as they say. So this year I said to myself, fuck it, no apologies, I'll just be who I am."
And it worked. Maggie continues, "I wanna tell my kids this. I wanna tell them not to care so much what other people think. Not to be afraid of saying what they want, what they need. I wanna say, don't dim your light; don't live small. You're not damaged goods, you don't need to be fixed. Just be who you are—'cause that's what the people who really matter want anyway. The truth of who you are."
Though the bone marrow transplant was successful, Maggie's cancer came roaring back; she died a year and a half ago. "It went wonderfully and horribly, like a lot of things in life," Lesser says. "I don't think I'll ever have a more profound, beautiful, and sad experience. But mostly beautiful."
Despite her medical struggles, Maggie called that last year—the one she lived with her sister's cells filling her veins—the best of her life. As with Broken Open, Lesser wonders how we can grow, connect, and live our lives fully without waiting "until we get clunked on the head." She brings this inquiry to a galvanizing TED Talk, "Say Your Truths and Seek Them in Others."
The truths Lesser learned from Maggie's life and death continue to ripple outward. "The body of America right now is in full attack and rejection mode," she observes. Maybe a national soul marrow transplant—learning to move beyond perceived differences—will give us new hope.
Lesser has often been asked why she writes. "I have the mountain climber's answer: because it is there," she told the rapt audience at the Kleinert/James. "For me the 'it' is human life. The dark, difficult, joyous parts of life, that's my mountain. And I climb it by writing."
Elizabeth Lesser is a featured reader at Hudson Valley Writers Resist, Sunday, January 15 from 2 to 5pm at the Bearsville Theater. Admission is free; donations to NYCLU, Planned Parenthood of the Mid-Hudson Valley, and Riverkeeper accepted.