Page 3 of 3
For the consommé:
This method of clarifying liquids works with absolutely anything, from a simple pea broth to barbecue sauce. (In winter, try it with split pea soup.) The pea broth is just peas, shallots, onions, scallions, parsley, salt, and pepper simmered in water (use chicken broth for a richer result) until tender, then blended smooth and returned to the pan.
Whisk in 1g agar per 1000ml of puree. Bring to a boil. Let cool and freeze. Set frozen block in a cheesecloth-lined colander and allow to drain in fridge for 2 days. Reserve liquid, and discard the solids in the colander.
. Preston + Schlebusch
Cheerios-infused "panna cotta" with fluid strawberry gel, freeze-dried strawberries and bananas, and hyacinth flower.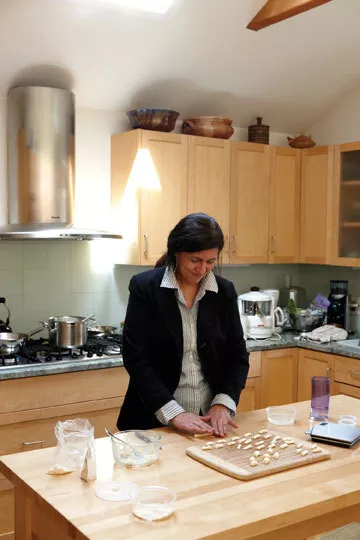 . Preston + Schlebusch
Chef Linda Anctil rolls out parmesan gnocchi
. Preston + Schlebusch
Spooning feta-yogurt emulsion onto the Greek salad parfait.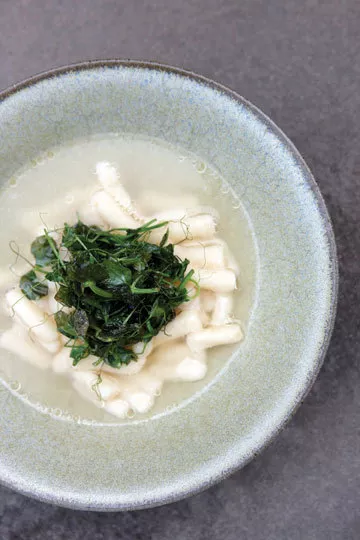 . Preston + Schlebusch
Parmesan gnocchi in agar-clarified pea consommé with pea shoots and roasted peanut oil. Bowl by Alan Hoffman.