Richard Cadan
A comprehensive visual merchandising strategy at Maitri in Uniontown, PA reinforces the mission and complements the overall design direction in order to create a holistic store experience.
Sleek medi-spa or shaggy stoner's den? Chain pharmacy or psychedelic head shop? With the decriminalization of marijuana sweeping the Northeast, dispensaries are bound to be cropping up all over the place. And proprietors and interior designers are mapping out new territory in this emerging design sector.
Since 2016, when medical marijuana became legal in New York, the state has been seen as "unusually restrictive,"
according to The New York Times
. The conditions qualifying users for medical permission number only 12. At this point, there are some 21 active dispensaries in the state. But that's all about to change.
The number of states that allow marijuana use is poised to go up in 2019 thanks in part to pro-legalization wins in the 2018 midterm elections. Among these most-likely-to states,
according to Forbes
, is New York, where Governor Andrew Cuomo went from calling pot a "gateway drug" to making pro-cannabis moves like creating a task force drafting legal cannabis legislation for 2019 and releasing a
Health Department report
that estimated legal marijuana sales of between $248.1 million and $677.7 million in revenues for the state in the first year (depending on tax and usage rates). The Governor called the end of marijuana prohibition
one of his priorities
for 2019.
Herbal Remedy

Once changes in the law take effect, opportunities will open for designers familiar with the regulations and strictures governing dispensary design. One of these is interior designer William Caligari, whose eponymous firm located in Great Barrington has worked on many residences, the
Canyon Ranch
spas in Lenox and Tucson, Arizona, and on
Berkshire Roots
, the first medical marijuana dispensary in the Berkshire County city of Pittsfield, Massachusetts.
"Our intent was to bring authenticity to the interior by drawing from the natural features of our region, as a means of promoting authenticity and professionalism in the business," Caligari says. "An over-designed facility would have been out of place, out of scale, and not in keeping with the community's identity as a working city." Some of the dispensaries he researched were "a little flashy and super expensive to build out."
As with many retail projects, function was primary for Caligari. "Once we understand the functional needs and the budget, we gain an understanding of the aesthetic direction and build a concept," he says. "In a commercial setting, everything needs to support the product and the brand; the public perception should be about the brand and the product, not an unrelated, cool interior design element."
That includes the parts of New England that were heavily industrial in the past. "I've always been enamored with the 19th-century brick mill buildings. My grandmother worked in one," he says. "That's where the design's steel comes from, with the exposed Phillips head screws."
From Stoner Vibes to Professional Chic
In some cases, a first-hand knowledge of the product is helpful to a designer. The aptly named Megan Stone was a legal medical marijuana user in 2006-7 when she was studying interior design in Southern California. She frequented a dispensary and she was offered a job in sales. "Within a matter of a couple shifts as a budtender and interacting both with the product and the clientele, it changed my entire perspective about who really uses cannabis and what it does, especially for people who are truly sick," she says. "It was about changing perceptions."
Richard Cadan
While the plan identifies a future edibles bar area, the team maximized this real estate with a colorful ribbon art installation, an Instagrammable moment that adds whimsy and privacy to ATM transactions.
The store's owner let the budding designer and bud-ista do some store renovations. "I saw first-hand the impact that our attention to the environment had for customers," she says. "It can feel so much more respected and it brought some integrity to this experience that people weren't finding anywhere else. That's when the light bulb went off and I was like 'I want to design these sorts of businesses.'" The mustiness associated with this sector added to its appeal. "There's nothing in the world that needs a makeover more than cannabis," she says. Instead of an atmosphere aimed at the "typical stoner," she says she wanted one that was more professional.
Seeing an underserved market in a growing industry, she started
The High Road Design Studio
in Tempe, Arizona, which has designed dispensaries in 10 states, and, soon [March], will became the proprietor of Royal Highness, a dispensary in Palm Desert, California. "Some of our best work has come from those states that had the most restrictive cannabis laws," she says, "because that's really where the work is to be done as far as putting a new look on this industry and re-introducing this product into society as medicine and as a public health-positive instead of a drug for the stoners."
Is there enough work for designers to specialize in cannabis dispensary design? Even after legalization occurs, there's a lag time. "Once a state passes a law, it takes some time before we as designers begin to see the work of it," Stone says. "There's typically a rule-writing period and as people understand the rules, they have to go out and secure real estate locations and go through the application process for a license." That's the point at which she has usually been approached as a designer.
Richard Cadan
Black metal components and details offer a well-crafted look, an accent that makes colors and graphics pop and creates a cohesive aesthetic with the overall architecture and design of the space.
Brand-Driven Design

As with any retail environment, it's all about the brand. When it comes to medical marijuana, it's also about the law. "First and foremost, we have to start with the regulations of the market that the client is in," Stone says. "Every state has them and even inside of the state, it can be very different from city to city as far as who can shop your store."
Restrictions vary widely. For example, Texas has a very restrictive medical marijuana program. Stone explains, "the three people who have licenses to have cannabis must be vertically integrated, meaning you must grow, manufacture, process, and sell the product." Points of entry should be secure yet welcoming. There are "shrinkage" and employee theft to be dealt with, and labelling and education affect displays.
The exterior of Texas Original Cannabis Company (TOCC). An activated retail entry adds ambiance to the nondescript metal agricultural structure.
The conditions that qualify users for medical marijuana also affect design choices, Stone says. Texas, for example, only allows medical pot (and only in the form of CBD oil) for intractable epilepsy. "So, for the near future, nobody is walking into my client's dispensary that doesn't suffer from epileptic seizures," Stone says. "That right there dictates a lot about the environment we create. Compare that to a state like Arizona where you have medical cannabis, but there are about 90 licenses, so there's a decently robust program."
A common qualifying condition such as chronic pain usually spikes the number of qualified card carrying patients in the state. Therefore, the store might feel "more recreational" because it is designed for a larger segment of the population. "Zoning regulations around where you can put a dispensary are enormously crippling to what you can ultimately build," she says. "It's very hard to make a very welcoming, beautiful upscale boutique if your city or county is forcing you to be zoned into an industrial area town."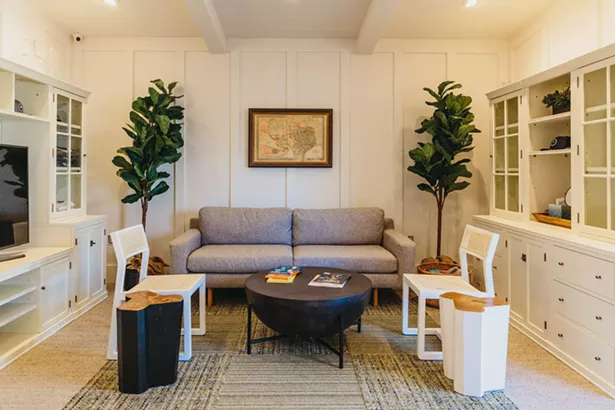 The 350-sq.ft. lobby and dispensary area of TOCC were designed to instill the comforts of a residential living room.
"Our design focuses on telling the brand's story," Stone says. "We really appreciate working with clients who have a strong vision, a strong direction, and are somewhat of a owner/operated entity because we really do an awesome job of finding what makes people authentic and special and creating that into a really inviting, exciting, comfortable, efficient environment so that can take many shapes depending on who that client is and how they inspire us."
With brick-and-mortar stores and malls closing nationwide, Stone says that cannabis, despite being such a specialized and niche market, is "something new in the retail landscape for people to get excited about."
Located in the heart of the luxurious El Paseo Shopping District, Royal Highness is an upscale boutique cannabis store serving local adults and tourists alike in Palm Desert, California.