At the height of lockdown last spring, Rosie DeVito started delivering her homemade cakes to Woodstock neighbors and friends—and then to friends of friends who reached out over her nascent Instagram page. The front porch deliveries were a sweet lining in a bleak time, and suddenly her orders grew. "I was cooking out of my home, and then it just got to be a lot," she says. "I would take up the whole kitchen and then spread out into the dining room, especially on holidays. And it was just me." Last fall when the Cucina barn came up for rent, she and her husband Mike went to take a look. "It was just this kismet kind of thing—we weren't even looking because it's a huge commitment," she says, "But the space was so intriguing that it made us look a little closer."
Ultimately, the barn space was not viable, but through the grapevine, DeVito found out that the old location of Nancy's of Woodstock Artisanal Creamery was available (the ice cream shop relocated to Bearsville). "The opportunity was too good to not do," she says. "It was nice and small and already had a kitchen that seemed much bigger before we filled it up." Overlook Bakery opened its brick-and-mortar in April, selling its already famed cakes, cookies, and other treats like tarts, magic bars, cupcakes, brownies, and banana bread.
The salted chocolate chunk cookies have become the signature treat, dusted with Maldon flakes ($3.50), but the sprinkle, tahini, and almond thumbprint cookies all hold their own. "Lots of people still come in looking for ice cream," DeVito says. "That's why I started making ice cream sandwiches—to lessen the blow for the kids." Made with two of DeVito's cookies and Ronnybrook Farm ice cream, the sandwiches run $8 and definitely hit the spot.
The tarts are made with fresh fruit, like this week's mixed berry offering. "I just made these really gorgeous apricot frangipane tarts," DeVito says. "I'm smitten with them. I want to eat them. That's the hard thing." DeVito's cakes are confectionary works of art, at turns playful and elegant, and her Instagram account will make your mouth water. The tiered cakes can be custom-ordered for any occasion and modified to include fillings like raspberry, mousse, caramel for extra.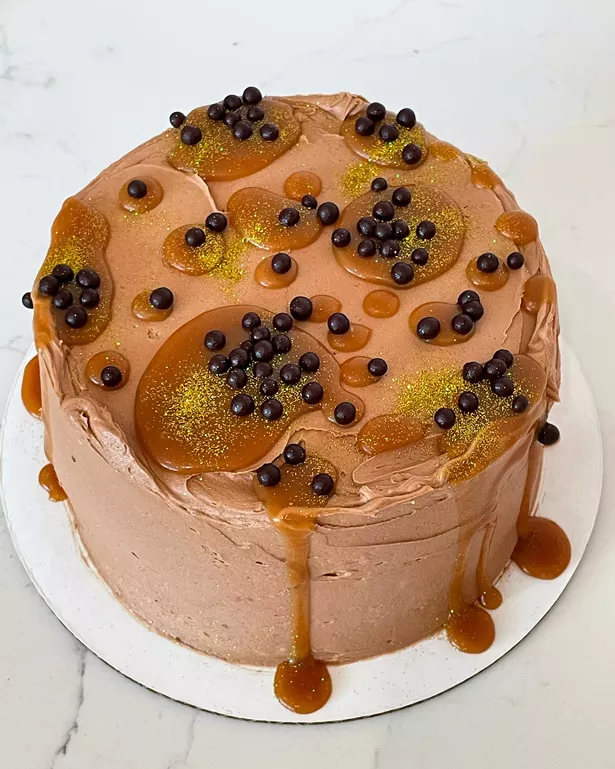 The larger three-layer cakes run around $150, but you can also order a smaller single-layer six-inch cake for $45 to $50. "As hesitant as I was to want to take on such a big undertaking, there really wasn't any other place in Woodstock to get a custom cake like this," DeVito says, "We knew we'd be silly not to do it."
Still, DeVito has her creative parameters. When people ask for themed or representational cakes, she refers them to another home baker in town, Me3 Bakery. "I do more classic cakes with a twist—lots of glitter or stars," DeVito says. "I like to add a little sparkle to a classic cake like carrot or chocolate." DeVito is largely YouTube-trained and learning all the time. "The internet has taught me everything I need to know," she says. "When I want to try something different, I do a lot of research and reading and watch a lot of videos." But, importantly, she also went to art school, so the aesthetics of color and composition come easily to her trained eye.
Overlook also serves hot coffee and cold brew from Heavyfeather Roasting Company, which operates out of The Pines, the bar/restaurant/lodge in nearby Mount Tremper. Occasionally on weekends, the bakery will also sell Moonrise Bagels, made by locals Jeremy Rhodes and Ali Chetkof. Like the lovechild of a Hot Pocket and New York's favorite baked good, these stuffed bagels come in flavors like Philly cheesesteak, bacon-egg-and-cheese, barbecue chicken, and reuben. "We're big bagel fans—especially my husband," says DeVito. "They ended up bringing some in for us to try and we freaked out about them—they are insane." (Moonrise Bagels has branched out and is now also available at Woodstock Meats and Tinker Street Tavern, though the bagels are still made in the Overlook kitchen.)
"It's been really fun to be able to provide a space for local goods and beautiful objects," says DeVito, who occasionally hosts a flower pop-up by Eirene Woodstock. Right before opening in the spring, DeVito impulse-bought a selection of candles, cards, and cake toppers from Amazon for the bakery. "It really helps people out when they come to pick up a cake and realize, 'Shit, I don't have candles or a card,'" she says. "It was just a last-minute idea, but it did so well I'd love to start carrying some more local artisan retail goods."
Whether you're picking up a stuffed breakfast sandwich bagel and a coffee on lazy Sunday or a lemon cream tart for your garden party, Overlook's outdoor patio, with its candy cane-striped umbrellas is a lovely spot to stop and savor. "There are two people out there right now," DeVito says. "It's a really beautiful place to sit and have coffee and a cookie."