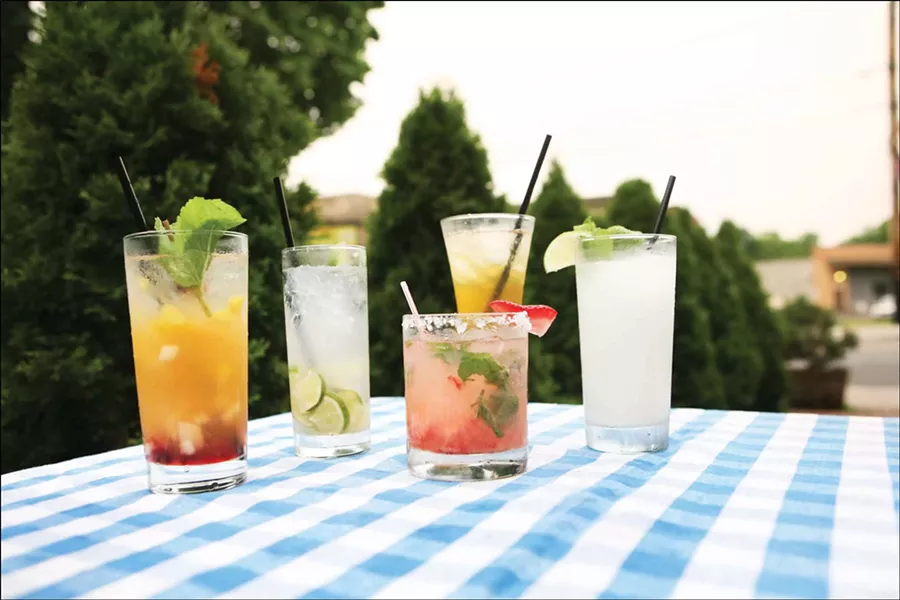 Amber C. McPhail
Left to right: Peach Julep (Douglass Miller, CIA); Caipirinha (Paul Maloney, Stockade Tavern); Strawberry Mint Margarita (Theresa Fall, 36 Main); Super Summery White Sangria (Sally Rich, Karma Lounge); Thai Boxer (Wesley Dier, the Local).
Good-bye mountains of snow and fussy fancy indoor entertaining. "It's summertime and the living is easy!" gushes Bruce Littlefield, quoting George Gershwin. A party maven and arbiter of American fun, Littlefield suggests our summer get-togethers should be just that. Easy. Because everyone wants to let their hair down and have a good time. One of his basic party principles is having an array of drinks ready for guests as they arrive. A selection of cold locally brewed beers like Keegan Ales is a great start. Add an inventive cocktail and you'll strike just the right chord for summer fun.
A bounty of seasonal produce and ever-abundant herbs inspires mixologists up and down the Hudson River as they incorporate these flavors in their summertime drinks. Sally Rich, the "Bar Chef" at Karma Lounge in Poughkeepsie says, "Everybody is looking for something a little more eclectic and adventurous in the cocktail world." Some of these adventurous cocktail creators have shared their warm-weather recipes. So don't be shy. Do try this at home.
"Sangrias are always awesome, it's a great barbeque cocktail," notes Rich. Made a couple days ahead, a pickle jar filled with a Sangria of colorful seasonal fruit is a beautiful, low-maintenance "house beverage" for a party.

Super Summery White Sangria
Sally Rich, Karma Lounge in Poughkeepsie
2 Magnums of Sauvignon Blanc
1 32-oz. container of pure fruit nectar (peach, mango, or pear)
1 Cup Brandy
1/2 Cup Cointreau or Triple Sec
2 Cups Sour Mix
Dice up 5 cups of fresh citrus, fresh pear (skin removed), peaches and white grape halves.
Put it all in a large glass jar. Leave it in the fridge for 2 days, stirring every once in a while. Add 1/2 cup of Mint Simple Syrup.* Serve in a tall glass filled with ice, a few scoops of the fruit and garnish with a sprig of mint.
* Simple Syrup with Mint
Combine 2 parts sugar and 1 part water with some fresh mint.
Boil until it thickens. Strain and refrigerate.
Refreshing pitchers of drinks are key to warm weather entertaining. They get the host out from behind a bar, and when the host is having fun, the guests are having fun, says Littlefield. It doesn't have to have alcohol to be the talk of the party. Sean Nutley from Blue Cashew Kitchen Pharmacy in Rhinebeck has a few party tricks up his sleeve. Using a Bodum pitcher that strains as it pours, he immerses chunks of watermelon, mint, and cucumber in seltzer. "I discovered it in Paris," Nutley says. He's also pretty excited about a "crazy" new gadget called the Twist n' Sparkle by isi, which will carbonate any beverage. (Most devices like this only carbonate water.) Take any summer juice and make it bubbly for a fun non-alcoholic drink, or mix with some spirits and turn it into a cocktail.
Keeping it local, one of the first fruits to appear at our CSAs and Farmers Markets is Strawberries. Here's a twist on a Strawberry Margarita, incorporating fresh mint. At 36 Main they source their berries from the Huguenot Street CSA.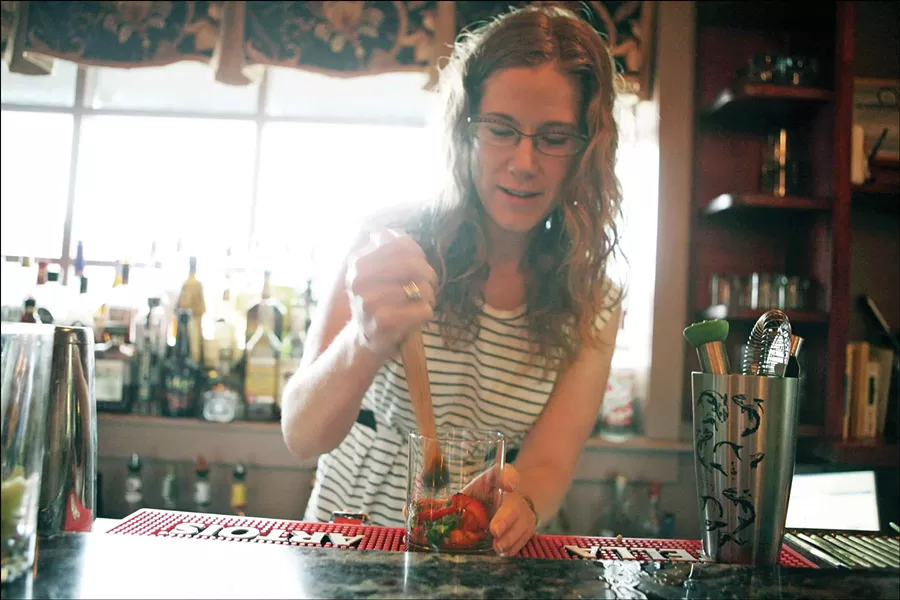 Amber C. McPhail
Theresa Fall of 36 Main muddling strawberries for her strawberry mint margarita.
Strawberry Mint Margarita
Theresa Fall, 36 Main in New Paltz
Muddle in a tumbler glass:
2 or 3 Fresh Strawberries
A few Fresh Mint leaves
3 oz. of Fresh Squeezed Lime Juice
Add ice, 1 oz. of Cointreau. Fill with Silver Patron Tequila. Shake well. Garnish with a strawberry or a piece of mint.
Served at The Local in Rhinebeck, the Thai Boxer is a "summery offering with a kick," says Chef Wesley Dier. At the restaurant he pairs it with a Soy Cola Glazed Pork Belly and Watermelon Salad. If glazing pork belly seems a bit ambitious, some Wasabi Spiced Nuts would also make a great party pairing.

Thai Boxer
Wesley Dier, The Local in Rhinebeck
Fill a 14 oz. tall Collins glass with ice cubes
Add 2 oz. Ketel One Kaffir Lime Vodka
Add juice of one lime wedge
Add 1 oz. Coconut milk
Shake well and top with additional ice and Ginger Ale.
Garnish with Lime Wedge and Mint Sprig.
The
Caipirinha
is the National Cocktail of Brazil, so surely it can withstand the heat of July. Called a "built" drink because you build it right in the glass, the Caipirinha is made with Cachaca, a type of rum. It's the third largest selling spirit in the world and yes, you can find it around here. Paul Maloney of the Stockade Tavern in Kingston says you shouldn't skimp on the ice, it's a really strong drink. (He allows that you
could
add some simple syrup.) Here's a refreshing, not-so-sweet drink for the dog days ahead.
Caipirinha (National cocktail of Brazil)
Paul Maloney, Stockade Tavern in Kingston
Muddle in a rocks glass:
A Demerara sugar cube
1/2 lime cut into pieces, put on top of the sugar cube
Demerara is a coarse, unrefined sugar that melts into a syrup as it scrapes the oils from the lime peel.
Put crushed ice on top of everything, which keeps all the lime pieces at the bottom of the glass while you drink it. Top with 1 1/2 oz. of Cachaca
As an instructor at the Culinary Institute of America, Douglass Miller knows his libations. He explains that we tend to drink lighter spirits like vodka, gin, and lighter style rums in summer. "But on the flip side, there's nothing like a mint julep in the summer time, which is a bourbon drink." Miller says crushed ice, mint, sugar and any type of alcohol technically constitutes a julep. But his favorite for summer is a peach julep. Use those juicy ripe peaches in August for this delicious julep variation. It can easily be adapted to make an entire pitcher.
Peach Julep
Douglass Miller, CIA Instructor
1.5 ounces Bourbon
2 sprigs of mint
1 ripe peach
½ ounce simple syrup
Peel and cut the peach into 1" cubes. Take 1/4 cup of the diced peaches, sprig of mint, simple syrup, and place them in the bottom of a cocktail mixing glass. Gently bruise the mint and peach cubes. You want to release the oils of the mint and combine it with the fruit. Add the bourbon and crushed ice. Stir it with a spoon until the contents are cold. Pour the contents into a rocks glass and garnish the drink with a fresh sprig of mint.
Once the drinks are ready, it's time for food. Forget the haute cuisine. Remember? Easy. Bruce Littlefield suggests a menu that involves guests in the preparation. Nutley seconds that, "Keep people helping and talking when you are entertaining. Give them something to do that's interactive—it's funner!" Something like "Make Your Own Tacos," "Build a Sundae," or "Decorate Your Own Cupcakes" encourages guests to socialize.
Bruce adds a few tips to keep the party going into the evening. Be sure to turn off your motion sensor lights. "Nothing kills a mood more than a glaring light, suddenly." Light every candle you own. And, "if you can have a campfire, always have a campfire." Throw in a little nostalgia by roasting marshmallows and making S'mores. It's a social environment that people can gather around. Collect old quilts at garage sales and keep them in a basket ready for evening hours. Then guests can wrap up, hunker down, and relax well into the night.
Whether you opt for a theme party (one of Littlefield's favorites is a cowboy/girl party with hay bales for seating, and hats and holsters from the dollar store at the door for costumes) or just a backyard barbeque, keep it easy, take lots of pictures, and make lots of memories.
RESOURCES
36 Main Restaurant & Wine Bar
www.36main.com
Blue Cashew Kitchen Pharmacy
www.bluecashewkitchen.com
Bruce Littlefield's Life 101
www.brucelittlefield.com
Culinary Institute of America
www.ciachef.edu
Keegan Ales
www.keeganales.com
Karma Lounge
www.karmalounge.us
The Local
www.thelocalrestaurantandbar.com
Stockade Tavern
www.stockadetavern.com