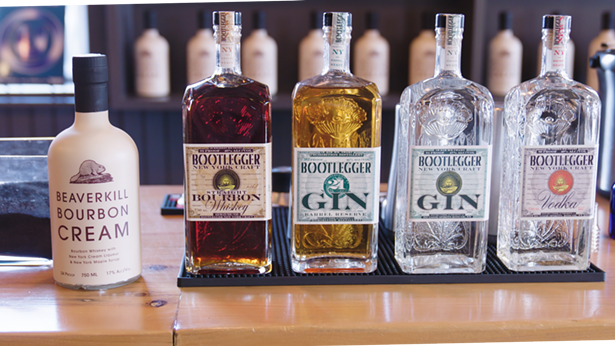 Courtesy of Do Good Spirits

Founded in Gardiner in 2009, among the freshman crop of New York State's craft distillers, Do Good Spirits began under a different name: Prohibition Distillery. When sharing space with another farm distillery got tight in 2012, founder and head distiller Brian Facquet looked toward Sullivan County to expand. "We set out to find a building with high ceilings, clean water, and low rent in New York," Facquet says. After receiving a serendipitous call inviting him to come check out an abandoned firehouse, Facquet took the 30-mile drive to Roscoe. "I fell in love with it as soon as I saw it, and we laid anchor there," says Facquet.
The 8,000 square foot facility uses a proprietary charcoal filtration system, with an extensive product line that includes craft vodka, gin, whiskeys, and bourbon cream. Special items include their award-winning Bootlegger New York Craft Vodka, Do Good's highly filtered original spirit made entirely from corn. "We started out making vodka—that's all I ever wanted to make," says Facquet. "To me it's the lifeblood of the distilled spirits industry that no one knows about because everyone focuses on flavor. And flavor is wonderful, but to take flavor out of something is the hardest thing to do."

Courtesy of Do Good Spirits
By contrast, their bourbon barrel-aged gin does not skimp on flavor. "The flavors that come out of this are really cool–you get an intense orange when it comes out," Facquet says. "The regular gin is all juniper on the nose, followed by coriander. Coriander fades to white flowers, white flowers fade to lemon-lime, and you get a burnt orange peel. With the Barrel Aged Gin, it flips it upside down so you get nothing but orange and vanilla from the bourbon barrel."
Another one of Do Good's highly sought-after products is their Beaverkill Bourbon Cream.
Made using dark maple syrup from Dutchess County-based Madava Farms and cream sourced from New York dairies, the bourbon cream has been selling quickly. Retailers are placing early orders now as sales have unexpectedly increased over the summer months.


New Name, Renewed Mission
In October 2020, the distillery officially changed their name to reflect their mission of performing "little actions that can do a lot of good in the world." Facquet, who is a Navy veteran, took the name from a simple toast given by his friend and Navy SEAL Brian at a class reunion five years ago. "He raised a glass, made that toast: Do good," Facquet says. "I didn't know they would be the last words we said to each other. About a month later, he died in combat and the words just stuck into my head."
Unlike most distilleries, Do Good Spirits doesn't charge for their tastings; instead, visitors can choose to make a donation to Third Option Foundation. The nonprofit supports the CIA's Special Operations community and their families with resiliency services including grief and financial counseling, medical assistance, and memorials. "Most breweries, cideries, wineries—they charge for tastings and their time because it's a business," Facquet says, "We don't. We do it all for donation. So when people walk into our door, we are raising money."

Courtesy of Do Good Spirits
With the recent name change, Facquet doubled down on this commitment to giving back to veterans and their families. "My word is my bond," Facquet says. "I promised when Brian was living I'd do this, and in his absence I will always do it for as long as I can."
Fittingly, the c.1929 firehouse where Do Good has its tasting room is right next door to a VFW Hall. After a tasting, distillery visitors can purchase craft spirits by the bottle. On weekends, there are al fresco craft cocktails and live music in the Bootleggers Alley Outdoor Cocktail Bar and Restaurant, open through November. While New York State law prohibits shipping spirits in-state, Do Good products are for sale at liquor stores and bars throughout the Hudson Valley including Kingston's JK's Wine and Liquor, Ellenville restaurant Aroma Thyme Bistro, and the Hudson Brewing Company.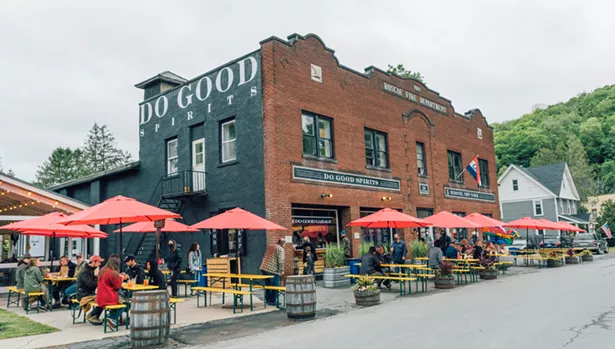 Courtesy of Do Good Spirits
Do Good is currently organizing their inaugural Do Good Golf Outing at the Tennanah Lake Golf Club in Roscoe for September 3. With golf, contests, and beverages galore, tickets are available online and all proceeds will be donated to Third Option. With every spirit they create, Do Good's mission continues to center on giving back and bringing awareness to the sacrifices veterans make. Of the culture at Do Good, Facquet says, "here, every day is Memorial Day."
The Do Good Spirits tasting room is open to the public Sunday through Thursday, 10am to 6pm, and Fridays and Saturdays, 10am to 7pm.
Do Good Spirits
10 Union Street, Roscoe, NY 12776
(607) 498-4511
https://www.dogoodspirits.com/