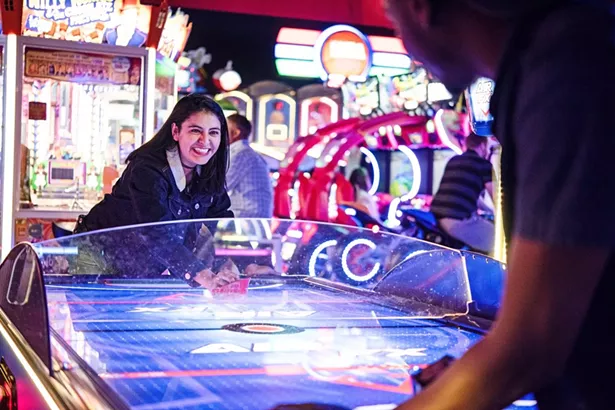 Courtesy of District Social in Beacon
"Think of it like a three-ring circus—there's something going on everywhere," says Boe Trumbull, executive in residence for Diamond Hospitality, which runs recreational operations like Spins Bowl and Grand Prix Extreme Play Park. "It's all happening organically and at the same time. It's a delight for the senses." He's referring to District Social, a brand he conceptualized years ago that has finally come to fruition in a massive industrial space in Beacon, next door to Industrial Arts Brewing.
In the 14,000-square-foot building, there are arcade games and air hockey, axe throwing and darts, billiards, a bar for adults, and live music on weekends, plus a food truck parked outside. "The concept—the visualization, the energy, what the space should include—I created a couple years ago," Trumbull says. "It was part of what the brand should be—something approachable, entertaining, something that feels comfortable for young and old, children and millennials."
All the interior walls of the former office space were removed to create a single sprawling open area, with designated spaces set off visually by colors, design elements, and lighting, including graffiti by a local artist. Console games include Walking Dead, Space Invaders, Halo, and Mario Kart, and boardwalk games like NBA Hoops, skeeball, and ring toss. "In the arcade, there is a wonderful mix of colors coming off the games, high ceilings, it's not too noisy but there are entertaining sounds and lights," Trumbull says. A peekaboo window offers a view into the brewery next door, with its big metal tanks. (Industrial Arts craft brews are also on tap at the U-shaped bar.)
When you win big in the arcade, head to the industrial-chic redemption area to cash in your tickets for prizes ranging from a Tootsie roll to plush toys or a TV. "Somebody recently won the lifesize teddy bear," Trumbull says. "We keep price points at a reasonable level because we want you to win. We want you to create a memory there. Life needs to be made up of happy experiences and good memories with friends, and that's what we hope this venue gives people." You play by loading up an arcade card with $5, $10, or $20. "The more dollars you spend, the more points you get per dollar," Trumbull says. "Then of course, playing the games, you can earn bonus points so you can keep going."
Courtesy of District Social in Beacon
While little ones slay zombies and race around Koopa Troopa beach, big kids can sit at the bar and watch the game or listen to live music. "We've had such incredible talent. We have live music every Friday and Saturday at 8pm, and on Sundays we have something lower-key, usually instrumental or a small group at 3:30pm," Trumbull says. "It creates such an incredible vibe. People get up and move, eat, go play games, throw axes, and come back again."
If you feel up for hurling a hatchet, sign up online beforehand. After watching a short safety video, your party will be given a lane, with axe masters on hand to answer questions and supervise. "There is a computerized scoring system," Trumbull explains. "It's like going to a bowling alley, same kind of idea, with high-tech scoring. So it's not just throwing, you can play games against each other and see the scores above the lane." Throwing runs $15 per person per hour, and is reserved for ages 16 and up.
Continuing on past the bar and the music stage, double doors lead onto a 100-foot deck that seats 80 people and offers views of Mount Beacon. Food is currently provided by the Eat Church food truck, which offers modern takes on Vietnamese fare with a constantly rotating menu. New food trucks will be added to the roster soon. "We're always looking to expand and evolve and offer more," Trumbull says. "We also have a party room in the back that people can use. We only charge a small cleaning fee—no overhead—because we want people to come and celebrate."
Trumbull is hopeful that the Beacon venue will become the flagship for a series of District Social locations, just as Spins Bowl exists in New York, Ohio, and Michigan. "It brings people together from different communities," he says. "It's social and approachable, enjoyable, with a touch of style and a touch of fun and a touch of interaction. It has more energy than if you go to a place that is just axe throwing or just an arcade or just a live music venue. Even if you're coming for one thing, you find yourself drawn to the other things. Here you go for the total experience."
Distinct Social is open Friday, 4pm-12am; Saturday, 1pm-12am; and Sunday 1-8pm.
District Social
511 Fishkill Avenue, Beacon, NY 12508