Most weekends this summer, the
Coppersea Distilling
team have been working the farm or on the road, pouring tastes at various locations where connoisseurs meet. This Sunday, you're invited to stop by the farm, where chief distiller Christopher Williams is looking forward to showing you every step in Coppersea's heritage distilling process. Free guided tours will be happening every hour from noon till 5pm.
"We don't get the chance to do this very often, and it's fun," says Williams. "We do things differently here, and I've gotten pretty good at explaining it. Give me forty-five minutes and I'll give you an insider's understanding of heritage distilling."
Photos Courtesy of Coppersea Distillery
The difference begins in the field. Coppersea is developing their own special landrace corn, interbreeding heritage grains to come up with something perfectly suited to this spot in the shadow of the Gunks, and cultivating European cider-pear trees.
Next is the malting floor, where grains are sprouted using centuries-old techniques. Doing their own floor malting makes Coppersea able to select the finest freshly harvested Hudson Valley grains, including their own, and retain creative control and a lower carbon footprint.
Photos Courtesy of Coppersea Distillery
Then you'll see the open wooden fermenters where the malt meets wild ambient yeast and bacteria, underscoring, yet again, a thoroughly local terroir. Not a drop of commercial reagent (catalysts used by mass market distillers) is invited to this week-long mash party.
In the distilling phase, Coppersea uses True Fire hand-hammered copper, a process that caramelizes the mash. Direct-fire stills are used in fewer than a dozen distilleries today; Williams says you'll understand why Coppersea is one of the few when the product touches your tongue.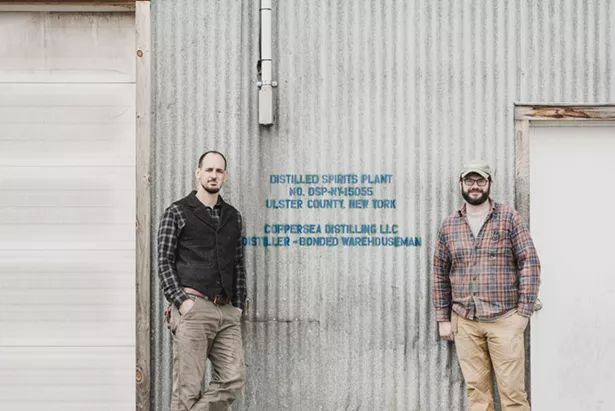 Photos Courtesy of Coppersea Distillery
In the barreling room, it's all about the art of cooperage and selection. Some of those barrels are new-made New York oak; others once held sherry and now contain a sherry-finished rye that will be first poured in October.
For the complete appreciation experience, finish your tour with a flight of whisky at the Springtown Tavern.
For more information, visit Coppersea's website or call (845) 444-1044.