Deborah Degraffenreid
Gillette's street-facing gallery is regularly redecorated with an eclectic blend of living room sets, chairs, coffee and dining tables.
Francis Rick Gillette's affinity for beautiful, distinctive design began early, in the small town of Rome in central New York. "When I was five or six years old, my mom took me to my Aunt Linda's house to see her new kitchen," Gillette explains. "It was the Space Age: All the lower cabinets were stainless steel and the sink was part of a continuous stainless-steel countertop that curved inwards. I just flipped when I saw it." He especially loved the kitchen's upper wall cabinets—white painted metal with sliding frosted doors.
It's hard to believe that Gillette's mother or aunt would have been surprised by the boy's enthusiasm. Gillette's eye for household objects developed early, as did his inclination to curate and collect. "At five years old, I was already collecting coffee pots—my mother couldn't take me to one of my aunt's or her friend's houses without my leaving with a coffee pot," Gillette remembers. ("We're Italian," he says, noting that he also had his first taste of coffee at five.)

Deborah Degraffenreid
"Aunt Linda's" kitchen cabinets surrounded by some of Gillette's favorite vintage kitchen equipment and topped with a few coffee pots.
His growing collection of coffee pots was carefully stored in the family basement beside shelves of canned foods and storage, until one day when he was 12 and his mother put them on the street in bushel baskets, hoping to give them away. "She thought I'd outgrown them," he remembers. "It was one of the most traumatic experiences for me at that time," he adds. But Gillette's days as a collector had really just begun.
Unfortunately, Aunt Linda's kitchen would eventually burn down, but it seemed fortuitous when, years later upon Gillette's return to upstate New York, he found two of the exact same cabinets at the Carousel Antique Center on Warren Street in Hudson. "I totally, totally love these cabinets," Gillette says. "They were made right after the war, because there were all these factories that had metalworking ability. In other words, the places that used to make airplanes or boats began to make these kitchen cabinets."
Deborah Degraffenreid
Exterior
This appreciation for not only the integrity of a well-designed object, but a thorough understanding of its unique place in domestic history, is indicative of Gillette's particular sort of genius. That is, he sees potential—whether it's in a face, a building, or an object—and utilizes his knack for either uncovering the beauty he finds or restoring it. This aesthetic is evident everywhere in the second-floor live/work loft, showroom, and gallery space he inhabits in a four-story building overlooking Warren Street, the town's main drag.
Deborah Degraffenreid
Rick Gillette in the gallery of his live/work loft.
Filled with objects he has gleaned from years of scouring thrift stores and antique shops, or even found on the street, and decorated with a revolving exhibit of artist's works on the walls, the 3000-square-foot space is an ever-evolving display for Gillette's eclectic taste in design. Based on his description of multiple off-site storage facilities filled with the ample cache of pieces he's amassed over the years, the space won't go empty anytime soon. "My home is part of my whole working palette," explains Gillette, who also works as an interior designer helping others decorate their way through transitions. "What everything really is about is curating things," he says. "Let's say, like me, you've got all of this stuff that you've collected over the years and something has changed or you want to shake up your life. I help people create new lifestyles for themselves."
Revolving Collection
Gillette's own life trajectory exemplifies the possibility of creative reinvention. After childhood, Gillette moved to New York City, where he had a varied career as an interior designer, make-up artist and photographer, and spent 20 years working for Vogue magazine. During all those years, however, he continued to collect and curate furniture, homewares and art—sometimes working with experts to restore the pieces he found, sometimes doing the work himself. In the back of his mind, he hoped to one day finally share his collection with the world. "I was looking for a furniture showroom, where I could display my furniture and objects," he remembers.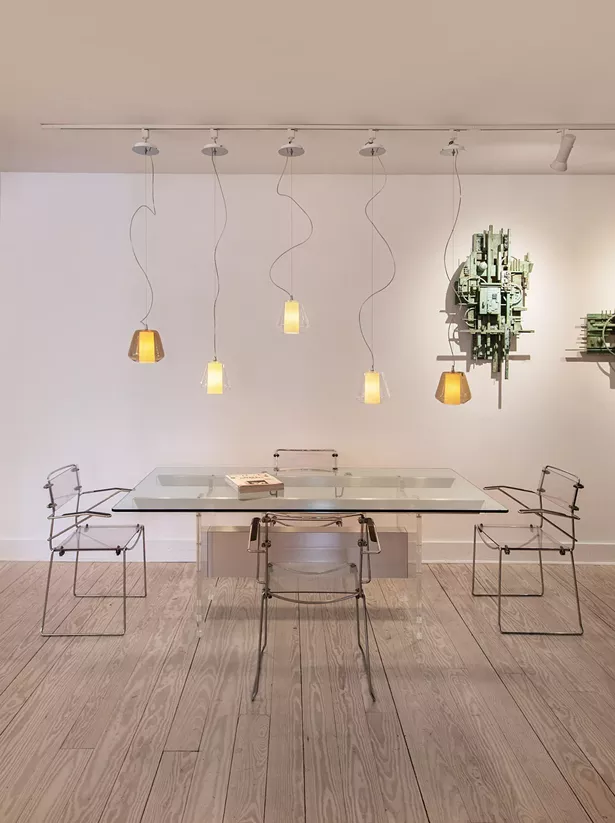 Deborah Degraffenreid
Gillette's showroom includes Design on Demand "Etica" pendant lights by the Italian designer Daniele Gualeni.
Five years ago, he found the perfect space to do it. He chose Hudson for both its vibrant art scene and its affordability. Located in a building dating from 1993, his loft includes both a front and back entrance, 11-foot ceilings, and abundant light from five large street-facing windows. He took a lease on the space in May of 2013 and then that August took the plunge and moved to Hudson full-time. From there, his business, FRG Objects & Design, evolved. "This is really what I came here to do," he explains, "take all the stuff I had in storage, find the right people to do the work on those pieces and then open a store to sell those things." The idea to also utilize the space as an art gallery came next. "Because I ended up with this particular space, it opened all these other doors to working with other designers and artists. Every artist that's come here has heard about this place and wanted to collaborate. I got an opportunity to collaborate that I didn't expect to have. I've loved it so much."
A New Take for Each New Year
Over the past five years, Gillette has gut-remodeled the place to suit his needs (there was previously no kitchen) and changed up the decor multiple times each year. Now, the gallery space spills into the show room and then again into his own living quarters in the back. Built around "Aunt Linda's" kitchen cabinets, the back kitchen is a mix of Ikea shelving and hard plastic cubits from Design Within Reach, all filled with vintage kitchen appliances. "I have this thing for industrial design," Gillette explains, showing off his vintage waffle iron, grilled cheese maker, and milkshake maker, as well as his 1950s electric oven. The ample shelving even provides space for his restarted coffee pot collection. There is also a wall filled with Gillette's own personal collection of paintings, gathered over the years.
Deborah Degraffenreid
The living room of Gillette's private quarters. The photo is a blow-up of some of Gillette's early work.
Gillette's living and sleeping spaces are creatively separated by metal-like railing. Recycled from a shuttered daycare, Gillette took what was once a bright orange 12-foot playpen, painted the rails metallic white, then cut them up and hung them both vertically and horizontally to create a visual mix. His living room area is dominated by a bedroom set—in his family for a generation—creatively repurposed by stacking end tables into a living room console. By Gillette's bed, he enlarged the window to create a full square picture window overlooking neighboring buildings and infusing the back rooms with light. "Now I can lay in bed and look out at the sky," he says. The living area is separated from a bathroom with a wall of black and white portraiture Gillette took during his days at Vogue. "Everything has a story in here," he explains.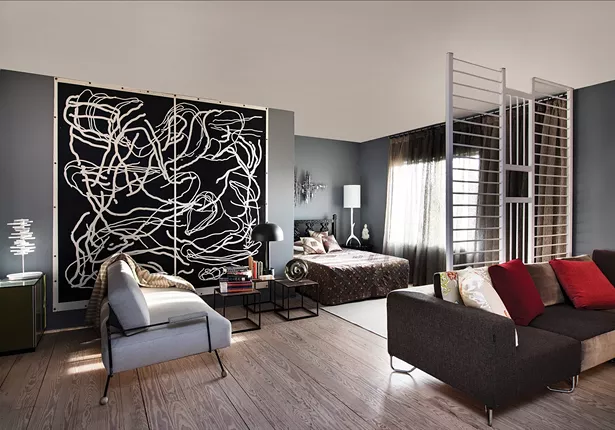 Deborah Degraffenreid
Gillette's living and sleeping area is dominated by a two-panel print by Karl Klingbiel. The headboard is a 1960's lacquered ebony bedroom set.
Sandwiched between the living area and the large gallery space is a furniture showroom filled with an ever-revolving display of his current pieces. A powder room off the public space is decorated with 1960s British wallpaper salvaged from a thrift store. ("There were five rolls of paper," Gillette explains, "and it took exactly five rolls to cover this room.") The front gallery space, reserved for larger dining sets, sofas, and other pieces is also ever shifting with new finds and pieces Gillette has brought back to their previous perfection. "It's always a work in progress," Gillette explains. "My life is a work in progress, it just keeps changing."
"Who knows," Gillette says, looking around his perfectly decorated space, "by February, this could all look totally different."