Brimming with creatives and craftspeople and graced with a housing stock that runs the gamut from 17th-century Dutch Colonial through just about every American architectural movement right up to the cutting edge of Modernist design, it should come as no surprise that the Hudson Valley—and, in particular, bursting-at-the-seams Kingston—is emerging as a national center for interior design. This fact will be on full display October 11-26, when the second annual Kingston Design Showhouse takes over a 19th-century brick Italianate on Clinton Avenue. A collaboration between almost 20 designers, along with furniture makers, artists, contractors, and a few BOCES students, this year's showhouse offers 16 distinct takes on contemporary design.

Photo: Deborah DeGraffenreid
Elizabeth Mercer, of mercer INTERIOR, supervises the overhaul of the showhouse's kitchen.
The brainchild of designer Maryline Damour, of full-service design/construction firm Damour Drake, the event gives local designers the opportunity to "self-define what we're doing up here and show that Hudson Valley designers are having an impact on the design world," according to Damour. She also hopes to play a part in defining what is becoming a kind of iconic "Hudson Valley style."
"Hudson Valley designers have a very idiosyncratic point-of-view," she says. "For example, a ceramicist up here doesn't just make their own ceramics—they mix their own colors, they make their own wheel, sometimes even their own kiln. It's all about coming from a very natural space, going back to traditional modes of work, and pulling the best from the traditional and incorporating it with new ideas."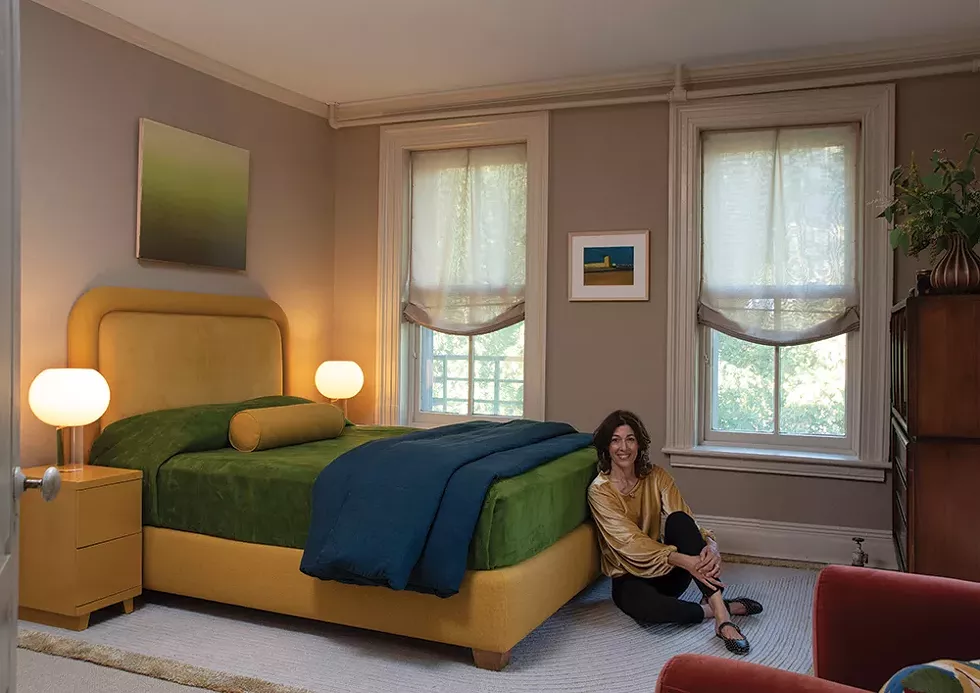 Photo: Deborah DeGraffenreid
Heidi Feiwel, HF Interiors. The fall foliage-inspired bedroom. More than anything else, Fiewel relies on a close study of the natural world to inform her design projects. "The daily observation of my surroundings has built in me the capacity to discern, and hopefully, be a better designer," she explains. Participating in the showhouse was a challenge but she "found support in unexpected places." She adds, "The showhouse helped me see that there is nothing to fear in failure: It teaches us that there is always a solution to every problem. This philosophy has increased my confidence tremendously."

Art Credit: Margaret G. Still (@mgstill4 on Instagram): "Yellow Tower 3."
Damour's interest in interior design was sparked nearly 20 years ago, when she bought her first house—a fixer-upper in Kingston's Rondout district."It was only about 1,500 square feet, but I had to choose paint and find furniture," she recalls. "Interior design just hadn't been on my radar before that."
She began reading design magazines and researching how to fix up her space. She has long since sold the clapboard house (she now lives in a former fishing cottage converted into a full-time, winterized residence on the Esopus Creek), but that experience began her trajectory as a designer, eventually leading her to enroll in Parsons School of Design and move to Kingston full-time in 2015, when she partnered with contractor Fred Drake to found Damour Drake.
Photo: Deborah DeGraffenreid
Foley&Cox. With a flair for luxury, Michael Cox creates sumptuous, livable environments that reflect his clients' tastes and lifestyle. The interior design group Foley&Cox has worked on projects from aircraft and yacht interiors to high-end homes around the world.
Three years into the venture, Damour had attended countless design showcases throughout the area and met a diverse array of makers, artists, contractors, and creatives. Over and over she heard different versions of the same sentiment: "It would be great to be part of a connected design community."
"My brain is always thinking about collaboration and connection," she says. After researching showhouses in major metropolitan cities around the country, she came up with the idea for the Kingston Design Showhouse as a platform to "collaborate and showcase the breadth and depth of design/build services in the Hudson Valley."

Last year's showhouse took over a Midtown Victorian and brought together 10 designers, 45 makers, and over 50 local businesses, kicking off a regional conversation between like-minded professionals. For 2019, Damour has nearly doubled the number of participants. "Last year was about introducing Hudson Valley designers to each other," Damour explains. "This year, it's continuing on that but we're also introducing Hudson Valley designers to a broader marketplace. The idea is that we can all grow together."
Amy Ilias, Amy Row (Family Private Hall)
Heidi Feiwel, HF Interiors (2nd Floor Airbnb)
Simone Eisold (Homeowners' Bedroom)
Amanda Sanchioni (House Color, Front Facade)
Ana Claudia Schultz (Dining Room)
Michael Cox, Foley & Cox (Front Parlor)
Kingston Design Showhouse will run October 11-26 at 302 Clinton Avenue, Kingston. Want to stay here? The historic home is listed on AirBnb as The Wiltwyck. Kingstondesignconnection.com