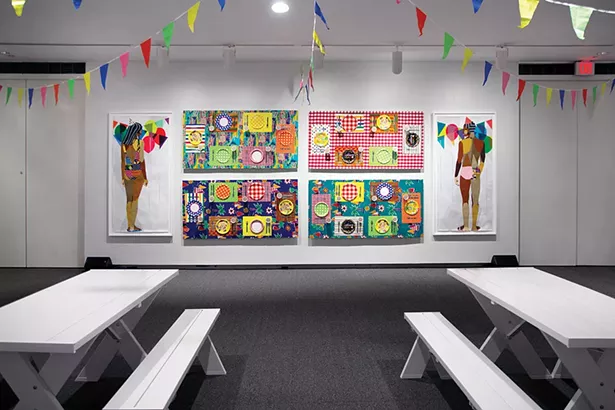 "Derrick Adams: Buoyant" was supposed to be on view at the Hudson River Museum in Yonkers through June 14. The museum is closed until further notice, but you can view tons of Adams' work at Derrickadams.com.Visit Chronogram.com for curated galleries of work by Adams and other artists from around the region.
After a long winter, it's nice to remember swimming pools. Derrick Adams's "Floaters" series of acrylic paintings depict African-American swimmers reclining on air-filled mattresses, or upright, buoyed by circular floats, often in animal shapes. Adams's emphatic colors are a statement in themselves. The images tend toward abstraction, encouraged by fabric collage elements. It's pop art without the acid irony, cubism without the vertigo. "Floaters" is part of "Derrick Adams: Buoyant," which is currently planned to stay on view at the Hudson River Museum until June 14.
Most of the paintings are individual portraits, but Floater 59 is a triptych (two women and a guy). Floater 80 is a self-portrait, and another, Floater 74, seems also to include the artist. Adams wants us to know that he's also in the pool, not a distant observer.
The pictures convey the absurdity of bathing, a pastime for which one dons special, sexy clothing—and of the unicorn-shaped flotation devices we take for granted in the US. Perched on one's float, a swimmer becomes a temporary centaur, or rather unicentaur (half human-half unicorn). Also, because the Hudson River Museum is in Yonkers, the pictures comment on Westchester County, where one token of the Good Life is a private pool. "Derrick Adams has been consistently making work for over two decades that explores how individuals' ideals, values, and personas become attached to physical objects," observes curator James E. Bartlett. Born in Baltimore in 1970, educated at Columbia University and Pratt Institute, Adams is currently based in Brooklyn. His work is in the permanent collection of the Metropolitan Museum of Art and the Whitney Museum.
The title of the exhibition, "Buoyant," is revealing. In one sense, it's obvious: air-filled floats hold swimmers up. But the word also has emotional meaning. One way to fight oppression is through joy. This is a method African-Americans have employed for centuries, in every art form.
The artist Jacob Lawrence's "Migration" series (1940-41) described American blacks moving from near-servitude in the Deep South to (relative) freedom in Northern cities. "Floaters" takes up the story two generations later, when some African-Americans have the success and leisure to own a swimming pool.
Swimming takes effort, but floating is a kind of meditation. In Adams' paintings it occurs in swimming pools, where the prone bather is surrounded by that dazzling blue of a pool's walls. There is an unreality to floating, a weightless dreaminess.
Floater 80, a painting by Derrick Adams from theexhibition "Buoyant," which was scheduled to run through June 14 at Hudson River Museum inYonkers.
One subtlety of these images is the many colors inside "black" skin, depending on the reflection of the surrounding light. Actually, the terms "white" and "black" are extreme oversimplifications. Many of the figures are a patchwork of "racial types," suggesting the illusory nature of race.
Premiering at the show is an installation, We Came to Party and Plan,which includes streamers, balloons, two picnic tables, ecstatic wallpaper, and portraits of celebrants in festive hats. "Party," in an election year, is also a pun. In fact, if the Democratic Party—heavily reliant on the African-American vote—can vanquish Trump, many of us will "party" wildly.