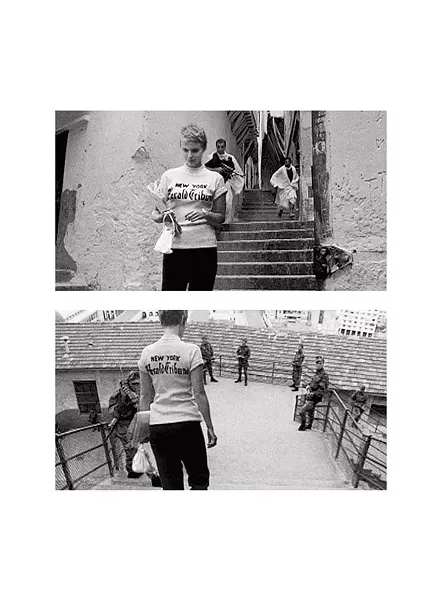 Detail from Double Feature, by Dennis Adams, 2008, a series of composite film stills collaged from individual frames grabbed from Jean-Luc Godard's Breathless (1959) and Gillo Pontecorvo's The Battle of Algiers (1965).
In a world where many (mostly younger) people get their news from "The Daily Show," official credibility seems at an all-time low. The Onion has made an effective business model predicated on the utter ludicrousness of what passes for contemporary politics and culture, the sort of situation in which torture can blithely be renamed "enhanced interrogation techniques" and Donald Rumsfeld can keep a straight face while saying it.
What's an artist to do in this situation? The choice often seems to be: 1) Retreat into the simple pleasures of form and color, or 2) Engage the bastards on their own ground. The two artists featured in June at KMOCA, Steve Derrickson and Dennis Adams, have definitively chosen the latter.
Bloomington-based Derrickson's work may be familiar to those on the local art circuit, where his canvases, often combining cinematic images superimposed with text relating them to various imperial/colonialist adventures have been exhibited from time to time. His new work combines the energy of Abstract Expressionist gesture with references to a wide range of names in the news, from Dien bien fou to Pussy Riot.
Joining him in this double-show will be Adams, an artist internationally recognized for his urban interventions and museum installations that focus on the dense, contextual layerings of politics and history in the public space. (He came to prominence in the 1980s with a series of politically charged bus shelters installed in New York City as a public art project.) The two artists have enjoyed a long association, having first met when Adams was a formative instructor for Derrickson at Ohio State, their relationship evolving from mentor/student into an artistic friendship marked by their common concern for humanity as it is perpetually dehumanized by politics and by war.
Both artists are attracted to themes of medium and message, in particular the dominance of cinema as a fundamental condition of mass communication. Years ago, they co-curated an exhibition at legendary alternative venue The Kitchen titled "Cinema/Object," organized around the uses of/responses to the cinematic in contemporary visual art. This interest serves as the link between the two bodies of work on view at KMOCA this month, which according to Derrickson share a common interest in the ideas of director Jean-Luc Godard, making "Brechtian interventions into a code of communication."
Perhaps this tendency is most directly expressed in a series of photographs from Adams' project Double Feature, published in book form in 2008. These extraordinary images collide elements from two iconic films—Jean Seberg, clad in black capri pants and an oversized New York Herald Tribune T-shirt from Godard's French New Wave classic Breathless, finds herself inserted into a series of backdrops/situations from Gillo Pontocorvo's The Battle of Algiers. The two films have a cinema verité aesthetic in common, even as their ostensible subjects pull in seemingly opposite directions. The jazzy cool of Breathless embodied in Seberg's American exchange student, ironically engaged in selling the news on the streets, contrasts sharply with the tense checkpoints and the oppressively policed streets of French-occupied Algiers as it was in the throes of its war of independence. Godard's film was built on the fictional artifice of film noir, even as it demolished the Hollywood conventions of film form through the intervention of the jump cut; Pontocorvo's film was so close to the reality of the story it described (the Algerian War had ended—and the French ejected—only four years before its release) that the producers felt compelled to open it with a disclaimer that nothing in it was actually "documentary" content.
There is a striking black humor that dominates the work of both Derrickson and Adams—a kind of earnest playfulness (or a playful earnestness) that resonates through them as they attempt to grapple imaginatively with the often "dark materials" and damnable situations at hand today. Doubling back, looking forward, the show promises to explore the complexity of past, present, and perhaps even future, as we continue to live out the endless contradictions of history.
"Smoke Without Mirrors," an exhibition of work by Steve Derrickson and Dennis Adams, will be on view at KMOCA in Kingston from June 7 to 29. Opening reception on Saturday, June 7, from 5 to 8 pm. Kmoca.com