Page 4 of 4
David Van Luven is the Hudson River Estuary Director for the Nature Conservancy. His project, Rising Waters, works with various environmental and state agencies to spearhead a collaborative planning effort to address the challenges presented by climate change. Not surprisingly, both Marcell and Blair are on the steering committee. Pulling together 45 different interest group categories, such as wastewater treatment plant operators, Department of Transportation workers, emergency first responders, developers, and political leaders, they'll be working on scenario planning, a tool primarily used in the social sciences to encourage diverse groups to think about the future when outcomes are uncertain. Together, these groups will collectively plot stories (i.e., if sea level rises two feet, if it rises 24 feet) and think about how to respond as well as the consequences to that response, in order to identify strategies which will have multiple benefits. In this way, they hope to build a suite of advocates who have a sense of ownership and buy-in of the resulting plans, and that will lead to real potential for implementation. The alternative to this strategy seems to be working on short-term emergencies, which will inevitably be expensive—think desalination plants and 20-foot sea walls. Betsy Blair pointed out that in Holland, where the land is actually sinking and the sea level is rising, they've abandoned building sea walls because it isn't a cost-effective or long term solution. Van Luven noted that this could lead to the destruction of natural character of the landscape, like the construction of sea walls that would turn the Hudson River into a 153-mile concrete culvert.
Taking the lead from these collaboratives, there is an incredible opportunity to invigorate local economies by engaging in what is shaping up to be a prosperous new industry of environmental innovation. "The Hudson Valley is really the birthplace of the modern environmental movement—a place where activism, thinking ahead, and cutting-edge action is almost the tradition," Sullivan said. "I think this is the place where a local and regional model for climate change mitigation and adaptation can begin." With each group concentrating their expertise on different imperatives, and the cooperative mentality they are taking, it is likely that local agencies will be able to foresee plans for adaptation and mitigation in the face of these environmental disruptions. The Nature Conservancy's Van Luven approaches the topic from a pragmatic standpoint, in that people often have good intentions when it comes to environmental issues, but it's not transformative. He hopes to find scenarios that will protect communities and their deep interests, and have an incidental benefit of environmental conservation. "Because it threatens every aspect of our society," Van Luven said, "and the solutions to protect those different aspects have multiple benefits, climate change, as a common threat, can be the thing that brings us all together."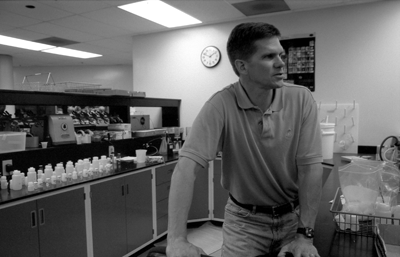 Hillary Harvey
Doug Burns in the lab at the US Geological Survey in Albany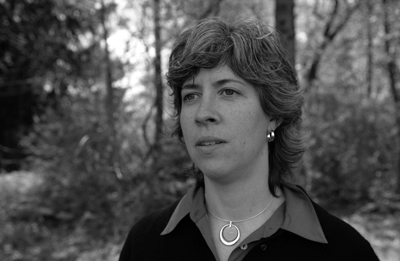 Hillary Harvey
Kristen Marcell outside the DEC offices in New Paltz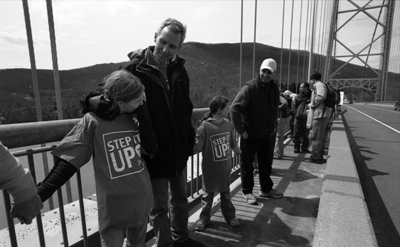 Hillary Harvey
Step it up Rally on the Bear Mountain Bridge.