In the heart of the Hudson Valley courses a beautiful vulnerability. Named by various Native American tribes "the water that flows two ways," the Hudson River is an estuary, created by fresh water flowing down from the Adirondacks and water being drawn up by the tides from the Atlantic Ocean. In this mix an extremely delicate intertidal zone is formed. There exists the rise and fall of the tide in a fresh water environment, which creates a unique set of ecological conditions. With predicted changes in tidal levels, temperature and climatic conditions, as is expected with global warming, there are many who anticipate changes in those river environments.
Getting Heated
Back in the 1990s, Doug Burns, a scientist with the US Geological Survey, began to wonder about climate and its affects on local ecology. In a study published last year in the Journal of Hydrology, Burns and his colleagues found that the climate has warmed by just over a degree Celsius since the 1950s. Their highest elevation site, Slide Mountain (4,180 feet), showed the most warming of any climate station in the Catskills. So the snowpack, which is where much of the runoff in spring comes from, is affected. In fact, peak snowmelt is now five days earlier than in the past. If that warming trend persists, Burns anticipates a long-term water resource concern. The premature snowmelt already causes reservoirs to be at greater capacity in the beginning of winter and to fill earlier in the spring. Full reservoirs cause flooding as excessive precipitation overflows. Then, because the precipitation was not caught and stored, there is less in the reservoir later in the season.
Paul Huth has been recording weather at Mohonk Preserve's Daniel Smiley Research Center for the past 34 years. Originally established in 1896 by the US Weather Bureau (now the National Weather Service), the center is beginning to work with the Lamont-Doherty Earth Observatory at Columbia University to examine 113 years of data and determine trends. Huth, the center's director of research, said they have a rough handle on what they expect to find. Since 1896 there has been a 2.2 degree increase in overall temperature, and with their observations of seasonal changes in plants and animals—such as flowering, fruiting, migration, and singing—they have noticed changes correlating to climate. They observed that six formerly migratory bird species, including the robin, the song sparrow, and the turkey vulture, are now over-wintering in the region. In the last 25 years, they noticed the black vulture, a bird never previously seen in this region, staying in flocks in New Paltz. Huth also mentioned Bloodroot, a spring ephemeral plant, which is blooming 14 days earlier than it did in the 1930s.
In interviews, Burns and others cited reports by the Union of Concerned Scientists, noting that both national and international scientists are reiterating the fact that boosts to temperature and precipitation are accelerating faster in the past 30 years as compared to the past 100. More and more studies are connecting warmer climate with sea level rise, predicting an upsurge as glacial ice melts.
The surge
Because beaches emerge from their waters at narrow angles, storms that occur at a higher sea level will be harsher. "If the sea level goes up a foot," Burns said, "it doesn't mean that the storm surge will go inland a foot more. It'll go inland many feet more." Even in the case of the Hudson, with both beaches and steep embankments, this presents a problem because of the responsiveness of the river to storm surge. Storms are only expected to become more intense, so that much of our rainfall will be downpours as opposed to smaller events spread over a few weeks. Already, Burns and his team found that the Catskills are getting wetter as it warms. "What we found in our study is not what we actually thought we would find. The amount of precipitation has increased since the 1950s, quite a bit, on the order of 5½ inches." With increasing development, intense storms mean amplified flooding as the water runs off impermeable surfaces. These paved roads, which don't absorb rainwater or overflow from the river and tributaries challenge places like the Strand in Kingston. The Hudson River Maritime Museum, on the banks of the Rondout Creek, is already considering creating an off-site for their nonexhibited collections and other emergency plans.
Many attribute weather extremes all over the country to the increase in temperature, with Hurricane Katrina being the obvious example. But in recent spring seasons, storm discharges are becoming taxing locally. In 2005, it was reported that Ulster and Green counties received between two and just over five inches of rain over one weekend in April. The Wallkill River and Esopus Creeks flooded, causing roadways and bridges to be shut down for days. Waters from the Rondout Creek rose so quickly in Kerhonkson that 27 homes were inundated and Federal Emergency Management Agency had to offer aid. In 2007, Ellenville reported receiving just about 5.6 inches, while Saugerties received 6.77 in the span of one day. Many townships declared states of emergency and schools in the Kingston, Onteora, Rhinebeck, and Pine Plains districts closed. The Northeast Climate Impact Assessment defines the 100-year floodplain as "the maximum flood elevation likely to be equaled or exceeded on average once every century in a given location. In any one year, there's a one percent probability that a 100-year flood will occur." However, many towns in 100-year floodplains in the Valley are already experiencing unprecedented amounts of flooding, and the number of spring precipitation events being called "major storms" is becoming common, with consequences to the power grids, drinking water and people in need of emergency rescue.
Because precipitation is coming now in short spurts, there is also the danger of intermittent stretches of drought. "We know that in a warmer world, the droughts will be more severe because warming enhances evaporation and transpiration," Burns said. Because it's an estuary, when the flow coming out of the Hudson gets low, as it does in the summer, the saltwater migrates up. This salt front, defined as 100 mg/L chloride concentration, is very sensitive to sea level and also to drought. While the position of the salt front also moves with the tides and, in fact, is furthest upstream when there is a full moon or high tide, one concern with climate change and the predictions about sea level rise is that this would tend to push the salt front even further upstream. The concern is for those cities and towns that draw drinking water from the Hudson.
Paul Lill, Plant Administrator at Poughkeepsie's Water Treatment Facility, said that when the salt level rises, they adjust their schedule to pump only during high tides, when the river runs south and salt is less concentrated. The facility has the capacity to pump 19 million gallons per day but generally only uses 10 million. So they can pump at a high rate at high tide, and at a low rate, or not at all, at low tide, when the salt concentration is at its highest. That was their strategy during recent droughts. In 2001, because of the drought's severity, the Army Corps of Engineers agreed to release water from the Sacandaga Reservoir in the Adirondacks into the river, freshening the saltwater they pumped. Newburgh is the southernmost community to pull water from the Hudson. Others include Highland, Hyde Park, Port Ewen, and several farther upstream. Lill said that in the short term, Poughkeepsie isn't worried about drought. In the long term a desalination plant, though it's not something they're planning, is in the back of their minds. He estimated it would be a $50 million project, just to get the equipment, site planning, and engineering set up, exclusive of operating costs.
Environment, disrupted
John Cronin, Director and CEO of The Beacon Institute, said that the location of the salt front is critical because, from an ecological point of view, the salinity of the water will have a more dramatic effect than other factors on the Hudson River's marshes and wildlife. Right now, the Beacon Institute is in the development stages of a monitoring system that will document changes in the river due to sea level rise. As part of their Rivers and Estuaries Observatory Network, remote sensing technology will be deployed to create an interconnected network that will extend throughout the river. A fundamental part of their monitoring will be fresh water salinity, river level, river current, and other physical and chemical changes over time. Cronin said, "The Hudson's tidal, so sea level rise is going to have a dramatic effect on the shoreline, the physical characteristics, and the ecosystem itself. There will be a displacement of habitat and altering of animal behavior." A fish accustomed to particular water salinity and temperature may find itself dramatically affected by alterations. In order for the negative affects on river biology to be mitigated, human impacts will have to be managed more carefully. Cronin said that it's premature to draw conclusions about the effects of climate change on the Hudson River. While he can't reliably say it's because of global warming, he noted that there has been infrequent icing of the river, once a reliable characteristic. "It's important to remember," Cronin said, "that ice serves a function in the river. It is not just the cold state of water." River ice plays an important role in the chemistry and ecosystem sense; It cleans out detritus and brings nutrition to the fish. It serves to scour and clean marshland, and ice melt and retention on land is important to the hydrologic cycle.
With a focus on its tidal wetlands and sub aquatic vegetation beds, Betsy Blair, the Regional Marine Habitat Manager for the Hudson River Estuarine Research Reserve, an arm of the Department of Environmental Conervation, identified the biggest concern in the face of climate change to be the potential to lose the vital natural communities that exist along the Hudson River. "Our place within the DEC is really being stewards of the Hudson River's aquatic habitats. I see a very real threat." With hard engineering (structures like steel sheet piles, concrete slabs, and timber cribs—basically, containers filled with rocks) along 41 percent of the Hudson River's shoreline, the marshes are becoming less able to keep pace with rising tides. As the wave energy hits the sediment beds, then bounces off these hard elements and washes over the beds again with increasing force, erosion is compounded. Tidal marshes are extremely important ecologically: to fish for spawning, nurseries, and foraging habitat; to birds for breeding and nesting; to the river's health by pumping oxygen back in and removing sediments; as well as to us in sequestering carbon and protecting the shorelines from erosion. Blair worried, "The sea level rise estimates are, if we actually reduce carbon dioxide emissions, maybe 4 to 21 inches. If we do business as usual, the estimates are something like 8 to 33 inches. So it really depends on where we fall into that range." With invasive species like Zebra Mussels stripping the water of algae, microscopic plants and animals, and even dead plant material, the river's whole food web and oxygenation is based on what's being produced right now in the wetlands and in submerged aquatic vegetation beds. One of the things the Research Reserve is working on is to look at shorelines and strategize what can be done to mitigate the erosion that's going to be associated with sea level rise, and preserve these important natural communities.
Aside from preserving land (a key component in addressing climate change), Scenic Hudson works with various interests to encourage responsible development that avoids the compounding dilemmas created by urban sprawl. It frequently assists with cutting-edge projects that reflect the new markets that environmental stewardship represents, such as the goal to make Stewart the first carbon-negative airport in the country and to build a state-of-the-art green hotel in Beacon. Historically, Scenic Hudson's top criteria was connecting people with the river. So any waterfront property was an acquisition priority for parkland. "In view of curren t and anticipated rises in sea level and temperature," said its president, Ned Sullivan, "we are adjusting our land acquisition strategy. We are buying more upland property that will be safe from innundation and will allow wildlife and vegetation to migrate above new tidal levels." Scenic Hudson still sees the ecological value and potential for that land to serve as a bridge for the migration of aquatic species, but those spots with picnic tables or benches on them might become a place to support subaquatic vegetation instead of human recreation. "One idea that we put forward," Sullivan said, "is to create climate change zones. Let's identify the things in our community that are going to be affected by rising tides and increased storm surges, and make ecological preserves there. So as the tide rises, there could be a place where that could happen, and we wouldn't lose money because homes were swept away."
Pooling resources
In keeping with the Hudson Valley's strong commitment to community effort and collaborative activism, many of its environmental and scientific agencies are beginning to work together on the issues around global warming.
The DEC's Estuary Program focuses on connecting municipalities with the information and resources, often across DEC divisions, they need to handle concerns and infrastructure issues. Kristin Marcell, Special Projects Coordinator, organizes the Hudson Valley Climate Change Network, which, in partnership with the Research Reserve, Cornell University, and the DEC's Climate Change Office, hosts representatives from 30 agency organizations, programs, institutions, and municipalities to ensure that the enthusiasm for climate change action is coordinated, consistent and fostering communication among players. "We're the only region in the state that's trying to move forward on a regional level." She pointed out that the issues we face illustrate our need to think about how we manage water. "The predictions are that under a decent scenario, we could see drought every two or three years by the end of the century. Under the worst-case scenario, we could see a short-term drought every year. That's certainly significant enough for people to start thinking long term about their water supply."
David Van Luven is the Hudson River Estuary Director for the Nature Conservancy. His project, Rising Waters, works with various environmental and state agencies to spearhead a collaborative planning effort to address the challenges presented by climate change. Not surprisingly, both Marcell and Blair are on the steering committee. Pulling together 45 different interest group categories, such as wastewater treatment plant operators, Department of Transportation workers, emergency first responders, developers, and political leaders, they'll be working on scenario planning, a tool primarily used in the social sciences to encourage diverse groups to think about the future when outcomes are uncertain. Together, these groups will collectively plot stories (i.e., if sea level rises two feet, if it rises 24 feet) and think about how to respond as well as the consequences to that response, in order to identify strategies which will have multiple benefits. In this way, they hope to build a suite of advocates who have a sense of ownership and buy-in of the resulting plans, and that will lead to real potential for implementation. The alternative to this strategy seems to be working on short-term emergencies, which will inevitably be expensive—think desalination plants and 20-foot sea walls. Betsy Blair pointed out that in Holland, where the land is actually sinking and the sea level is rising, they've abandoned building sea walls because it isn't a cost-effective or long term solution. Van Luven noted that this could lead to the destruction of natural character of the landscape, like the construction of sea walls that would turn the Hudson River into a 153-mile concrete culvert.
Taking the lead from these collaboratives, there is an incredible opportunity to invigorate local economies by engaging in what is shaping up to be a prosperous new industry of environmental innovation. "The Hudson Valley is really the birthplace of the modern environmental movement—a place where activism, thinking ahead, and cutting-edge action is almost the tradition," Sullivan said. "I think this is the place where a local and regional model for climate change mitigation and adaptation can begin." With each group concentrating their expertise on different imperatives, and the cooperative mentality they are taking, it is likely that local agencies will be able to foresee plans for adaptation and mitigation in the face of these environmental disruptions. The Nature Conservancy's Van Luven approaches the topic from a pragmatic standpoint, in that people often have good intentions when it comes to environmental issues, but it's not transformative. He hopes to find scenarios that will protect communities and their deep interests, and have an incidental benefit of environmental conservation. "Because it threatens every aspect of our society," Van Luven said, "and the solutions to protect those different aspects have multiple benefits, climate change, as a common threat, can be the thing that brings us all together."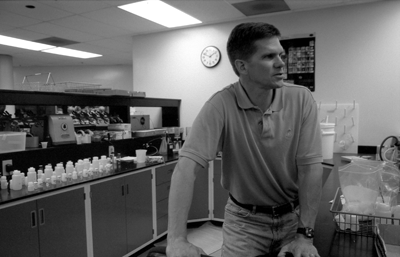 Hillary Harvey
Doug Burns in the lab at the US Geological Survey in Albany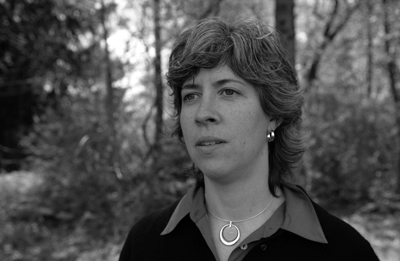 Hillary Harvey
Kristen Marcell outside the DEC offices in New Paltz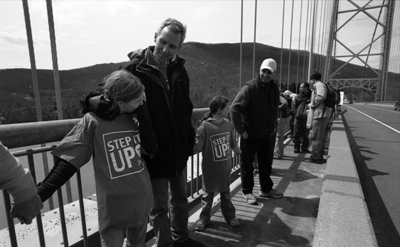 Hillary Harvey
Step it up Rally on the Bear Mountain Bridge.