"It wasn't meant to be this way," says owner Dallas Gilpin of the Dutch Ale House in Saugerties. "It's been tough."
For over two months, delivery and curbside pickup were the only lifeline for New York State restaurants amid lockdown orders. And while delivery infrastructure in urban centers is well-developed, with ample couriers and a high density of restaurants per capita, in rural areas the distances people regularly to travel to eat out don't translate well to a delivery model.
Now, as they sanitize everything within an inch of its life and put the final touches on their socially distanced dining plans, our Hudson Valley restaurateurs report that offering delivery has been a decidedly mixed experience. If their insights offer any clue, it's that that the mega-corporate, gig-economy model of delivery hasn't measured up to the standards food pros expect of themselves and their in-house staff.
Deliverance
Shifting gears from a dine-in operation to takeout and delivery model was never going to be simple, says Dallas Gilpin of the
Dutch Ale House
in Saugerties, where delivery orders accounted for about half the restaurant's business during the shutdown. "Staff, costs of supplies, timing of takeouts, planning deliveries, the quality of food by the time it reaches its destination, dealing with third party delivery companies, it's tricky," she says. "It's been smooth overall, over the long haul, but some things did cause big problems."
Shirley Hot, owner of the "Dr. Who"-themed
Pandorica
in Beacon, signed up with GrubHub to handle the restaurant's delivery business during the pandemic. "I got what I thought would be a good deal from them, they threw in some coupons and such, but they're understaffed," she says. While competition between food delivery services, much like ride share apps, usually results in better prices and service for customers, the proliferations of providers only made things more complicated upstate. "The drivers mostly need to work for all of the major delivery services, so it can be hard to find one when you need them," Hot says. "I've stuck with GrubHub because they have a presence, and people who don't know me can find me through them. But I wish I had my own delivery driver."
The shortage of drivers and the ample coverage area resulted in epically long wait times. "You get an order on the phone and they ask how long it will take, you tell them 20 minutes, and when you click 'done,' that's when they start looking for a driver," says Hot. "So the driver says OK, but then they're 20 minutes away, and if it takes them another 20 minutes to get to the customer, you could be looking at a dish that has been sitting for nearly an hour. That's never going to be the same as hot and fresh."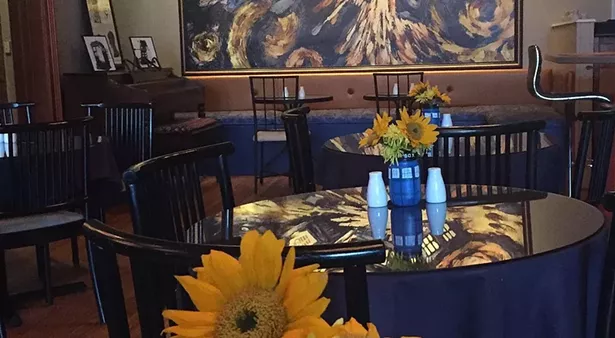 Pandorica will be opening for socially distanced dine-in on June 26.
Hot says that the only way she was able to keep Pandorica open at all was by doing everything herself, and that even that was barely feasible. "I tried to encourage people to pick up curbside," she says. "I decided to try waiting to put the finishing touches on a dish until I'd requested the driver, but that was intensely stressful. Just keeping the lights on and cooking was costing more than I was making. A lot of my delivery customers were also first-time customers, and cold, stale food was not the impression I wanted to make—every dish is a part of my heart when I make it, and to know that it showed up that way hurt."

Hot finally closed for a brief time, to give herself a chance to deep-clean and rearrange Pandorica for socially distanced dining. But she's planning to continue offering delivery, even after the pandemic abates and customers—quite a few of whom journey long distances to visit the timey-wimey restaurant—can once again come into Pandorica to experience its unique charms. But she'll probably still consider sending you an afternoon tea spread. "I am hoping things will calm a bit and GrubHub will get smoother," she says. "I think delivery is a service people have come to want."

"I was an 'essential' business and I could have been having people inside, but I stuck with curbside to keep everyone safe," says Rashid Chambers of Grinds and Grains.
In New Paltz,
Grinds & Grains
owner Rashid Chambers has had decidedly better results with hyperlocal delivery service
Carry Out Kings
, which launched in 2014. The delivery company services New Paltz and the surrounding area, including Gardiner, Highland, and Rosendale. They can bundle pick-ups from up to three locations at a time, and prices start as low as $3.
"We started working with them at the beginning of the pandemic, and it's been helpful the last couple of months," he says. "It cost us 10 percent, which is a good deal, and it just made sense. They deliver for around 80 percent of the New Paltz places, and being local, they get here within 15-20 minutes and get it to the customer in just a few more. With GrubHub, the guy wouldn't come to the door—I had to go to his car—and then they'd forget something. With Carry-Out Kings, no issues."
Beyond the hyperlocal advantage, Chambers' positive experience with Carry Out Kings reflects the advantages of treating delivery as an important business in itself, rather than being farmed out to less-accountable and seriously underpaid gig workers dividing their time between multiple large corporate masters for survival's sake. A help wanted ad posted by Carry Out Kings in May required five years of food service experience and the aptitude to fully master customer service, ordering software, and dispatch skills.
At the Flatiron in Red Hook, owner Jessica Stingo sent her own staff out on delivery missions.
At the
Flatiron Steak House
in Red Hook, owner Jessica Stingo had her staff handle deliveries themselves. "I'd rather keep it in house," she says. "Those services take like 30 percent. Doordash delivered for us for free when someone requested our food, but they never updated the menus, and our menu has been changing three times a week during this. It just wasn't working out."
Having a staff member deliver was handier, and Stingo was happy to see her own people collect the tips. But she's not sure she'll continue to bother with delivery, which has been about a quarter of her pandemic business, for much longer. "We've been thinking hard about that and whether it will make sense to pull somebody away for one or two orders when we are opened up inside," she says. "We may have to up the minimum a little bit. It will probably not be something we can do at 7pm if we're slammed."