Page 2 of 2
The DMI's everyday tavern menu features accessible classics. The seven-course tasting menu ($72) changes seasonally. Request the accompanying wine pairing ($45) and risk losing count.
The concept is organic, and, as Tate puts it, "evocative of nature." His clever "Snail snails" come to mind. Snails, from a snail farm on the North Fork of Long Island, are braised, chopped, and blended with sautéed green garlic, scallion, and lemon zest into an escargot duxelles, which is then rolled into house-made puff pastry palmiers. The form echoes the flavor. "It looks like a snail, it tastes like a snail," the server announced to our table when it was presented on a piece of slate draped in fresh green moss.
It was part of the "savory snacks" chapter of the tasting menu, along with quail eggs rolled in hay ash and served in a bird's nest, and tiny new potatoes encased in white clay, plated among stones to which they bear a strong resemblance. "It's to make the potato multi-dimensional," says Tate. "You're getting this great snap from the potato that you're not accustomed to. So, you're experiencing a new sensation while eating a plain old potato."
After that, cured trout venison and sour cherries; rhubarb harvested from the inn's own garden, served with a sorrel granita and buttermilk anglaise; and finally, the maple syrup makes an appearance as a topping over a house-made milk sorbet. Sorbets are a house specialty: anise hyssop or tarragon or burnt ash, a creation literally stirred with a charred log plucked from the bar-side fireplace. It tastes just like a toasted marshmallow.
Transported by Taste
Emma Mead
Rabbit loin and offal.
"You have to be evocative. Massimo Bottura said just this weekend, 'Fifteen years ago my job was to make food that tasted good for you to enjoy. Now the chef's job in a high-level restaurant is to transfer emotion to your palate.' I mean, cooking should transport people. Even if it's just a cheeseburger."
The tavern menu features Fried Chicken with sesame chili aioli and scallions ($14), Trout Almondine ($25), and the DMI Cheeseburger ($18) with caramelized onions, Muenster cheese, and "special sauce" on toasted brioche.
Cheeseburgers, in particular, transport Tate back home to Michigan: "It should remind you of how your mom cooked in the summer, when it was too hot to turn on the oven in the house. My mom made cheeseburgers and milkshakes. We ate strawberry shortcake every Sunday for a whole summer one time. It was just too hot to cook."
"I'm trying to get people to have more than just a palate experience: Memory, olfactory, all the senses are involved. The dish may not be familiar, but the flavor combinations are something you have come across before."
Climbing the Mountain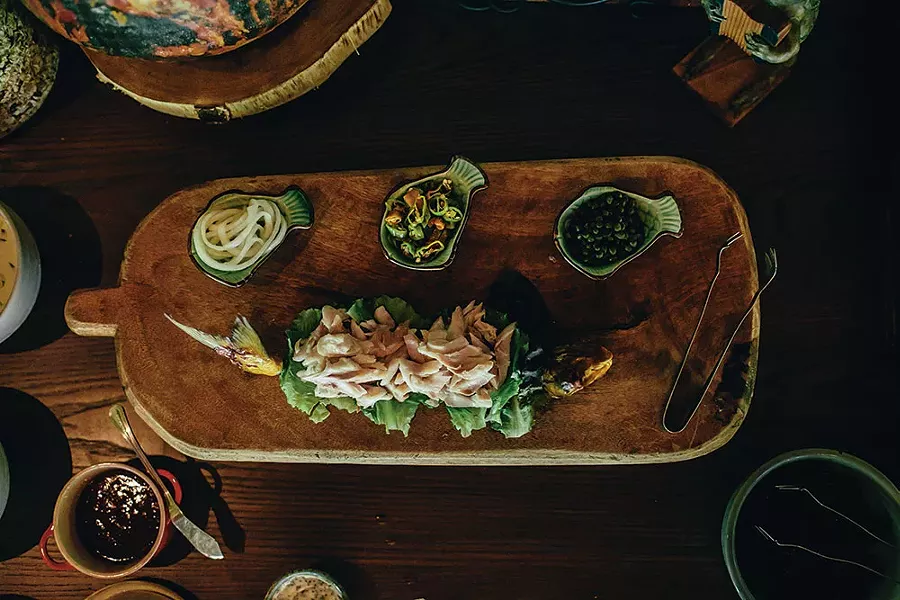 House-smoked trout served with pickled onions, pickled shishito peppers and capers.
At the east end of the Borscht Belt, the Deer Mountain Inn has been part of a long, cultural legacy of family dining: Big shared plates. Eastern European fare. Potatoes definitely
not
encased in clay. The offering of the tasting menu (petite individual dishes, the same for all diners, served in sequence) is a new concept here. While it was tried for a time at Hudson's Fish & Game, Tate is the first to endeavor it on this side of the river, aiming to lure diners hungry for a culinary experience that's fresh and different.
Will Deer Mountain Inn build a broad reputation? The best in the region? The best in the state? Will travelers and locals alike drive up the mountain toward Onteora to indulge in perhaps the world's only "Snail snail," resting on its beautiful little mossy slate plate?
As I leave Tate to his prep for an 80-person private event that evening and start my winding drive back down the mountain, I remember with a gleeful start the half strawberry shortcake scone still tucked in my jacket pocket. A bite takes me back to Tate's Michigan summers, and to the trout pond an hour ago.
Deer Mountain Inn
790 Route 25, Tannersville
(518) 589-6268
Open for dinner Thursday to Sunday, 5 to 10pm.