Years ago, when I first moved to New York City, I had a persistent fantasy. In my mind's eye, I would be walking along some Midtown street, when a tinted-window limousine would glide alongside me at the curb. The window would roll down, and the limo's wealthy, well-connected owner (who of course had immediately recognized my innate intelligence and worth), would invite me in, whisking me away to the destiny I deserved.
I (mostly) got over this fantasy some time ago. But I did find myself in something like the position of that nameless millionaire recently, when I spent the better part of two days sifting through an enormous stack of applications sent in by artists to "Beyond Self: Contemporary Explorations in Art & Spirit," this year's edition of SUNY Ulster's annual juried exhibition. The theme called for art that uses spirituality as a way for artists to look "beyond themselves" and the material world, "to make new connections." My selections would be—at least on a microcosmic scale—a recognition of the value of the work done by the artists included, though, in all due modesty, I have to admit I doubt appearing in this one show will make anyone an art star overnight.
Poring over these submissions with me was the pioneering performance artist (and Saugerties native) Linda Montano. It was lots more fun to share the load—I can't imagine being confronted with such a monumental stack of slides and CDs and grimly making sense of it all by myself, not to mention the fact that Linda's deep spiritual insight and sense of humor was enormously helpful in keeping our focus as we enjoyed the process at the same time.
In the few weeks since the results of our deliberations went out, I've had some interesting conversations with a number of artists (both in and out of the show), confirming a suspicion I had had all along—that the jury process, cloaked in secrecy, can provoke a tremendous amount of anxiety among artists, who are left wondering, "Why didn't I get in?" or, "How did they pick that one, out of all my slides?"
In the interest of demystifying the jury process, and to offer some guidance to those of you who may find yourselves submitting work to such a process in the future, following are a few things you might want to think about as you put your package together.

Does your work really have anything to do with the announced theme or concept of the exhibition?
Amazingly, probably the number one reason we rejected artists or works from the SUNY Ulster exhibition was the fact that it seemed to have little or nothing to do with the theme of spirituality as it was announced in the call. Of course, we were open to many, many different expressions of spirituality—there are things in the show that spring from Catholic, pagan, Buddhist, and plenty of other traditions—yet there were still an unbelievably high number of submissions for which it was nearly impossible to see the connection. Instead of "Beyond Self," such packets smelled more like pure "Self-Promotion," as though the jurors shouldn't care so much about the idea as about the fact that brilliant artist X has elected to grace us with his or her presence.
Compounding this fatal error, there were several people who submitted bodies of work that I know they had been kicking around for some time, and sometimes had even exhibited locally already. Is it really necessary to send the same things to every open call, again and again? It made me wonder whether those artists were actually interested in engaging spirituality—or even in making new work at all.
Does it help if the juror knows me personally?

Yes, no, and maybe. In some cases, it helps to have some additional knowledge to bring to the table. In the Ulster show, I was able to explain to my co-juror the process behind Ros Robertson's recent drawings, one of which is now included in the show. The limited amount of information on the entry form listed the media as just "non-toxic calligraphy inks, Atlantic Ocean." I happened to know how she made them—drawing on the paper, then allowing the ocean to wash over the page to "complete" the piece—and that key bit of information appealed to us in terms of how it related to the spiritual theme of the show. Otherwise, from the images alone, Robertson's delicate combination of half-obscured lines and broad washes of color might not have meant anything to us.
On the other hand, there were artists whose work I know who happened to submit pieces for consideration that disappointed me. "If only he or she had given us one of that other series," I would lament—and then they didn't make it into the show. So as you see, it can cut both ways.
But one of the real rewards of sitting as a juror is discovering new artists, bodies of work that you've never seen exhibited before. It's great to see an image that catches you by surprise, a powerful or delicate or exquisitely crafted thing by somebody you've never heard of, and it's tremendously satisfying to give such work a thumbs-up.
I was rejected. Does that mean my work sucks?
I'm assuming that the more mature individuals involved in the process are aware that at the end of the day, it's still going to be a crapshoot in terms of who and what is selected by the jurors. Part of it depends on how your art fits in with the other works that have already been accepted, how many pieces the jurors decide will actually fit in the given gallery space, the position of the stars at the time we view your slides, or what have you. (There is, of course, always the possibility that your work really isn't that good to begin with, in the humble opinion of the jurors.)
It helps when we can actually review the work. I know that digital photography has made the transmission of images much simpler, and much less expensive, but at this point I've got to say, it's still a transitional technology. It's a fact that the work of every single person who sent in slides was duly considered, while not everybody who sent in a CD had the same opportunity. If you decide to go digital, please don't use one of those cutesy proprietary slide-show packages from Kodak or the like—they don't always work, and it makes it that much harder to access the image files, which is what we're really interested in seeing. Make sure your disk will read on somebody else's computer, not just the one on which you burned the disc (ideally, try it on both a Mac and a PC to be sure). Given the quantity of submissions we had to work through, if a disc wouldn't open (or worse yet, crashed our image browser program), it was given the gate. The best choice would be to just burn your images as easy-to-read JPEGs, either one by one, or all in a single, easily accessible folder on the CD.
I'm very interested to see how "Beyond Self" will shape up as an exhibition when it finally makes its way onto the walls of the Muroff Kotler Gallery at Ulster. In the end, it will have been the product of a tremendous amount of thoughtful consideration, one decision building on another until (one hopes) an overall sensibility or feeling for the spiritual subject emerges. It's an imperfect process, undertaken by imperfect humans. Yet it's also more than that, a point that was underscored when I tallied the final count of the artists admitted to the exhibition. It came out to a perfectly spiritual 33—a message to me and Linda that we weren't necessarily the only ones doing the picking.

"Beyond Self: Contemporary Explorations in Art & Spirit" opens on March 9 with a reception from 7 to 9pm at the Muroff Kotler Visual Arts Gallery, Vanderlyn Hall, SUNY Ulster, Stone Ridge. The exhibition runs through April 13. (845) 687-5113; www.sunyulster.edu.
Joan Barker, _Touch 3_, gelatin silver print, 20"x24".
Megan Ingalls,_The Palm Reader's Guide_, thread on muslin, 13"x15".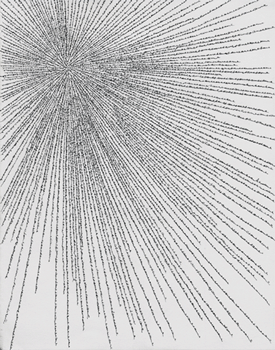 Steven Ausbury,_Same Light_, ink pen on paper, 9"x12".