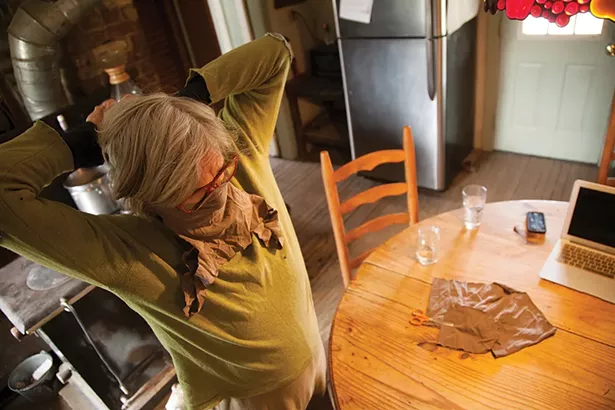 Madeline Cottingham
"The other day we made masks. The first batch were made out of vacuum bags. We quickly learned they weren't breathable. Eventually we came up with a simple mask made out of t-shirts. Here is my mother, Jennifer Cottingham, trying one on."
Won't accept the past tense, lodged in me endless days ago, a woodchuck burrowed into my ribs, a burnt marshmallow down my throat, a dank fog that won't clear, drums beating between my ears. Sent its fever storming in the front door and took over. Stole away the flavor of coffee, wrung all the bite out of salt. Left me sweating on the couch and went to go grab my cousin by the collar, my schoolmate, my friends. The doctor sent me the medicine, white paper bag of experimental hope, but two pills later my heart panicked and nearly took a header down the stairs. This thing has a wildness, the jungle pulling you back by the hair. Just lately I think it might be losing interest, and next time it gets restless and heads out to roam the neighborhood I'm going to jump up and lock it out of my house.

Jana Martin is the author of Russian Lover and Smoke Gets in Your Eyes, a co-founder of Pendemic, and a contributing editor on The Weeklings.