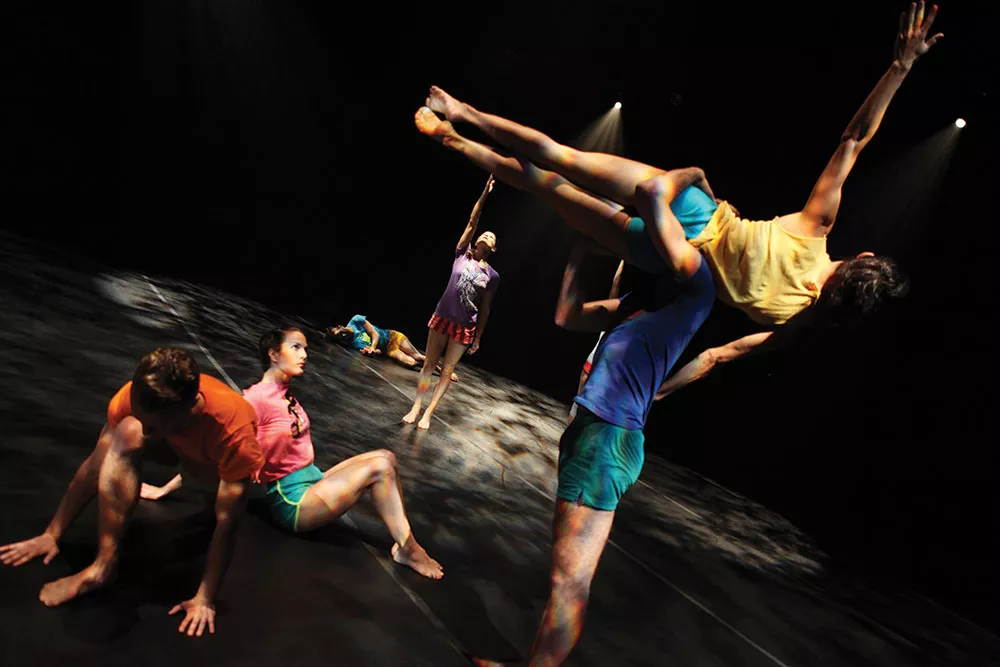 Julieta Cervante
Dusan Tynek Dance Theatre performs at Kaatsbaan November 19
Kaatsbaan bursts with exceptional dance this November, beginning with The DASH Ensemble on the 5th.
Though only 31, Artistic Director Gregory Dolbashian's résumé is impressive. As a child actor and singer at the age of 10 he worked with Robert Wilson and Lucinda Childs in "Einstein on the Beach," which cultivated his interest in dance and later led to studying technique at the Ailey School and composition with the illustrious Kazuko Hirabayashi. He's created works for a myriad of companies, from American Ballet Theatre to student companies at NYU's Tisch School of the Arts and Juilliard.
Since an important theme in Dolbashian's work is community, rather then ask his dancers (from several countries), composers, and costume designers to merely fulfill his concepts, he collaborates with them, creating an onstage community. They will be presenting "Everything," a work in progress based on coming-of-age stories that explores how modern culture informs how we perceive ourselves. With a masterful use of composition tools, Dolbashian incorporates hip-hop, "floor work," (an element of break dancing), "flying low" (a technique of hovering dangerously close to the ground and vigorously incorporating rolls), and modern dance, making him one of the most original, inventive artists of his generation.
On November 12, Kun-Yang Lin Dancers present "Home," a work about immigration. Emigrating from Taiwan in 1994 (he is now a citizen), Lin's journey has been filled with grace. Now a professor of dance at Temple University, he received an MFA from NYU's Tisch School of the Arts, studied with Merce Cunningham, performed with the Martha Graham and Jennifer Muller companies, and apprenticed with Bill T. Jones. He's studied Buddhism, Taoism, Tai Chi, and the Chinese Opera, all of which come together in his unique movement vocabulary, danced by his company of exquisite movers.
Also informing Lin's work is his dedication to building community. He opens his studio in Philadelphia's diverse neighborhood near the Washington Avenue Immigration Station for public rehearsals, and recorded "story circles" with his neighbors about their immigration experiences to use in the "Home" soundtrack. "'Home' is a metaphor for honoring my influences," Lin says, "including the ancestral wisdom we carry in our cells, and it asks what is 'American-ness.'" He creates a bright, neutral environment for the work using white as a metaphor for openness. "You have to be open as an immigrant," he adds. His hope is to "remind everyone that we each may share a stranger's story." Even the most stoic will be moved by this work.
On November 19, the Dusan Tynek Dance Theatre will perform three works. Originally from the Czech Republic, Tynek's traveled a rich path in dance. Since graduating from Bard College, he has studied with esteemed Merce Cunningham dancer Albert Reid, trained in flamenco and ballroom dance, and performed with dance icons Lucinda Childs and Douglas Dunn. He has received grants from the NEA and New York City's Department of Cultural Affairs, among others, and performed at BAM in 2013, his company's 10th anniversary.
Tynek's sculptural choreography in "Romanesco Suite" (accompanied by a recording of the 17-year-cycle cicadas) is mesmerizing, inspired by the patterns of florets in Roman architecture and endlessly repeating fractals.
In "Tethered Light," self-illuminated dancers moving through spotlights and darkness create a place of otherworldliness enhanced by a score by Bryce Dessner of The National. Fearlessly running into outstretched arms and taking each other's weight, shapes appear and dissolve. It's clear the dancers enjoy inhabiting this world of light and shadow.
"'Logbook' uses the story of Ulysses and Penelope's search for each other in The Odyssey as a metaphor for immigrants leaving the old world and coming to the new," says Tynek. The dancers invoke friezes on Greek and Roman buildings becoming animated, and combined with renowned Serbian composer Aleksandra Vrebalov's compelling score, Logbook is sure to become a classic.
Kaatsbaan International Dance Center in Tivoli. Tickets are $10 to $30. All performances are on Saturdays at 7:30pm. (845) 757-5106; Kaatsbaan.org.