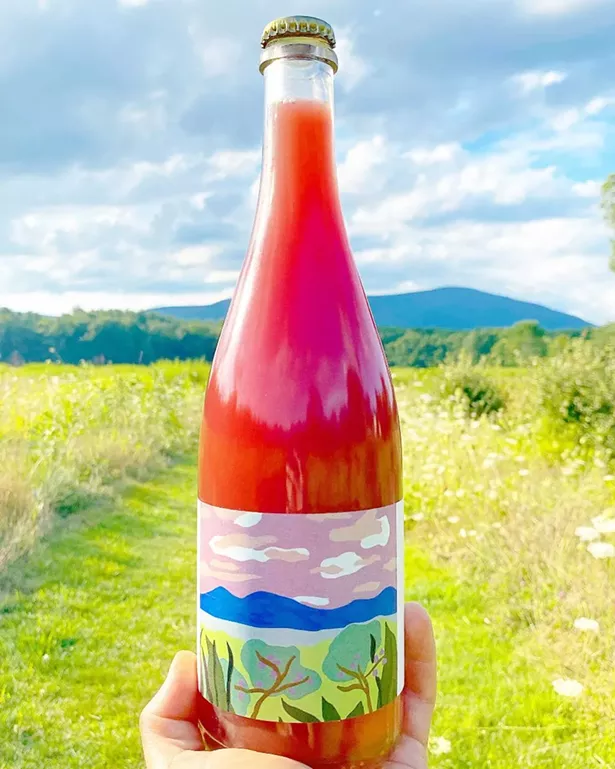 Kingston Wine Co.
2019 Rose Hill Farms + Kingston Wine Co. Rosé Pet-Nat "Cuvee Lulie"
In 2019, natural wine merchants Kingston Wine Co. and 222-year-old Red Hook fruit orchard Rose Hill Farm collaborated to create Rosé Pet-Nat "Cuvee Lulie," a limited-edition private label effervescent wine made with New York grapes. And it's almost sold out.

In the 15 years since Michael Drapkin first became a wine merchant, the landscape—both locally and globally—has undergone what he calls a "stratospheric, dramatic change." Founder of Kingston Wine Co., on Broadway in Kingston's Rondout district, Drapkin has always peddled esoteric wines—organic, biodynamic, low-to-no-intervention vintages with that brightly colorful, cloudy look now so recognizable as natural wine. ("Wines with little added and little taken away," is Kingston Wine Co.'s tagline.) "It was always those wines and the people who made those wines that I wanted to be around," says Drapkin, who, in 2008, lived for a harvest season with a family on a vineyard in the south of France.


As the local community of wine drinkers seeking out alternative, experimental wines has grown, since it opened in 2014, Kingston Wine Co. has developed a cult following both among urbane locals and urban transplants. While their avant-garde selections come in colors and styles and from origins unfamiliar to many who wander through the front door, Drapkin works hard to make sure the shop is accessible, focusing on $10 to $30 bottles from the Old World, plus a selection of classics.
"In just seven years, I've seen a really giant shift in the way that people are drinking," Drapkin says. "I think the consumer is open to delicious wine from anywhere, whether the country of Georgia, the Czeck Republic, Slovakia, or the East Coast—Vermont, Maryland, Virginia, and New York. It's a really wonderful time to be a wine merchant—people are thirsty, willing, open, excited, and passionate to learn. We all have our favorite wines and grapes and regions, but a lot of stereotypes have been broken down with the way information is shared in the store and on social media."
In a chicken-or-egg-type conundrum, it's impossible to tell whether the wine importers became more adventurous first or the public palate, but regardless, the fact is that more wines are being imported from more places, destabilizing the decades-long monopoly of the wine world's Big Four: France, Italy, Spain, and California. Drapkin attributes this shift in drinking habits to the digital sharing of knowledge via social media. "It's a combination of intrepid winemakers, intrepid importers, intrepid wine merchants, and intrepid consumers. So it's this whole chain of people that are open and willing and excited. And it takes all of that," he says. "It's a really great democratization and a wonderful way to explore the diversity of agricultural products from everywhere. Those top regions are still significant, and always will be, but throw in a little wine from Hungary or Red Hook, why not?"
A Rosy Future for Rose Hill
Red Hook is a nod to Rose Hill Farm, which Drapkin has faithfully bought from since they first debuted their line of raw, unrefined, unfiltered natural wines and ciders in 2019.


One of the state's oldest fruit farms, Rose Hill changed hands in November 2015, after 217 years in the Fraleigh family. Though they had no farm experience, new owners Bruce and Holly Brittain had U-picked there over the years and wanted to ensure that the beloved farm would continue. "It's a pretty magical place," says Bruce Brittain. "Our intent was to continue to allow the public to come here to pick fruit—that was about all we knew when we made a quick decision to jump in." Since then, they've carved their own path forward while honoring the history of property.
Farm manager Kevin Clark has shifted the entire operation toward holistic orchard management practices, which means no herbicides and little to no spraying—especially in the lead up to harvest. "We focus a lot on the soil, a lot on the health of the land, and a lot on making sure we're doing the best we can to be sustainable—in terms orchard management and in terms of revenue," Brittain says. "It's no secret that farms this size are dropping like flies."
As a revenue strategy, the Brittains decided to begin making cider and fruit wine with the surplus fruit as a value-added product. In 2018, they brought on Matt Sanford—who specializes in low-intervention, natural fermentation—as a consultant initially and then later as the resident cider/winemaker. "The whole cider and wine program is consistent with what we're doing in the orchard: reduce inputs and work with what the land gives us," Brittain says.
This focus on soil fertility, tree health, and improved biodiversity has increased the yield and quality of the harvest. The picturesque 114-acre property produces cherries, blueberries, plums, apricots, nectarines, peaches, and apples. Without intervention, the fruits are no longer the picture of supermarket shelf perfection, but they are left on the branch to tree-ripen to their fullest expression, yielding an unmatched sweetness and complexity of flavor that is superior for fresh eating and for fermentation.
"Every year ciders and wines are a little bit of circumstance—what is available from the crops," Sanford says. "While we may use some of the same labels year to year, we try to not create the expectation with our customers that what the cider is one year, it will be the next." The first year of production the farm turned out 7,000 to 8,000 liters. Last year, they nearly doubled that, and this year, they are on track for 25,000 liters. "Every year we make a little bit more than a dozen products, but the sizes of those batches range anywhere from 10 cases to 170 cases," Sanford says. "We're making a lot of different things but all in very small batches and precise, with the goal of scaling up but also trying to perfect the art." Brittain adds, "Since Matt has been here, there's not a piece of fruit that sits on the ground and rots."
Rose Hill's bottle shop carries products ranging from Kitchen Sink Cider, made with heirloom, bittersweet, and modern culinary apples, to Sun Drops fruit wine, a carbonically fermented and bottled pétillant naturale made entirely from Shiro plums grown onsite. Prices range from $10 to $15 for 375 mL bottles and $17 to $24 for 750mL.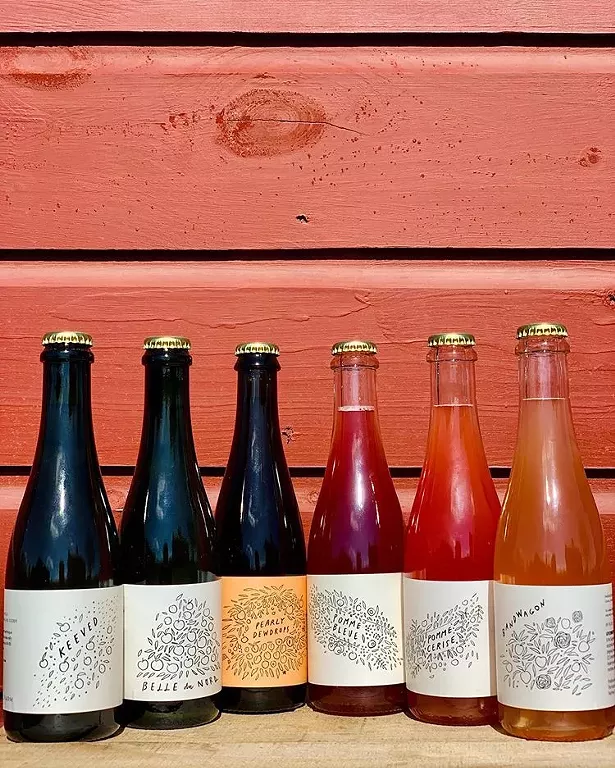 Vintage Collab
Though no grapes are grown on the farm, Sanford has experimented with winemaking since the beginning, buying grapes from other New York State producers. When Drapkin approached Rose Hill about collaborating on a private label pét nat rosé, all parties were excited.

"Collaborating on a wine is something I've certainly always wanted to do," Drapkin says. "I wanted to collaborate with someone in New York, but for years I just couldn't find the right partner—someone experienced and willing to make the type of wine we were looking for—one that is less manipulated, not heavily filtered." With Sanford on the Rose Hill team, opportunity presented itself.
The team picked Cayuga grapes (a white hybrid) at a vineyard outside New Paltz and bought Merlot grapes from a producer on Long Island. The mixture sat in tanks for two weeks before moving to bottles to continue fermenting. Still alive, pét nat wines (an abbreviation for the French term pétillant naturel, meaning naturally sparkling) get their effervescence from the active yeasts that continue to consume the sugar in the bottle, issuing CO2 that gets trapped under pressure. The fizz is gentle when you open the bottle, but Drapkin recommends serving the wine very chilled (and over a sink).
The vintage—officially: 2019 Rose Hill Farms + Kingston Wine Co. Rosé Pet-Nat "Cuvee Lulie"—is unfiltered, cloudy, and a brilliant blood-orange shade. Drapkin describes it as "dryish, turbid, frothy, and softly textured." Endearingly, he tends to describe tasting notes in terms of childhood candy flavors. He picks out "Hawaiian Punch vibes" and a "strawberry/cherry Tootsie Pop feeling" in this vintage. "It's the perfect balance," he says. "It has some fruitiness to it and some good refreshing qualities. I think it appeals to a lot of different palates."
The collaboration produced roughly 55 cases, which were split for sale between Kingston Wine Co. and Rose Hill Farm. The label, designed by Drapkin's wife and wine shop co-owner Theresa, depicts a view of the Catskills from Rose Hill farm. The bottle retails at $24.99, and in the weeks since it went on the market i, has almost sold out in both locations. "The response is incredible," Drapkin says. "We are fortunate to have a great local, loyal following, but this wine was shipped as far as Seattle."
"I think it came out good. It has a lot of fruit to it, which I'm happy with, and the effervescence is great," Sanford says. As a living wine, the flavor of the Cuvee Lulie will continue to change in the bottle with time. "It still tastes very fresh to me," he says. "It has the ability to be aged—maybe even for many years." So if you do manage to get your hands on a bottle or two, consider keeping one in the cellar.
The wine is being sold on both Rose Hill and Kingston Wine Co's online bottle shops as well as on-site for pickup. And if you can't snag one, fret not. Drapkin says, "This is hopefully the first of several collaborations."
Till then, you can head to Rose Hill Farm's new on-farm tasting room, which is soft-launching this weekend, to try any of their other naturally fermented offerings.