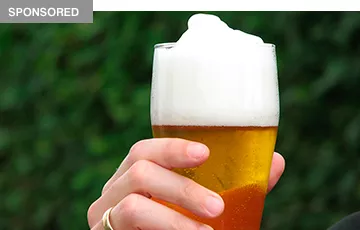 The Cunneen-Hackett Arts Center presents The 3rd Annual Vassar Street Brew Fest Saturday, September 24th from 1 to 5 pm at 9 Vassar Street in Poughkeepsie, NY. This annual event celebrates its connection to the past with Matthew Vassar, his two nephews and the beautiful landmark Italianate buildings that remain their legacy. Under the big tent, rain or shine, there will be at least ten breweries representing their finest craft beers, ales, and ciders for sampling in a commemorative pilsner glass along with pub grub, music and an appearance from Matthew Vassar who made his fortune brewing ale in the Hudson Valley in the 1800's. Art exhibits and historic memorabilia round out a deliciously fun and educational afternoon.
Admission for those 21 years or older is $20. Tickets can be purchased on line at
www.cunneen-hackett.org
or at the door. All proceeds benefit the Cunneen-Hackett Arts Center, a 501(c)3 not-for-profit arts organization whose mission is to meet the cultural needs of the community by providing venues for both professional and amateur artists to showcase their talent in theater, music, dance, fine and visual arts and to preserve the two historically significant structures.
The amazing
Jazz in the Valley
Festival is Sunday, August 21st, on the Hudson River in Poughkeepsie. This year's swinging line-up includes the world-class musicians Randy Weston, Randy Brecker, Javon Jackson, Jimmy Cobb, and Charenee Wade and Craig Harris. Hear Chico Alvarez with the Palmonte Afro-Cuban Big Band.
Enjoy terrific music with the Hudson River and Catskill Mountains as the backdrop, starting at noon. The scene unfolds at 1 North Water Street in Poughkeepsie. This is a rain or shine event! Don't bring glass bottles or alcohol. Get an early bird discount until August 1st of $40. General admission is $50, $60 at the gate. Students are $20. Call 845-384-6350 or go
online
.
The fun doesn't stop there! Fireball Run selected Dutchess County as a featured destination in the series' 10th Anniversary Season. Fireball Run tells the story of 40 teams as they compete in a legendary 2,000-mile, life-sized trivia game. To win, contestants compete in an epic quest for America's under-discovered places and historic artifacts, while aiding in a massive awareness campaign, The Race to Recover America's Missing Children.
The live competition is from September 23 to October 1. Spectators are welcomed to meet the celebrity teams and take pictures with exotic vehicles when they stay overnight in Beacon on September 28th. Visit
www.FireballRun.com
to learn more.