Raise your hand if you know a farmer. Now put it down if that person is either a fictional character or has an off-farm job that helps them pay their rent, car loan, or even their weekly tank of gas. There probably aren't a lot of you left with hands in the air, because it's a pretty well-known fact that farming is hard. "F*cking hard," says Liz Corio, Glynwood's VP of Development and Administration, quoting more than one farmer at a gathering of their Hudson Valley Farm Business Incubator program in early November.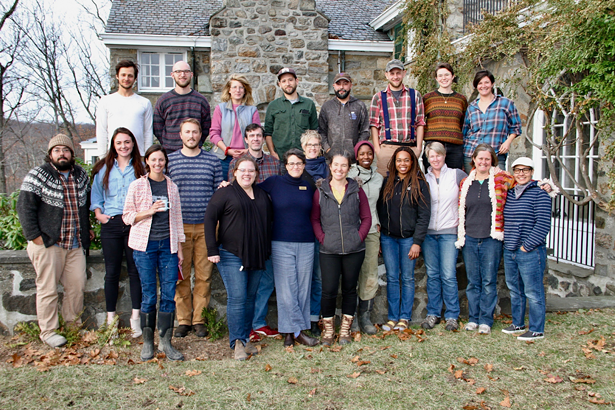 15 new and beginning farmers in Glynwood's Farm Business Incubator Cohort gather to recap the growing season.
Launched in 2014, Glynwood's Incubator program offers its participants a variety of resources—like equipment sharing or training to develop wholesaler relationships—that can improve their businesses in real-time. To supplement the day-to-day business assistance, the program's mission has recently focused on creating intentional moments of reflection among members.
When they convened as a group at Glynwood's 250-acre training farm and educational campus outside Cold Spring last month, members found a welcoming space to share the highly specific struggles of regenerative farming. Afterall, the process of returning nutrients to soil stripped by decades of commercial farming or restoring the public's love of exceptionally flavorful heirloom tomatoes are lengthy and mostly uphill.
From left to right: Vegetable Apprentice Kione McAulay, Vegetable Production Manager Jarret Nelson, and Apprentices Christina Miller, Lauren Thorpe and Mikhail Pozin.
"There's a role for us to play in bringing the right people together to establish relationships and trust, and to provide the space for dialogue," says Dave Llewellyn, Glynwood's Director of Farm Stewardship.


The November gathering gave time for a recap of the seven participating farms' recent seasons, feedback from their experience in the program so far, and a new "farmer-to-farmer exchange." The exchange invited three mentor farm contributors and participants from past years' programs to share in their peers' experiences and offer their own in return.
Second-Year Livestock Apprentice Emily Lupico tends to Glynwood's pigs.
Also at the gathering were Glynwood's current apprentices in vegetable and livestock farming, who are learning skills in regenerative farming. According to Corio, "While the realities shared 'round the table of new-entry farming challenges could have been daunting for these farmers-to-be, what came through in the conversation was resolve, recognition, and even relief that the path these entrepreneurs were on was the right one."
To learn more about the Glynwood Center for Regional Food and Farming, or to donate to the Glynwood Center, visit
glynwood.org
.