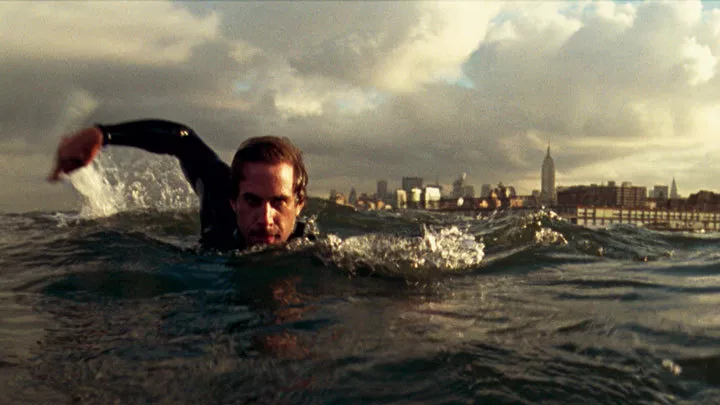 In the 1968 film The Swimmer, co-directed by Frank Perry and Sydney Pollack, a Connecticut blueblood named Neddy Merrill confronts his midlife crisis by slipping into the drink. That is, he decides to swim across the county via a network of neighboring pools. In Peter Callahan's narrative film Against the Current, a foundering financial writer named Paul Thompson opts for a more grandiose goal for similar reasons: swimming the Hudson River from Albany to New York City. While Perry and Pollack's film depicted the surreal aspects of Neddy's quest, the Hastings-on-Hudson-based Callahan accentuates the lyrical components of Paul's mission—even though both films end unsettlingly.
Callahan, whose first film Last Ball appeared in 2000, began Against the Current soon afterwards. (While a documentary titled Swim the River concerned the same Hudson-spanning feat—albeit to raise pollution awareness rather than as an outlet for personal grief—Callahan only learned of environmentalist Christopher Swain's film after he'd completed his own screenplay.) Callahan insists this film is not autobiographical; while he did swim the Hudson once like his protagonist, the director's preferred route was the brief distance between eastern and western shores. The premise of his film made it a tough sell, but Callahan—a high school drop-out who drove taxis before returning to school—had a secret weapon: Mary Tyler Moore.
The iconic actress—whose sunny turn as Mary Richards has eclipsed several gritty acting roles in film and onstage—was on Callahan's list of "dream characters" for the film and Moore "was at the top of that list." Going for broke, the director sent a copy of his screenplay to the actress, asking her to consider the role of an wealthy eccentric who inhabits a Rhinebeck mansion. Moore said yes. Moreover, when the film failed to find financing the first time around, the actress stood by the project and was available when the funds were raised. Callahan describes her role as "a cross between her character in Flirting with Disaster and Ordinary People."
Moore's quirky turn is not the sole gem in this film, which veers vertiginously between romantic comedy, adventure film and tragedy. The attractive trio at the center of Against the Current—Fiennes, Justin Kirk as his best friend Jeff and Elizabeth Reaser as their traveling companion Liz—exude a vitality that surmounts the occasional bump in the screenplay. Callahan gives the actors points for their lack of star ego and explains that the organic rapport the three demonstrate was deepened by working together "on a very difficult, challenging film shoot in a very short period of time." (It was a 22-day shoot.) Most of that time, they were together on a whaler boat in the Hudson—when Fiennes was not paddling through the water in a wetsuit.
Last seen in a star-making role in the overhyped, Oscar-winning Shakespeare in Love, Fiennes has lost the callow youthfulness of that role. He has matured in many ways as an actor, having rejected the Hollywood system in recent years and concentrated on British stagework. An athlete, Fiennes was also equal to the task of playing a man who swims 150 miles down the Hudson River.
After one day of training with the marine coordinator Adam Brown, in order to familiarize himself with New York waters, Fiennes was ready. "Sometimes the water was very rough or very intimidating or dirty and he was real game," Callahan said. "He was not a complainer about that." And no, Fiennes was never inoculated for the role and has retained his health.
Against the Current captures the rustic beauty of many river towns along the Hudson, fading or frozen in time. Sean Kirby does a nice job as director of photography, honoring rural areas without being cloying as well as getting the best of the on-the-water scenes. While Callahan's original script did not specify what towns the trio stops in along their trek, he credits Woodstock-based location manager Michelle Baker for selecting the best scenery to push the narrative forward.
The logistics of shooting on water were "incredibly complex," Callahan said. The Hudson River may seem a peaceful estuary, yet its traffic churns up some fearsome waves from time to time. That selfsame water traffic, however, provided some happy coincidences. Along the way, the film crew crossed paths with different marine crafts that found themselves in sail-by cameos. Callahan was grateful for their timing. "It's not like we had the budget to [say] 'Let's have a barge come by now,' or 'Cue the tanker.'"
Against the Current stirs up some moral issues in its wake regarding personal responsibility and mortality. But it never does so in a heavy-handed fashion, nor does it provide any simplistic answers. Callahan will return to his pet dilemma of midlife crises in his next film, titled Halfway Home. Three childhood friends, turning 40, return to their Hudson Valley hometown to lick their wounds over unfulfilled dreams.
Check www.woodstockfilmfestival.com for Against the Current screening times.