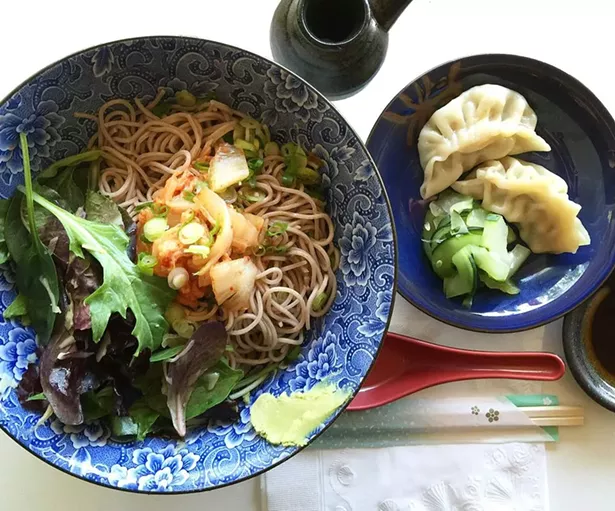 For 10 years, Gomen Kudasai was one of New Paltz's few culinary beacons in a college town otherwise flooded with mediocre cuisine. The health-conscious noodle house set exacting standards for Japanese fare in the Hudson Valley, offering up handmade gyoza; silken, ethereal madofu tofu; mouth-watering katsu-don; and of course, authentic soba and udon served in a nourishing broth heaped high with fresh, local veggies. A host of hard-to-find sakes rounded out the menu, offering a rare opportunity to enjoy a true blue Japanese meal.
Yes, let's just say when the Gomen closed earlier this year, it left more than a few bereft ramen junkies sniveling in its wake.
Youko Yamamoto and Kazuma Oshita
But there is a light at the end of the tunnel! Gomen Kudasai proprietors Youko Yamamoto and Kazuma Oshita are hoping to open up shop in Kingston. Since securing a storefront at the corner of Broadway and Cedar Street in Midtown, they have been busy planning. They've written their business plan, finalized a floor plan, and drawn up menus for the ramen bar. But they are missing a key ingredient—capital. A little cart before horse, perhaps, but we're excited nonetheless.
Gomen Ramen Kickstarter
Earlier this month, Youko and Kazuma launched a
Kickstarter campaign
to raise $25,000 for the restaurant. Craving authentic ramen and Japanese home-cooking? These are some of the tastiest donation rewards around. $25 will earn you a single bowl of ramen and $3,000 will earn you a private catered party for 30.
Yamamoto writes, "Our staff from Gomen-Kudasai are standing by for working together again. WE ARE READY to start the new noodle shop business to serve delicious noodle soups for everyone - challenge our commitment to the community ONE MORE TIME."
There is just over $19,000 and 27 days to go. This all or nothing campaign means that the project will only be funded if it reaches its goal by midnight on Thursday, November 15.
Donate today
, everyone in Kingston will thank you.