Photo by Fernando Zhiminaicela
I'm a science writer by training and a local disaster reporter by choice. Since March, I've been covering the pandemic's impacts on the Hudson Valley and Catskills for The River, Chronogram's more news-oriented online sibling, with thrice-weekly updates on local and state numbers, news, and public policy. It's fast-paced work, and it has been accelerating as New York's second wave has picked up in earnest. This month, we're trying something new: Taking a moment to slow down to the pace of print, look at where we are as a region, and think about what might lie ahead.
—Lissa Harris
Where Are We Now?
As I write this, it's almost the winter solstice. It seems fitting that we've reached this point in the pandemic so close to the longest night of the year: New York State, and the nation at large, is in a very dark place, but we are also approaching the point at which the suffering and death inflicted by COVID-19 will begin to turn around.
On December 14, Queens critical care nurse Sandra Lindsay became the first person in the US to be vaccinated outside of a clinical trial. The same day, hospitals across New York State mobilized quickly to begin vaccinating healthcare workers on the front lines of the pandemic: not only the people who are treating the sickest ICU patients and working in emergency rooms, but also custodial staff and other workers who are frequently exposed to COVID-19 patients.
Also in the first phase of vaccine rollout in New York State are nursing home staff and residents. The pandemic has taken a brutal toll on nursing homes, the true extent of which we still haven't fully seen in New York: The state has refused to release data on how many nursing home residents died in hospitals early in the pandemic, when a controversial (and short-lived) state policy forced nursing homes to take in COVID-19-positive residents.
The Pfizer and Moderna vaccines, the first of dozens of vaccines to make it through clinical trials and move on to the process of getting an emergency use authorization from the US Food and Drug Administration, performed better in trials than even their own makers expected. The beginning of vaccination of people on the front lines of risk in New York is the first glimpse of a more hopeful future, in which COVID-19 is under control and many of us can resume our lives and our livelihoods. But there's a long way to go: With only enough of Pfizer's vaccine to inoculate 170,000 people in the first round, and just enough of Moderna's for 346,000 people, most of New York's 19.45 million residents will be waiting awhile. Meanwhile, a second wave of COVID-19 infection across New York State is surging fast.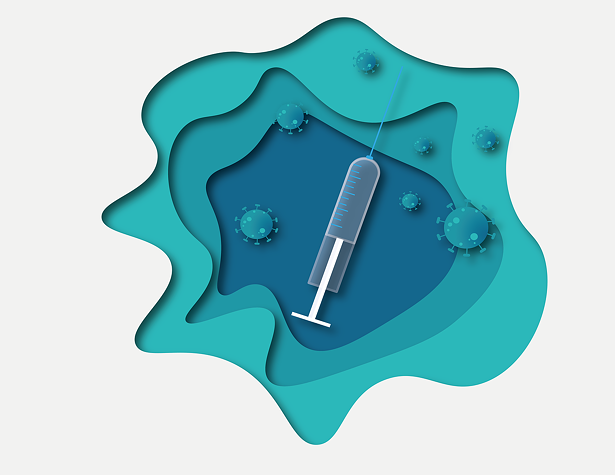 Illustration by Alexandra Koch
Find a Testing Site
Find your nearest COVID-19 testing location online. Or call the NYS COVID-19 hotline: (888) 364-3065.

Hospitals Under Threat
The middle of December looks a lot like the spring in New York. As COVID-19 cases have resurged, increased hospitalizations have followed in their wake, and later on, a rise in deaths.
But so far in the fall surge, New York has not yet reached the grimmest situation: overwhelmed hospitals, in which a flood of COVID-19 infection breaks the system's capacity to treat patients, and doctors are forced to make brutal decisions about who will receive care. Elmhurst Hospital in Queens was such a place in the spring. Many hospitals around the nation are facing those conditions now. This is the situation that Governor Andrew Cuomo and other state officials fear most, and as the winter has set in, preventing hospitals from becoming swamped has been the focus of the state's shifting pandemic policy.
In the fall, New York State developed a system of "microcluster focus zones" to stamp out outbreaks in tightly focused areas, based on rising positivity rates. But the strategy has failed to prevent a statewide surge in cases, and few focus zones have recovered enough to be removed from the state list. Positivity rates and infection rates have continued on a relentless rise across New York, prompting a change in state strategy: The state will now use hospital capacity as a main data metric to drive the creation of focus zones. Hospitals have also been tasked with increasing capacity and preparing plans to transfer patients if they become overwhelmed.
The shift away from efforts to control positivity rate and infections on a hyperlocal level, and toward efforts to preserve space in hospitals, is pushing pandemic policy to be less neighborhood-focused and more regional. Shutdowns enacted by the state this winter may apply across entire regions, or even statewide. If a region's hospitalization rate is growing fast enough that state officials predict it will take up 90 percent of hospital capacity in the region within three weeks, Cuomo has said he will enact a "red zone" shutdown of all nonessential business across the region.
Is Your Neighborhood a Focus Zone?

The state's color-coded maps of focus zones in microclusters can change fast, don't follow zip codes or town borders, and are often announced by state officials with little warning. A tool on the NY Forward site at
Ny.forward.gov
lets you to check to see if an address is in a microcluster focus zone.
Counties On The Verge
Very little federal aid has made it to the front lines of COVID-19 response: the county and city health departments who will bear the brunt of the work of an intensely challenging vaccination effort, along with state health officials. The pleas of both Democratic and Republican local county leaders for an end to the impasse in Congress over local and state aid have increased in urgency recently, as vaccine efforts have begun to get underway and the state's budget crisis deepens. A new presidential administration will take over on January 20, but local officials are hoping for help from Congress before then. In the meantime, the work of local disaster response goes on, with no immediate end in sight.
Follow us at Therivernewsroom.com to keep up with COVID-19 news and policy across the Hudson Valley and Catskills region, or sign up for our email newsletter.

Lower Hudson Valley
Rockland, Westchester, and Putnam counties
Amount cases grew between early October and mid-December: 6.48x
Active cases per 10,000 residents 12/15: 79
The lower Hudson Valley has been the focus of intense state concern since the beginning of the pandemic, and it remains a hotspot now, with more than half a dozen focus zones declared in the area. The Rockland County area that was among the first of the state's focus zones in October is still in yellow territory, and was expanded in mid-November to include neighboring areas where cases were steeply on the rise.
So far, hospitals in the region have not been overwhelmed, even as cases have surged to levels not seen since the spring. The number of people hospitalized for COVID-19 in Westchester County in mid-December, with active cases in the county well over 8,000, was roughly a third of April's hospitalization numbers, even with similar levels of known infection. Something to bear in mind when comparing spring and fall numbers in New York: Testing has increased dramatically since the first few months of the pandemic, and we are probably now detecting many more of the milder cases that do not end up hospitalized.
Mid-Hudson Valley
Orange, Ulster, Dutchess, and Columbia counties
Amount cases grew between early October and mid-December: 8.6x
Active cases per 10,000 residents 12/15: 59
A rise in active case counts has accelerated in the Mid-Hudson counties since November, and cases have recently been growing faster in the area than in the Catskills and lower Hudson Valley. Ulster County has seen a particularly steep growth in new infections, and the county has rolled out increased rapid testing to cope with the fall surge. The Mid-Hudson region is also home to one of the few focus zones in the state to improve enough to be removed from the list: Orange County's Kiryas Joel, a Satmar Hasidic community that was an early hotspot in the fall. But the area's dramatic improvement may be a data mirage: Local health officials fear that deliberate efforts to discourage testing of sick people in the community were behind a rapid drop in the positivity rate. In late November, the state also declared focus zones in Newburgh, Middletown, and Highland Falls, all still in effect as of mid-December.
Catskills
Sullivan, Delaware, Greene, and Schoharie counties
Amount cases grew between early October and mid-December: 7.45x
Active cases per 10,000 residents 12/15: 21
For much of the Catskills, the fall surge has far outpaced the spring peak. Infection rates in the rural Catskills remain much lower than those in the Hudson Valley, but the gap has been closing, and the rapid rise in cases throughout the fall has brought the sober reality of the pandemic home to many rural communities. As of mid-December, no focus zones have yet been declared in the region.
A major challenge for the rural Catskills is access to healthcare: The region has just a handful of critical-access hospitals. COVID-19 testing sites are few, and often restricted to those with symptoms or known exposure. The tiny county health departments that will soon play a major role in the broader rollout of vaccines have been stretched thin by pandemic response and contact tracing.