Woodstock Day School faculty and students communicating through video
As the COVID-19 case numbers continue to increase in New York, schools are being forced to adapt to the new reality of social distancing. While distance learning is something that all schools are having to implement, remote instruction is proving to be a both a challenge and an opportunity for some private schools in the Hudson Valley
On March 25, Chronogram hosted a video roundtable with local heads of private schools to talk about the educational and institutional challenges posed by the coronavirus outbreak. Editor Brian K. Mahoney moderated a discussion with Motria Shuhan (Acorn Waldorf School, Accord); Cecil Stodghill (Doane Stuart School, Rensselear); Jennifer Nelson (Primrose Hill School, Rhinebeck); Jennifer Strodl (The Liberi School, Hudson); Barbara Katavolus (Hawk Meadow Montessori School, Poughkeepsie); Wendy Weinrich (Mountaintop Waldorf School, Saugerties); and Adrian Hood (Woodstock Day School).
Moving To Distance Learning
For some private schools, hands-on learning is at the core of the curriculum. Digital media and technology, especially for young children not yet in high school, is sometimes limited as much as possible. For that reason, remote instruction has become a challenge that small private schools are trying to overcome.
The Woodstock Day School has approximately 200 students ranging from preschool to 12th grade. While it is not a Waldorf or Montessori school, Woodstock Day School usually abstains from using digital technology to teach children in the second grade or below. Now, the school utilizes digital technology to engage all students from their homes. "It's been a challenge and a huge learning curve," says director of admissions, Adrian Hood.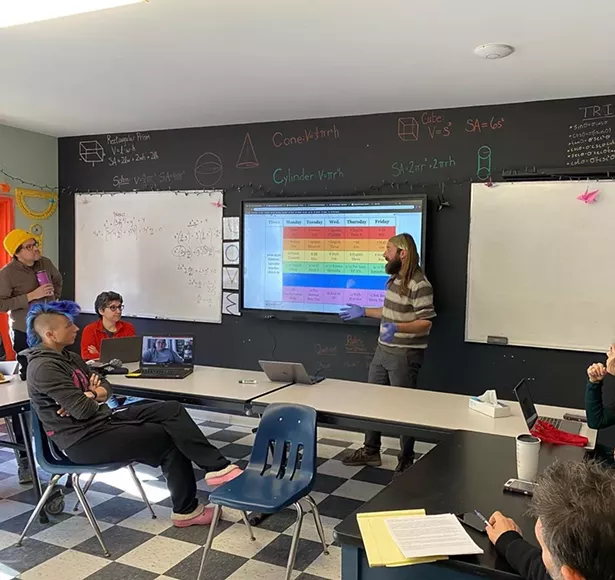 Staff at Woodstock Day School
Students from preschool to fifth grade attend digital morning meetings, as well as prerecorded story time and music lessons. Students between sixth and 12th grade engage in online instruction. Hood says that students who did not have access to a computer at home were given Chromebooks.
The Primrose Hill School in Rhinebeck has had more of a challenge converting to online instruction. "We really don't usually use any technology. We're very community based and hands on," says the school's director Jennifer Nelson. Teachers at the Waldorf-inspired Primrose Hill are recording lessons and sending them to their students at home, although the transition is difficult.
No Money, More Problems
The Acorn School in Accord is a Waldorf school with three classrooms and approximately 40 students. Motria Shuhan, founder of the Acorn School, says that when the school decided to close down in March, she had to let go of most of her eight employees. "My school doesn't have a cushion," says Shuhan. "We don't know whether we have to be in this holding pattern for two weeks, two months, six months, or more. It's very hard to know how much money we need to withstand this."
According to Shuhan, most of the families with children still enrolled at the Acorn School have agreed to pay April's tuition, but a future source of income is uncertain. "We're calling it tuition donation now. Tuition didn't seem like an appropriate term anymore," says Shuhan.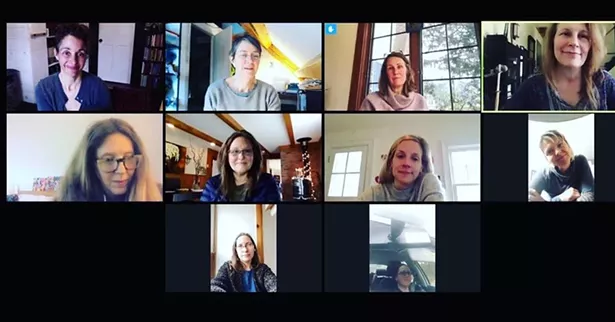 Teachers at the Acorn School in a Zoom meeting
The Mountaintop Waldorf School, an early childhood education center for children between the ages of 18 months and six years old, is experiencing similar funding problems as they move to online instruction.
Wendy Weinrich, the school's founder, says that some of the school's 40 families are having a hard time paying tuition at this time. According to Weinrich, some families are willing to pay the full amount, others are willing to cover some of the tuition costs for families who are struggling during this time of increasing unemployment, some who are unable to continue payments, and some that are requesting refunds on tuition that was paid in full at the beginning of the year. "I just paid the last month to my employees yesterday. I'm only keeping my two lead teachers on for the foreseeable future, and at a reduced rate," says Weinrich.
Cecil Stodghill, head of the Doane Stuart School in Rensselaer says that the current health crisis is affecting small private schools in the same way that it affects small businesses. "I've got 50 employees that I have to be mindful of," says Stodghill. Staffing choices, which were made before the pandemic started affecting the region, are now up in the air as the school's sources of revenue are restricted.
Stodghill is considering moving the annual spring school gala online so that thousands of parents can stream the event from their home. "It's a huge revenue generator for us," he says. Moving the gala to the fall would be a risky move, according to Stodghill. "That would just mean that we lose that large sum of revenue for this fiscal year."
Primrose Hill, on the other hand, is considering moving their fundraising gala to the fall due to the current public health situation. "When we're talking about a totally pragmatic perspective on running a business, which independent and private schools are, it just leaves a lot up in the air," says Nelson.
The New Normal?
No one is sure how long distance learning will be necessary, and for some private schools, it might just become the new normal. At the very least, technology will be more present in the curriculum moving forward.
Doane Stuart is experiencing some success with their online classes and are planning to continue to utilize remote instruction in the future. "Having that balance of technology is definitely something that we'll continue to do and continue to perfect. Unfortunately for our students, snow days are gone. They're stuck with us now," says Stodghill.
For others, distance learning has the potential to teach students important lessons. Shuhan, of the Acorn School, wonders if children might benefit from learning how to be alone. "That may be a real gift," says Shuhan.
The Mountaintop Waldorf School plans on keeping technology out of the classroom for their younger students. "It's really a basic tenet that we try to keep screens away from young children. I think there is going to be a detox at the end of it," says Weinrich.
We're Still Here
As local private schools adapt their curriculum to the new landscape of digital learning, they want their students and families to know that they are still a community
"We're still here. We're all in it together. We're still creating learning communities. We're still connecting, and we're still educating our kids," says Jennifer Strodl, director and cofounder of The Liberi School in Hudson. The Liberi School, which did not utilize technology previously, has been implementing virtual classrooms for their students after the school closed on March 12.
SUNY New Paltz's HVAMC becomes the latest to aid in the production of supplies for medical professionals on the front lines battling the coronavirus.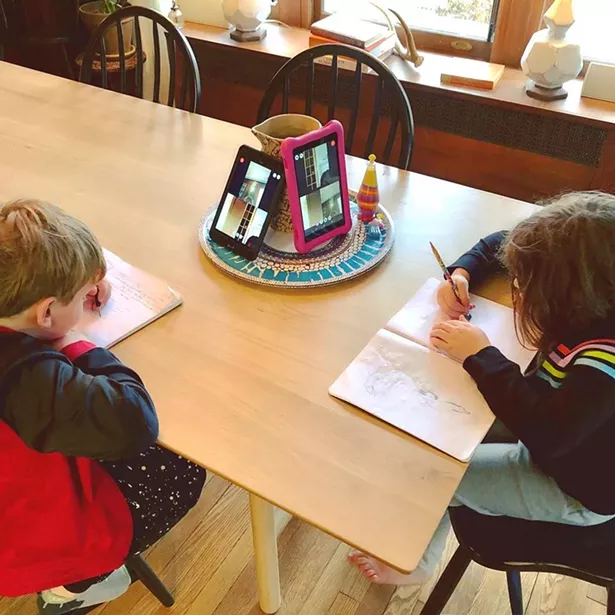 Lower elementary morning journal for students from Hawk Meadow Montessori School
"This is a very important time that children and families still need to know that they're part of a community," says Barbara Katavolos, director of the Hawk Meadow Montessori School in LaGrange. The small student body of approximately 75 children, ranging from preschool to ninth grade, has quickly adapted to online learning. "We're here to support each other," says Katavolos.