Chris Silva
Bardavon in Poughkeepsie
Named as one of National Geographic Traveler's top 20 must-see destinations in the world, the Hudson Valley is a National Heritage Area chock full of tourist attractions: historic sites, world-class art exhibits, popular festivals and concerts, and thousands of miles of parks and scenic trails. With warmer weather right around the corner, most of these destinations, plus the restaurants, hotels, shops, and auxiliary businesses that support them, should be preparing to accommodate the incoming summer crowds, but as COVID-19 continues to keep businesses shuttered and most people in their homes, the tourists, and revenue, have stopped flowing.
Tourism Leaders Worried
In 2012, tourists in the Hudson Valley spent approximately $4.75 billion in the region, creating over 81,000 local jobs and generating tax benefits for local municipalities to the tune of $318 million. In 2018, the region's generated income from tourism was up 36 percent since 2008, with Sullivan County having the highest per-person revenue, followed by Green and Ulster. As New York State enters its third month of lockdown, it's safe to say those numbers look a little different now. "The tourism industry is one of the hardest hit I believe," says president and CEO of Dutchess Tourism, Mary Kay Vrba. "It's been devastating."
According to Vrba, Dutchess County was trying to boost the level of international tourism in their area, something that was beginning to come to gain traction when the virus hit. "This is something that Dutchess County has really been working hard on," she says. "I think it's probably going to be a good 18 months before we begin to see some recovery in the international market for our area."
Tracey Walsh, director of Putnam County Tourism, expressed similar frustration with the timing of the health crisis. "We were looking forward to the spring of 2020 and hitting the ground running to really put Putnam into the mix of all the great things that the Hudson Valley has to offer," she says. Now, Putnam County has had to postpone the events that they were hoping would put them on the map, including the county's first ever gay pride parade.
Despite the closures, both counties have experienced increased traffic at their outdoor destinations, putting undue pressure on an already strained industry. "You can look at so many places like our national parks, our state parks, and our county parks and see all the people that have been out there. In some cases, there's been too many that have not been social distancing," says Vrba.
Breakneck Ridge, which lies between Beacon and Cold Spring, is a popular hiking spot for tourists and locals alike.
Cold Spring, which is a little over an hour drive from Manhattan, has been experiencing a huge uptick in the number of visitors from New York City. According to Walsh, there was even a traffic jam that was a result of the large influx of visitors. Breakneck Ridge and surrounding trails in the Cold Spring area have been closed since late April because of overcrowding concerns. "Folks are anxious to get out, but they do have to be careful."
Although New York State is slated to begin opening businesses back up on May 15, counties must meet seven criteria in order to do so. So far, the Hudson Valley and Long Island are the only regions in New York to not have a 14-day decline in virus-related hospital deaths, which is one of the requirements. Even if the Hudson Valley were to meet all requirements by May 15, the first phase of businesses to open up will only include construction and manufacturing businesses, as well as some retail stores that can only reopen for curbside pickup.
Woodbury Commons, the outlet center in Central Valley which is one of the state's largest tourist destinations, was eager to open its doors on May 16, releasing a statement to the public stating its intention to do so. A few hours later, the Commons retracted its statement after realizing that they would only be allowed to open after the second phase begins. Governor Cuomo has not yet released what criteria would have to be met for phases two through four, leaving Hudson Valley tourist destinations unsure of when they will be allowed to open again.
When The Show Can't Go On
The Hudson Valley has long been a home to the arts. Internationally recognized performers from all genres have graced stages all across the region, and have drawn large crowds at local venues. Now, those venues are waiting out COVID-19, unsure if they will make it out the other side.
"We're screwed in terms of what we do for a living," says Chris Silva, executive director of Bardavon in Poughkeepsie and Ulster Performing Arts Center in Kingston. "I have 21 full-time employees. How do I find the money to keep them going?" According to Silva, Bardavon's 15 furloughed employees are still being partially paid and their health insurance has been maintained.
The historic performance spaces have had to postpone their spring performances, and it remains to be seen when they'll be open back up.
Boscobel, a neoclassical mansion and museum in Garrison, lost one of their most well-known events of the year, the Hudson Valley Shakespeare Festival. The summer-long event, which usually features a series of tantalizing Shakespearean productions under an open-air tent on the Boscobel grounds, was forced to cancel its 2020 season in April. "This is an important institution for our community," says Boscobel's Director of Communications, Lauren Daisley. "It's something that certainly affects our bottom line and plays into our budget."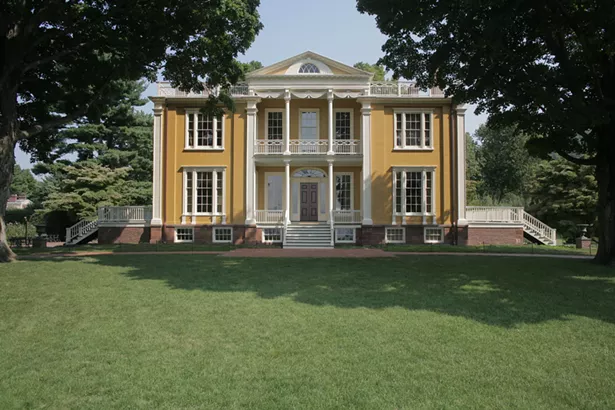 Bill Irwin
Bascobel House and Gardens in Garrison
According to Daisley, Boscobel typically has 27,000 visitors that come to tour the mansion and see the grounds that provide an idyllic view of the Hudson River. On top of that, the Hudson Valley Shakespeare Festival typically adds over 30,000 visitors per season. "We'll miss the community that they draw in," said Baisley.
Even when people are allowed to venture out of their homes, Silva is unsure of how quickly the local arts and culture scene will be able to bounce back. "Everybody's going to be hurting financially I'm guessing, if they're not already. This changes everything for all tourist attractions."
Daisley, on the other hand, is hoping that the public will be eager to return to the grounds. "We think people will be hungry for beauty. We just hope that we can provide that as soon as it's safe and sensible to do so," she said.
Lauren Daisley
View of the Hudson River from the Boscobel grounds
Hospitality Takes A Hit
Hotels and "places of accommodation" were deemed essential businesses by Governor Cuomo, but that doesn't mean that the hotels, inns, and resorts in the Hudson Valley are still operating normally, or at all for that matter.
Rocking Horse Ranch in Highland, which is usually open year round, has been shut down for seven weeks now. The family friendly ranch resort has had to furlough at least 300 of their employees that usually work the 500-acre grounds. "[COVID-19 is hitting hospitality and tourism and recreation in the Hudson Valley," says President Steve Turk, who also owns SplashDown Beach Water Park in Fishkill. "It's had a significant, devastating impact," he says.
Mirbeau Inn and Spa in Rhinebeck, on the other hand, has been able to keep paying their 100 employees for the time being, despite the location being closed for almost two months. General manager and part owner Ed Kellog says that this is due to the fact that they were prepared for a long closure, and that Mirbeau qualified for federal assistance. "We made a commitment, even before the [CARES Act] was rolled out, to keep our employees on the payroll," said Kellog.
The Parisian-style resort plans to open their 49 rooms to guests on May 15. Guests will be able to order in-room dining and curbside takeout as well. Kellog says that the resort already has reservations for Memorial Day weekend. "We know there's a pent-up demand and people are going a little stir crazy," he said.
Buttermilk Falls Inn and Spa in Milton is also looking to provide an outlet for quarantine-madden tourists. "We are anticipating that there will be a high demand for what we offer: wide open spaces, outdoor trails, and many opportunities for social distancing," said General Manager C. J. Hartwell-Kelly. The 75-acre estate on the Hudson has eight independently spaced guest houses and carriage suites, in addition to their 10-room inn. The health and safety of guests being a priority now more than ever, Buttermilk plans to add staff to help maintain new cleaning protocols, but they aren't the only ones.
Rocking Horse Ranch has invested in electrostatic spray technology and ultraviolet light sanitizers to enhance what Turk says are cleaning protocols that existed prior to the health crisis. "It's up to us to make sure that we are being very proactive," he says.
Museums Find Other Ways To Engage
The FDR Presidential Library and Museum has been closed to the public since March 14, but that doesn't mean that they aren't finding other ways to engage the masses. The museum has been actively posting educational content on their Facebook page, as well as engaging in distance learning with students from across the country. "We've been very busy trying to engage with the public in as many ways as we can," says Director Paul Sparrow.
The museum is federally funded, which means that they have been able to avoid the financial stress that other museums around the country are having to face. "A big concern is how does [COVID-19] affect cultural institutions and historic sites all across the country," said Sparrow.
The FDR Museum is prepared to open whenever it becomes safe to do so, but Sparrow doesn't think it will be as simple as that. "The question is: will the public be prepared?" he says. "It's one thing to go to the beach. It's another thing to go to a museum where you might be standing next to someone else."
The Hudson Valley Children's Museum in Poughkeepsie has a similar concern. Lara Litchfield-Kimber, executive director of the museum, acknowledges that it is a high-touch environment where children are typically encouraged to touch, climb, and sometimes taste, their surroundings. Given the nature of the museum, it might take longer for the public to feel that they can safely enjoy all that it has to offer, further exacerbating the financial burden that the museum has been forced to endure.
"The day we closed, we lost $87,000 in booked field trips alone," says Litchfield-Kimber. "For us to open the museum and not have anybody come burns through our cash reserves really, really quickly."
The one way that the Children's Museum has been able to operate is their waterfront farmers' market, which is technically an essential business. With some new safety protocols, like ensuring that customers only walk in one direction around the vendors and the requirement that all guests wear face masks, the market was able to open one month early.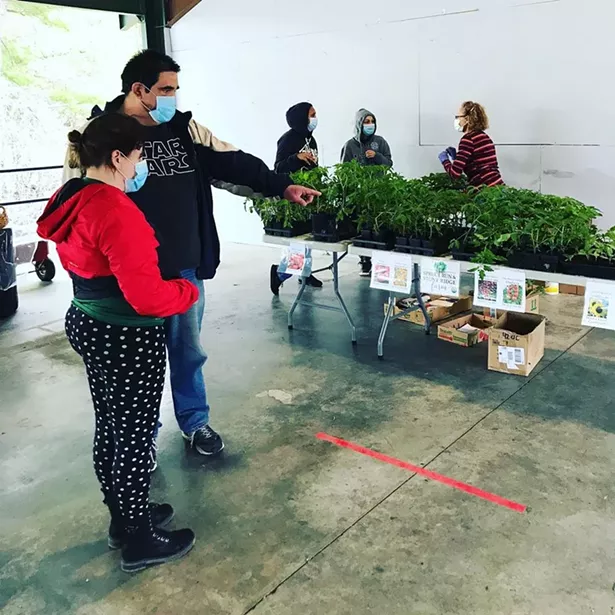 The Hudson Valley Children's Museum's waterfront farmer's market
"For people who live in our immediate vicinity within the city there's no grocery store," says Litchfield-Kimber. "We're starting to see the reality of COVID-19 and the families that we serve, and for them to know that they can shop at the market, you see the relief on their faces."