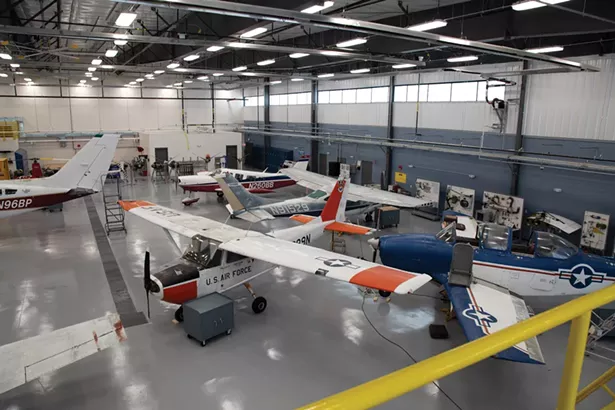 SUNY Dutchess launched its new Airframe and Powerplant Program in August at its state-of-the-art Aviation Education Center at Hudson Valley Regional Airport in Fishkill.
Quickly gaining momentum as an attractive, accessible learning option, micro-credentials and certificate courses are popping up at colleges across New York State. Think of them as short-term, skill-based credentials that are narrowly focused, applied, and often hands-on.
These certifications can take you anything from a few weeks to a few months to finish, and course prices vary too, from a few hundred to several thousand. They're shorter and more affordable than traditional degree options, and, credits earned can be transferred into other credentials, courses, or degree programs.
This makes them a more immediately accessible choice for many students, including 20-year-old Joe Silva. "After high school, I wanted to go to college, but I didn't know what I wanted to do yet," he explains. He received the Web Applicator Developer credential from SUNY Ulster, and is now in his last semester of the Computer Science Associates degree. Currently working as a contractor, the certification has made him more certain he wants a career as something like a back-end developer instead.
Jon Rhea's Mobile Application Developer micro-credential helped cement his interest in computer science too. The 20-year-old now has an associate's in computer science from SUNY Ulster and is about to begin a bachelor's in the same at the University of Albany. "I think it's great that the credentials can be added to your LinkedIn profile too, as a way to show employers proof of knowledge," he adds.
For students like Silva and Rhea, micro-credentials were a good introduction to fields they were already interested in. For others, they're a quick way to update skills or add new ones, and because they're developed with industry and faculty input, they usually focus on the needs of students and employers alike.
Adapting an Existing Concept
While these courses are a relatively new option for students, micro-credentials are not a new concept. Jay Quaintance, president of SUNY Sullivan Community College, tells us they started as an industry idea. "Micro-credentialing had been on the radar in the high-tech world for a while, but they were for proprietary content. For example, Microsoft had a series of credentials you could get trained in."
For students now, Quaintance explains, they're a way to learn a discrete skill that makes them immediately employable, and help decrease the reliance on student loans. At SUNY Sullivan, micro-credentials and certificates include drug and alcohol counseling, accounting, and nursing.
Ellen Gambino, provost and vice president of Academic Affairs and Student Services at SUNY Dutchess Community College, says, "I think the flexibility of how quickly we can put together a micro-credential, whether it can be credit-bearing or non-credit bearing, and how people can use it, is the appeal." SUNY Dutchess offers various micro-credentials and certificate programs, including networking for the cloud, public safety, basic bookkeeping and sports nutrition.
Speaking of Flexibility
Barbara Ann Livermore Reer, assistant dean for Workforce, Career Development, and Apprenticeship Initiatives at SUNY Ulster Community College, says this flexibility is definitely an important aspect. "A lot of students are multitasking—they have families, they're working, they're trying to go to school; it's hard for them to commit to a degree. This way, they leave with something valuable, and they can come back and finish the degree later." SUNY Ulster's credentials and certificates include everything from accounting and business to technology and criminal justice.
This flexibility also stretches into how the programs are offered. As Irene Hughes, assistant professor and program chair of Business Administration and Business Administration Transfer at SUNY Dutchess Community College, explains, with the landscape of higher education changing, there's not really a one-size-fits-all anymore, and institutions need to adapt and adjust. "One of the lessons we've learned from the pandemic is we need to be flexible," she says. To that point, DCC's new facility in Fishkill has hybrid classrooms, where students can learn in-class or remotely.
"We need multiple delivery methods, especially since Sullivan County is large, and transportation is an issue. We run late afternoon and evening classes at a place called the Narrowsburg Union, and we're trying to be as accessible to everyone as possible," Quaintance says.
According to Maureen Gittelman, instructor and chair of the Hospitality and Tourism Management Program at SUNY Dutchess, it's vital for educators to look at flexible options from the outset, especially in hospitality. "In the restaurant industry, for example, peak earning hours are in the evening. So, we want to be responsive to things like that as we put these programs together," she says.
A Gateway to Higher Education
The flexibility of obtaining employable skills without spending time and money on a degree may be the main appeal of micro-credentials, but they're also a gateway to higher education. "The beauty of a micro-credential is that it rolls into degree programs, but not everybody's ready for that," Hughes says.
Educators have noticed some fear of higher education among students across the state, especially those that have had a bit of distance from high school or those who, like Silva, are not sure what they want to do. Micro-credentials can bridge this gap, introducing students who are still on the fence to a particular set of skills. "And then it becomes that catalyst that produces more," Hughes says.
Reer finds that several people in the manufacturing arena, in particular, are afraid of the idea of being assessed, because they've never taken credit classes before. SUNY Ulster offers non-credit-bearing courses but blends classrooms to include credit and non-credit-bearing students, assessing them the same way. "I find that once people realize that they're going to be doing the work anyway, they find they're not as afraid and switch over to the credit-bearing course," she says.
Gambino adds that enrolling in a micro-credential can make learning less overwhelming by breaking it up into more manageable pieces.
Focusing on Soft Skills
While the targeted skills of most micro-credentials are valuable in the job market, there's another gap they can help fill: soft skills.
"The kinds of learning people accumulate during a degree are in many cases non-specialized, more about habits of mind, habits of work. Finding a way to connect those to a new skillset from the micro-credential becomes an important part of it," Quaintance says.
John Sheehan, assistant professor of Computer Science and a coordinator for the program at SUNY Ulster, discusses this with his students as well. He cites a Google study, Project Aristotle, which found that along with technical skills, some essential qualities for success included soft skills like teamwork, empathy, communication, and problem-solving. Colleges across the state are beginning to focus on this within their micro-credentials. SUNY Ulster has a 15-credit Customer Service credential, SUNY Dutchess and SUNY Sullivan offer soft-skill training as part of their business credentials, and there are others in the pipeline.
Employment Gaps
Across the Hudson Valley and beyond in New York State, several industries look to micro-credentials to find skilled employees. From manufacturing to healthcare, hotel, and tourism to aviation, colleges are developing their courses to fill employment gaps in these industries.
Reer talks about a growing need for computer numerical control (CNC) operators that students with the CNC credential from SUNY Ulster can benefit from. "It's probably the primary manufacturing job that we're struggling to fill in the Hudson Valley," she says.
Quaintance mentions the health care industry, noting that it's the largest employment sector in Sullivan Country. "We share administration for the nursing program with Garnet Health, and through these kinds of partnerships, we can reduce the time to degree, improve our student's test scores, get our students placed in jobs, and grow the program," he adds. With the laddered process that certificate programs and micro-credentials offer, he says a student could start with a ninth-grade education, enter the healthcare industry, and then climb the ladder to a Bachelor of Science in Nursing, which is now in great demand.
Tourism is another growing industry in the Hudson Valley, and according to Maureen Gittelman, one of the top employers in New York State. DCC's new hospitality and tourism management program does not have micro-credentials yet, but they're already looking to add some that will complement their courses. "There is a customer service credential in the pipeline, and we're looking to align our meeting and event planning course with an industry credential," she adds.
A Variety of Options
"Whatever career you choose, digital is the future," as Ben Roberts, PR Director at AT&T, puts it, adding that short, targeted programs are a great way to make sure everyone gets a piece of the pie. "Everything is going digital, from writing to our currency. So, it's important for programs to bridge a digital divide, to make sure we don't eliminate certain economic, ethnic, and racial groups just because they don't have the means or the time to take part in it."
Students looking for these learning options in New York are in luck as there are several new options to pick from, like the AT&T & Clarkson Digital Experience, a free program run by Clarkson University thanks to a grant from AT&T. It seeks to enroll 25 students in grades nine through 12 for three one-credit, five-week courses at Clarkson University's Beacon Institute. "Everyone talks about the educational assessment gap—there's a huge disparity between different socio-economic statuses. This program basically aims to close this opportunity gap by offering underrepresented students free and low-cost certificates, and to give them the necessary resources and support; offer them an opportunity to enter the workforce," says Michael Walsh, executive director of Beacon Insitute. They also have a certificate program for high school students to gain industry-recognized skills in IT Support, Cybersecurity Analysis, and Data Science. The course lengths vary, but you can expect to spend 100 to 200 hours on them.
SUNY Sullivan Medical Assistant students practicing blood draws as part of a Basic Phlebotomy Lab course, taught by faculty member Grace Collaro.
At SUNY Dutchess, there is the Personal Trainer certificate—a one-semester Exercise Science and Wellness micro-credential spread across three courses, with three credits each. A similarly structured micro-credential is the Small Business Management, which can be completed online or through Accelerated Hybrid offerings at the new DCC Fishkilllocation.
One of DCC's newest courses is the Airframe and Power Plant (A&P) Program, launched on August 16 at their state-of-the-art Aviation Education Center. John Troise, aviation program chair at SUNY Dutchess Community College, says, "Seven years ago, companies came to us already noticing the shortage of licensed Airframe and Power Plant technicians. And it's gotten worse since." The program—which requires no prior knowledge or experience in aviation to jump into—costs $21,330 for tuition and lab fees (the fee also includes a Chromebook and tool set). Trosie mentions that companies are toying with the idea of scholarships, too, mentioning Textron Aviation as an example. "They've been partnering with us, giving us input. And the last thing I heard is they're willing to give two scholarships—to pay for the entire cost of the program to two people—all they'd have to do is agree to be employed with them for three years after they graduate," he adds.
If Computer Science is more your thing, there's the 14-week for four credits Computer Game Design micro-credential, which SUNY Ulster's Sheehan says tends to attract recent high school grads and is an excellent introduction to another growing industry. There's also the Web Application developer program that so far has attracted adult learners with previous degrees and work experience. It teaches the fundamentals of computer programing in a 14-week semester schedule for four credits.
The Drug and Alcohol counseling course at SUNY Sullivan requires completing 350 hours of standardized education before students apply for a Credentialed Alcohol and Substance Abuse Counselor Trainee Certificate (requiring 6,000 hours of fieldwork). They also have a 34-credit Medical Assistant Certificate to prepares to perform routine administrative, clinical, and laboratory tasks over two semesters, ending with a Medical Assisting Externship. And, for those looking for an introduction to accounting without committing to an entire degree, their Accounting Studies Certificate offers a year of basic accounting knowledge, including integrating the use of computers into accounting activities and preparing financial statements.
Columbia-Greene Community College, offers expanded courses in everything from painting to a notary public certification. They've focused on expanding noncredit courses and training programs in-person as well as online, offering residents the opportunity to learn new skills at their own pace. As Stacey Hills, assistant professor of Business at Columbia-Greene Community College explains, "For-credit opportunities must meet both time and course learning objectives to meet Department of Education and accrediting standards. Noncredit trainings can be shorter and may only cover some of the objectives that you might find in a course or could cut across courses in new and different ways."
They also offer micro-credentials, which Hills says are being developed in collaboration with the community to meet the needs of Columbia, Greene and surrounding counties. Their Entrepreneurship micro-credential for example, with a total of 8 credits, consists of three classes: Foundations of Business, Entrepreneurship and Business Professional Development. It's set to span two 10-week sessions, one in the fall and one in spring, but (one fall, one spring), but Hills says if demand warrants a more condensed form, they would consider that as well.
"The mindset has already changed in certain fields—and micro-credentials are one way that higher education can catch up to reality and better serve our students," says Steven Gavlik, associate professor of science at Columbia-Greene Community College.