Page 3 of 3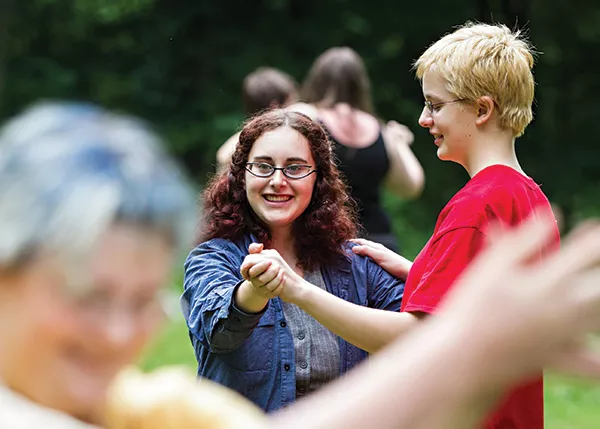 Kyle Perler
Dancing at the Wayfinder Experience
A World Beyond the Classroom
For those interested in a more classic camp experience, the Hudson Valley is home to three thriving YMCA camp programs. Camp Wiltmeet (New Paltz) and Camp Seewackamano (Shokan) together host over 1,000 campers each summer and feature an array of traditional activities: daily swimming, crafts, sports, games, and music, with the addition of fishing, archery, skateboarding, dances, and rope climbing at Seekwackamano's outdoor campus.
The area's most recent YMCA program, Camp Starfish (Kingston), is an innovative camp/summer school hybrid designed to prevent summer learning loss. "The program is only in its third year," says YMCA Child Care Director Lee Anne Albritton, "but has had such success that even kids who don't need summer school want to join."
More than 50 percent of Camp Starfish enrollees attend the six-week program on a full scholarship, which has granted dozens of economically disadvantaged youths access to academic instruction, daily swimming lessons, farming classes, cooking classes, community reading circles, and fitness counseling.
Perhaps the greatest testament to Hudson Valley summer camps' legacy is that campers keep coming back year after year. Kayleigh Buboltz became a YMCA camper at age five and will be back again this summer—this time, as the director of Camp Starfish.
Camp, as a place for social and intellectual expansion, acts as a gateway through which children may begin to take their first tentative steps into a world beyond the classroom. Young people across the Valley have come to think of camp as "a home away from home," and of their counselors and fellow campers as "a second family." Sam Nye, age five, said this of his first camp experience, spent at Manitoga: "I want to live here.