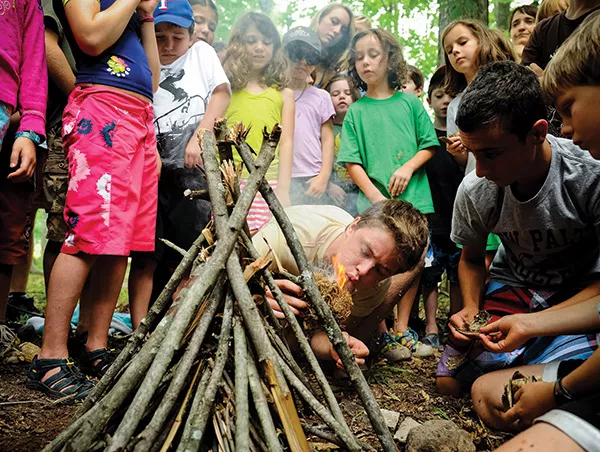 Maggie Heinzel-Neel
Building the perfect campfire at Wild Earth.
With snow on the ground and frilly hearts filling storefront windows, it might seem a bit early to be thinking about summer vacation, but for many Hudson Valley camp programs, enrollment season is fast approaching. In fact, for Wild Earth, a nature and exploration camp based in New Paltz, it has already begun. "Last year," says Associate Director Simon Abramson, "we opened enrollment at noon on February 1, and by one o' clock, we were fully booked."
According to Abramson, Wild Earth's camp program is about giving kids and adolescents the chance to "connect in nature"—both with the physical environment and with one another. Campers spend the day exploring natural habitats, learning basic survival skills, playing outdoor games, and getting gleefully dirty, ending with a discussion circle and stories of that day's adventures. "Our instructors always set out in the morning with a plan," explains Abramson, "but our best ones will throw it out in order to follow a fox" or indulge campers' curiosities.
But if analyzing bear scat isn't your youngster's idea of a good time, there are dozens (and dozens!) of other options—from swimming, singing, and practicing archery at traditional camps like Green Chimneys (locations in Carmel and Brewster) to writing fiction, exploring 3-D printing, playing jazz, or learning computer coding at Poughkeepsie Day School.
For a blending of the arts and exploration, Manitoga Summer Nature & Design Camp (Garrison) turns the outdoors into a laboratory for design and creativity. Further north, Hawthorne Valley Farm (Ghent) introduces campers to life on an organic farm, where they learn about everything from animal husbandry to field-fresh cooking. Your kiddos could even join Tivoli Sailing Co. (Saugerties) for a week on the Hudson, during which they'd receive nautical instruction from Captain Jerome Hollick, design their own pirate flags, and fight in a staged naval battle.