[Editor's Note: On Friday, December 24, Edgewood and Hutton Brickyards closed until further notice. When reached for comment, Karl Slovin, president of M West Holdings, which owns Hutton Brickyards and Edgewood, said the recent storm, which caused extensive flooding along the waterfront, had caused significant damage to the property. "Unfortunately, Hutton Brickyards has been forced to close for the winter season due to the flooding, and emergency repairs which now need to be made," Slovin says. "The winter storm was more catastrophic than anything we had ever experienced there before. We are working on adjusting so that this sort of thing does not happen again. Hutton Brickyards will open again in the spring when we know we can give our events, visitors, and guests the experience that they deserve."]
There is perhaps no more fitting synecdoche for the changing identity of Kingston than Hutton Brickyards. The 73-acre Hudson riverfront property was purchased by Prussian emigre John H. Cordts and William Hutton in 1865 and went on to be the longest-running brick manufacturing facility in the Hudson Valley, representing a golden age of industry for the waterfront city. Its bricks quite literally built New York City.
Since developer Karl Slovin of MWest Holdings purchased the property in 2014, it's gone through various iterations—wedding venue, concert venue, upstate home of Smorgasburg food market—with Slovin originally envisioning the site as "a cultural center—a Tanglewood in Kingston." II 2018, riverside glamping tents popped up, followed by 31 freestanding cabins, a spa, and open-air restaurant the River Pavilion, run by Salt Hotels. Hospitality was to be the new fate of Hutton Brickyards—and Kingston at large.
Courtesy of Hutton Brickyards
One of the rooms in Edgewood.
It seems only fitting that in 2021 the group closed on three more parcels up the hill, including the historic mansion Edgewood, built in 1873 for brick manufacturer John A. Cordts, keeping the legacy of Hutton Brickyards and its founders consolidated. Set on a hill overlooking the river with parklike gardens, the three-story, Second Empire residence is a paragon of the extravagant style, and now you can stay—and eat—there.
As part of the Hutton Brickyard portfolio, Edgewood features 12 guest rooms on the top two floors with the glamorous downstairs dedicated to the finer arts of dining and drinking. The whitewashed interior is a far cry from the extravagant, maximalist interiors of previous owner, renowned artist Hunt Slonem. Still, the bones of the building are exquisite, and it's hard not to revel in the beauty of the place. The manor rooms and suites are not for the faint of funds, running from $284 to $969 a night.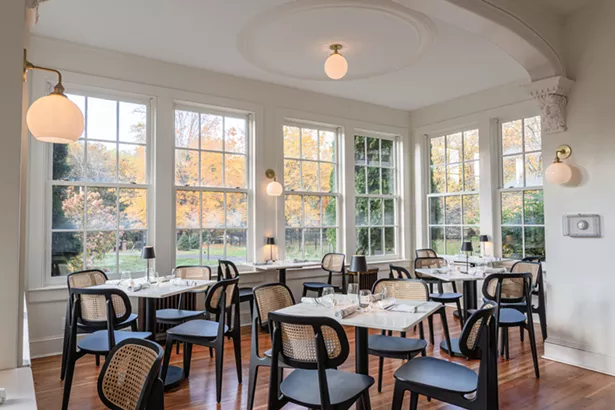 Courtesy of Hutton Brickyards
The sunroom.
A more accessible option for out-of-towners and local residents alike is a meal in Edgewood's restaurant, which sprawls across the various drawing rooms of the first floor of the house. The culinary concept here is "gastropub fare anchored by locally sourced produce, meat and fish."
The dinner menu opens with reasonably priced sharable items like a perfectly sauteed hen of the woods mushroom served over an emerald kale-cashew pesto ($18) and the locally made burrata, which comes with spiced, roasted honeynut squash, fried sage, and barrel balsamic vinegar ($16). Salad boxes are ticked with kale and baby gem options to which you can add chicken or trout for a full meal ($12-$30).
Courtesy of Hutton Brickyards
Roasted Acorn Squash
For a delightfully umami, meat-forward main, opt for the braised beef short ribs, which are served over a bed of polenta, with a red wine demi glaze and a garden-fresh gremolata ($28). The steelhead trout is sourced locally (from Hudson) and served with pickled fennel, toasted fregola, watercress, and a blood orange butter ($34). The French-cut chicken breast is served with an autumn succotash in a bourbon and apple cider jus ($32). On the vegetarian end, a farro risotto is served with wild mushrooms, creme fraiche, and pecorino ($24). If you're vegan, your best (only?) bet is the roasted acorn squash stuffed with with apples, kale, quinoa, and a candied maple mostarda ($20).
The list of nine cocktails d'auteur ($14-$16) range from classics like a Manhattan and Last Word to alcohol-free offerings like the Hudson River Mists, made with Lyre's zero-proof Italian spritz and prosecco, orgeat syrup, club soda, and garnished with a blood orange wheel.
Courtesy of Hutton Brickyards
Mussells
Sunday brunch just launched on December 10 and will run weekly from 11am to 3pm. The menu borrows its apps, soups, and salads including the standout kale and artichoke dip, made with a roasted garlic bechamel, gruyere, fontina, pecorino romano and served with sourdough crisps ($16). The large plates are where things get interesting with brunchy classics from smoked salmon ($16) to a frittata ($15) and an eggs benedict plate ($18). he farm fresh egg bake has us drooling with preserved tomato relish, chili emulsion, 2 hermance farms eggs, charred braised leeks, goat cheese, and breakfast potatoes ($18).
Mix sweet and savory with the egg sandwich, which puts cheddar and free-range eggs on an apple cider doughnuts with maple sriracha and a side of breakfast potatoes ($17). Of course if you're a sweet tooth purist, you can always spring for the baked french toast, served with fruit compote and maple syrup ($19). And when you need to load up before a big day of doing nothing, the steak and eggs dish comes with an eight-ounce grass fed hangar teak, two sunny side up eggs, avocado hollandaise, and potatoes.
Courtesy of Hutton Brickyards
If you're headed to Edgewood for dinner, aim for a table in the orange-painted salon (sadly, the only remaining relic of artist Hunt Slonem's flair for color). Bar that, there's no real bad seat in the house with plenty of nooks and vintage furniture to while away the night. During the day time in the warmer months the front rooms will offer views of the river while the glass room ag at the back looks out over the parklike property.
Edgewood
132 Lindsley Avenue, Kingston