Photo: Lindsay Talley
The dining room at the Kinsley is paradoxically large and intimate.
Despite being a couple years in the making, the opening in recent months of the restaurant at Hotel Kinsley and Lola Pizza in Uptown Kingston is a sudden, seismic jolt to the city's restaurant scene. Whatever else they are—highly anticipated high-end eateries, proof that Kingston is soon to be annexed by Brooklyn, or one's worst fears of gentrification realized—these restaurants deserve serious attention.

Conceptualized by former New York City tastemakers Zak Pelaccio (Fatty Crab, Fish and Game) and Taavo Somer (Freemans, and the man dubbed "the patron saint of hipsters" a decade ago), along with developer Charles Blaichman, the restaurants are part of a larger hospitality group operating The Kinsley boutique hotel.
Arrowood Farm Brewery
and
Westwind Orchard
. Look for that to come online in spring 2021. The influence of these gentlemen on the local culinary and economic landscape will not be miniscule.
We recently reviewed the
wood-fired pizza-lover's paradise that is Lola
, here's our take on the restaurant at the Kinsley.
Dining at Hotel Kinsley

Located on the first floor of the stately New York National Bank Building on the corner of Wall and John Streets, the Kinsley is one of the most elegant spaces to eat in the region. (There are 10 hotel rooms upstairs, with a couple dozen more to come in three other uptown buildings close by that are under renovation.) Erin Winters, whom diners may remember from her stint as manager at Cucina, is director of operations.
Studio Robert McKinley
(Felice at the Chambers Hotel, the Surf Lodge) designed the restaurant, emphasizing the innate cavernous nature of the room, with its 25-foot ceilings and massive bank of windows. It's minimalist and pretty, with Barry Feinstein's black-and-white portrait of a brooding George Harrison, which appeared on the cover of
All Things Must Pass
, dominating the room above the fireplace. Kudos to McKinley for the warm and intimate feel of the room despite its scale. Even when all 50 seats are full, the restaurant never feels crowded.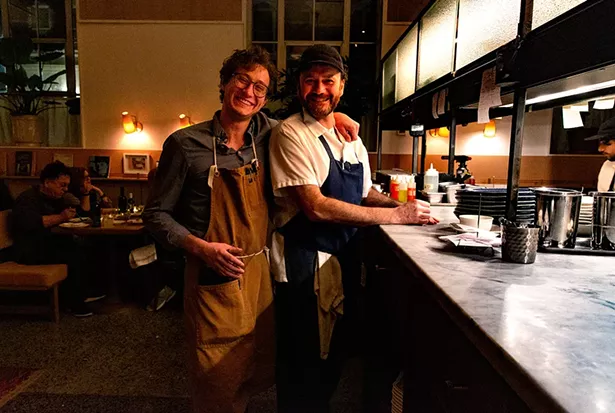 Photo: Lindsay Talley
Server Ian Ellis and chef Gabe Ross in thedining room of the Kinsley.
Gabe Ross (Savoy, Gramercy Tavern), runs the restaurant's kitchen. "The idea behind a hotel restaurant has always been to feature dishes that are elevated but also comforting and familiar," Ross told Chronogram's Alex Marvar last year when the Kinsley opened. This sounds like a call for playing it safe, but while Ross's food is not innovative (by design), it is well executed, tasty, and fairly priced.

Appetizers include a light but rich housemade chicken liver pate ($15) served with a thin layer of port gelee, pickled onion, and toast. Chickpea fries ($10), stacked like lumber and served with spicy tomato sauce, are a crunchy treat. There's also a bowl of marinated olives ($6). I mention them only to note that they are served warm—a small thing, but a deft touch that speaks to the care and professionalism at work. Other small dishes worth a try are the rich and creamy brandade croquettes ($11) served with Romesco sauce and chili oil. The lamb meatballs ($12) served with yogurt and preserved lemon are Middle Eastern comfort food.
Mains include a roast half chicken ($26), cut into three parts, and served on red wine flavored farro with grapes and thin-sliced hakurei turnips. The chicken's skin was expertly crisped and the meat moist and rich in flavor. The arctic char ($27) is also served with crispy skin, its light, sweet flavor complemented well by the cultured cream and horseradish.

There are a couple of pasta dishes, a veggie curry, and a steak, as well as a burger. About that burger: It's $17, and served with aged Cheddar, caramelized onions, and pickled aioli on a cutting board with a copper cup of French fries on the side. It's not flashy, it's not groundbreaking, it's not cheap, but it's well-executed and tasty. I wish I could have ordered it at many hotels I've stayed in over the years.
Photo: Lindsay Talley
The dining room at the Kinsley is paradoxically large and intimate.
There's a small bar in the back of the restaurant, tucked under the upstairs lounge where the bank manager once reigned. Being close to the drinks is always a plus, but if you're claustrophobic, it should be noted that the bar can be a bit cramped on weekends. Recommended cocktails include the Kinsley Martini ($14), a mix of vodka, gin, and Vermouth that is batched with olive oil and chilled. Once sufficiently cold, the olive oil rises to the top and is whisked off. The heat of the booze is mysteriously tempered by this treatment. If you're looking for a spicy kick, try the Big Pink ($13) tequila with Genepy herbal liqueur, a hint lime, strawberry, and a rabbit punch of jalapeño. The wine list is capacious, French-heavy (nothing wrong with that), and fairly expensive, with only eight bottles under $50. Wines by the glass range from $12-$16.
The Kinsley is open for dinner daily, with brunch on Saturday and Sunday from 11am-2:30pm.